The events of the George Clooney-directed "Monuments Men," which opened Friday, seem almost impossible to believe. Hitler's soldiers had destroyed or stolen thousands of priceless works of art, and a small group of service members and civilians were tasked to find and return as many as they possibly could.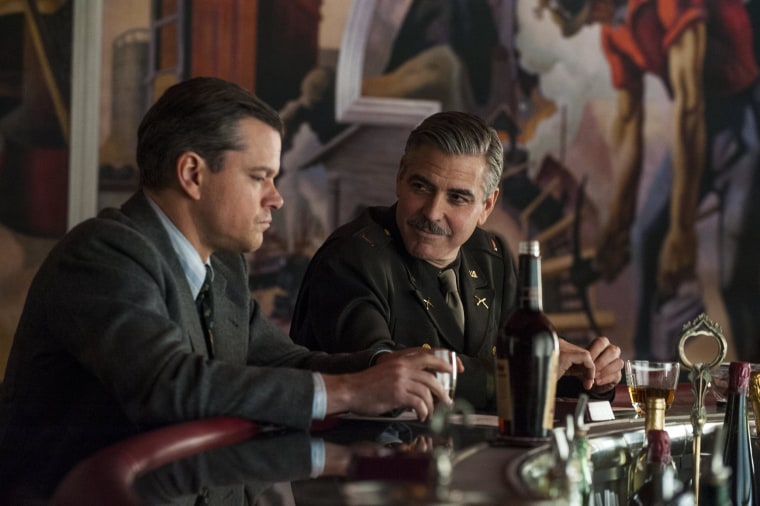 The film, based on Robert M. Edsel's book "The Monuments Men: Allied Heroes, Nazi Thieves and the Greatest Treasure Hunt in History," shines light on a fascinating chapter of World War II history that's often neglected in American education about the war. Viewers walking out of the theater may want to start digging in to the true facts behind the art thefts, and may be surprised to find even many of the film's most shocking scenes are based on fact. (Warning: Spoilers for the film are ahead.)
Nazis hid priceless treasures in underground salt mines? True. The famed Ghent Altarpiece and Michelangelo's Madonna of Bruges were among the items stolen and earmarked for Hitler's planned Fuhrermuseum? True. Hitler issued a "Nero Decree" ordering the treasures (and all valuable objects in Nazi hands) to be destroyed when his army evacuated? True.
"The Nazis had two goals with regard to art," Dr. Benjamin Ginsberg, author of "How the Jews Defeated Hitler" and chair of the advanced governmental studies center at Johns Hopkins University, told NBC News. The first, he said, was simple looting, common in warfare, but the Nazis had deeper reasons.
"The second Nazi goal was the eradication of what they saw as degenerate Jewish and Communist cultural symbols as part of their larger campaigns of extermination," he said. "While there is precedent for both these goals, the Nazis were quite ruthless and systematic and, had they succeeded, the Jews in particular would have disappeared both as a people and as a culture."
Of course, a 110-minute movie can't hope to cover all the events of Edsel's 500-page book. As Edsel notes on his website, there were 345 "Monuments Men," hailing from 13 nations. The movie concentrates on only a small group, led by characters played by Clooney, Matt Damon, Bill Murray, John Goodman, Bob Balaban and others. Most of the leads in the film play American soldiers, but Hugh Bonneville (Lord Grantham of "Downton Abbey" fame) plays a Brit, "The Artist" star Jean Dujardin a Frenchman, and Cate Blanchett a French museum employee.
One of the smaller but most intriguing roles is that of Sam Epstein (played by British actor Dmitri Leonidis), a role inspired by Harry Ettlinger, now 88 and one of the few Monuments Men still living. Ettlinger was a German Jew who fled Germany for the U.S. with his family in 1938 and volunteered to serve as a Monuments Man due to his German fluency. As the movie correctly states, his grandfather was sent to the infamous Dachau concentration camp.
"Many of the Monuments Men were Jews," said Ginsberg. "To me, this underscores one of the forgotten stories of WWII — the critical role played by the Jews in the victory over Nazi Germany. The Jews were not only victims but in their capacities as soldiers, weapons engineers and scientists, and even Monuments Men, were instrumental in defeating the Nazis."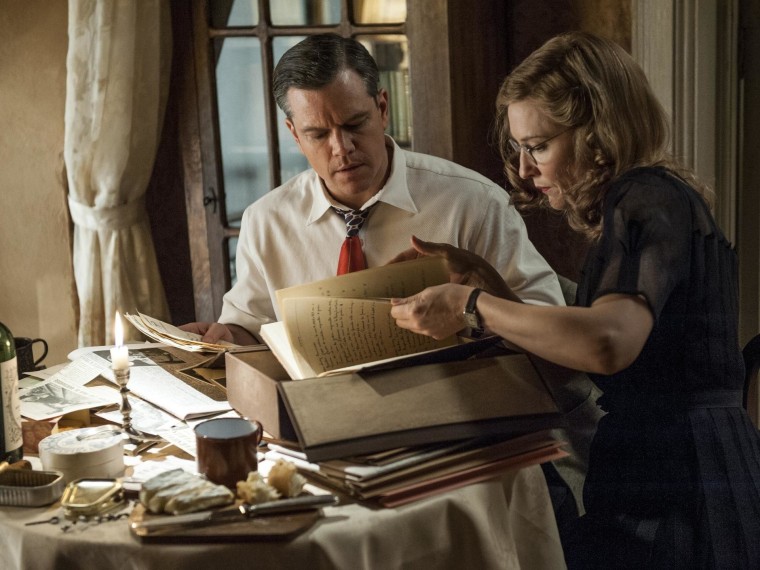 "Monuments Men" is an enjoyable movie, but don't expect a rigidly factual documentary.
"I found the movie very entertaining and very educational," Ettlinger told the New York Daily News. "Because I did none of those things that are played in the film."
That's not surprising, said Dr. John H. Morrow, Jr., Franklin Professor of history at the University of Georgia.
"Filmmakers invariably take liberties with and embellish the material," Morrow told NBC News. "As one director once said to a general's wife who objected to the inaccuracy of her scenes in a movie, 'This isn't the History Channel, this is Hollywood.'"
Ginsberg agreed. "World War II films should be viewed cautiously," he warned. "Often, the point of the film is contemporary and the war is merely a backdrop to underscore some point about contemporary society."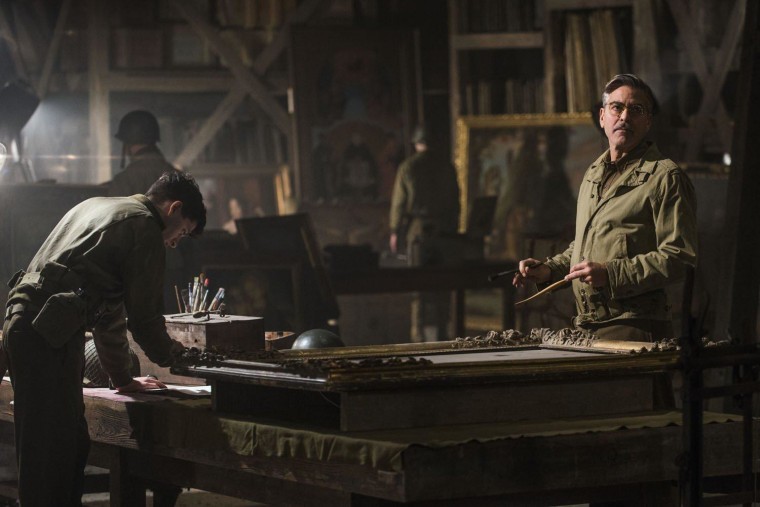 Thankfully, most viewers recognize the difference.
"I actually teach a freshman seminar in WWII in history and film, and assign my students a popular film and then a history book on the same topic," Morrow said. His students invariably conclude that the book is more accurate, and can discern the liberties the filmmakers have taken with history. "I consider that proof of the intelligence of the younger generation when put to the test," he said.
While war films of the 1940s and 1950s focused on themes such as loyalty and sacrifice, and 1960s and 1970s films concerned themselves with diversity and the dangers of militarism, "Monuments Men" has a point to make to a world of smart phones and high tech.
"This film seems to be about the importance of culture and seems to be a reminder to a technological and materialistic society that the the arts and high culture are vitally important and eminently worthy of sacrifice," Ginsberg said. "Hence the resurrection of this tiny group of soldiers and a book and film about the sacrifice these individuals were willing to make on behalf of culture. Shouldn't we learn from them?"