In a city of stars, one shone particularly brightly at this year's Oscars.
As his "La La Land" colleagues were in the middle of speeches accepting the Oscar for best picture, it fell to the film's producer, Jordan Horowitz, to interrupt and announce that a mistake had been made: "Moonlight" had actually taken the prize.
Surely, humiliation beckoned: Horowitz and his team now had to deal with handing over their awards in the most public forum imaginable, all while processing their disappointment in front of the cameras.
What followed, however, was a masterclass in grace under pressure.
Amid the confusion, with host Jimmy Kimmel suggesting that the "La La Land" team should keep their awards, Horowitz had to convince a baffled audience that a mistake had been made.
He urged the cast and crew of "Moonlight" to come onstage to accept their prize.
Related: How Did The 'Moonlight' Mix-Up Happen?
Still holding his statuette, he said: "I'm gonna be really proud to hand this to my friends from 'Moonlight,'" a comment that elicited rapturous applause from the audience.
Horowitz's handling of the situation won plaudits from those in the industry, and beyond.
Barry Jenkins, the director of "Moonlight," led praise for Horowitz on Twitter.
Not everyone on social media was impressed with Horowitz's conduct however, with a small but vocal minority accusing him of rudeness for grabbing the card announcing "Moonlight" as the best picture winner from actor Warren Beatty.
Horowitz later confessed that the situation was distressing.
"My heart was a little broken," he said after the ceremony.
"I'm a little shaken about it. It's disappointing, but ... I love that those guys got their moment and I love that I got to give it to them," he added.
PHOTOS: Oscars Best Picture Fiasco Unfolds Onstage at Academy Awards
Horowitz, a 36-year-old New Yorker, produced his first movie in 2010, and has since earned 13 producing credits and two writing credits.
Before the mainstream success of "La La Land," his most high-profile endeavors were 2010's "The Kids Are All Right," which starred Annette Bening and Julianne Moore, and 2016's "Miss Stephens."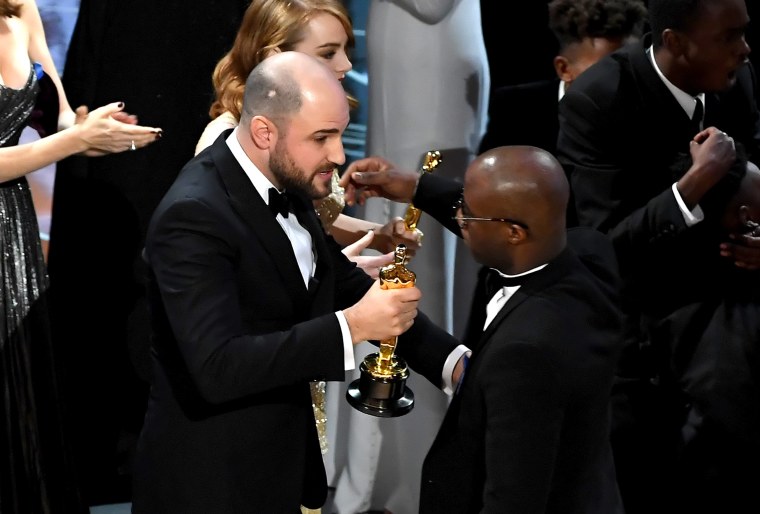 He has worked with his wife, Julia Heart, on multiple projects. The pair co-wrote "Miss Stephens," as well as their next project "Fast Color," which is currently listed as being in pre-production.
"La La Land" was Horowitz's first Oscar nomination, but he has not left this awards season entirely empty-handed. He and his producing partners took best picture victories at Britain's answer to the Oscars, the BAFTAs, as well as a Producer's Guild of America award.
Though he didn't get to walk away with a gold statuette on Sunday, Horowitz did get one thing that they can't take away from him.
"I got to thank my wife and my son, so it's all good."