Hollywood has been in the midst of a nearly yearlong effort to avoid another round of unflattering #OscarsSoWhite headlines, and the triumph of "Moonlight" in the best drama category at the Golden Globes suggests that the industry may have turned a page.
But it remains an open question whether the film business has learned its lesson when it comes to diversity.
After two straight years in which no performers of color were nominated in the top acting categories, the Academy of Motion Picture Arts and Sciences made both cosmetic and systematic changes. In addition, several high-profile projects with predominantly black casts, like "Moonlight," are poised to break through this year. The African-American Film Critics Association declared 2016 the best year for blacks in cinema "ever."
The Academy Award nominations, which will be announced on Tuesday, serve as a milestone for Hollywood to show whether it will reverse the trend that led to boycotts and intense criticism last year.
The premise is that despite the industry's liberal reputation, there is a still a lack of appreciation and representation of minorities both in front of and behind the camera, as well as in studio boardrooms.
A study by researchers at the University of Southern California last year found that only about a third of speaking roles in films and on TV from 2007 to 2014, were female, while only 28 percent non-white.
And "at least half or more of all cinematic, television, or streaming stories" didn't portray a single Asian or Asian-American on screen.
Meanwhile, men make up 84.8 percent of directors, 71.1 percent of writers and 77.4 percent of show creators. The study's conclusion was that "the film industry still functions as a straight, white, boy's club,"
While that may be true, there is also evidence to suggest that the lack of Oscar love for critically acclaimed, awards-friendly films like "Selma" and "Fruitvale Station" may have as much to do with marketing snafus on the part of their production companies as it does race.
Related: Marketing 'Moonlight': LGBT-Themed Film Could Be Tough Sell for Audiences
Despite across-the-board raves from critics and audiences, both films are believed to have been stymied by ill-timed distribution of "screeners" (industry-speak for DVD copies) to Oscar voters, many of whom don't have the opportunity to watch all the potential nominees during their initial runs.
If a film like "Selma," which was unfinished when screener season was in full swing in 2014, doesn't get in front of academy members at the right time, its chances to reap Oscars glory could be doomed.
That's where studio acumen plays a big role. For instance, according to Awards Circuit editor Clayton Davis, the studio behind "Moonlight" distributed screeners to voters and pundits separate from the rest of its prestige pictures, a sign that this film was one to watch.
While reps for that studio, A24, and others declined to go on the record about their Oscar campaigns, a brief look at any awards prognostication website features many more faces of color than usual. And Oscar watchers, who are among the targets for the studio's publicity, have noticed.
"Especially following the election, I think the academy and a lot of [critics] groups are looking for something different, some diversity," Davis said. "More than ever, where the film is distributed is going to matter."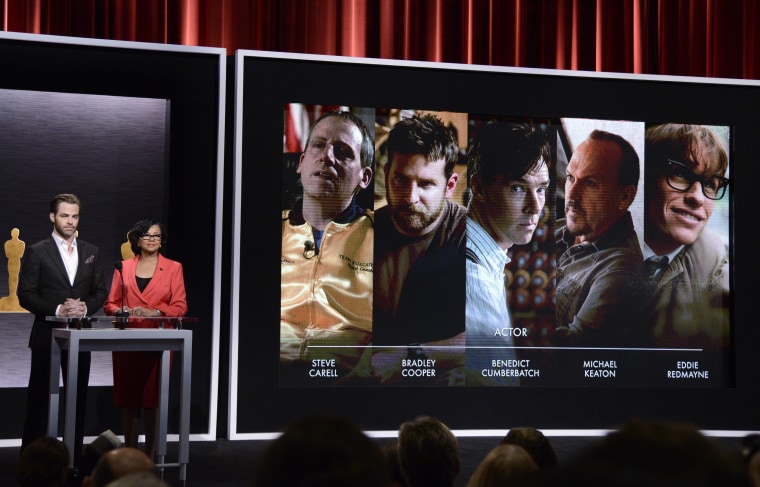 The Oscars are a big and competitive business — not just because of the high ratings the broadcast delivers, but also because of the revenue it generates for the nominated films.
In the past decade alone, according to research from Box Office Mojo, films often make as much as quarter of their profits post-nominations. In 2014, 70 percent of the grosses for Oscar contenders came after nominations were announced.
The studios have been investing in the Oscar process almost since the awards began in 1929, with full-page ads hyping star turns directed at industry watchers showing up in 1931. This year, the studios are throwing their weight behind movies with African-American-themed subject matter as they never have before, according to Nathaniel Rogers, editor of The Film Experience movie blog.
Related: Why 'Loving' Film's Portrayal of Interracial Marriage Is Relevant Today
"The studios are at least very open to noticing what they have, which wasn't entirely the case last year," Rogers said.
It helps, he said, that "movies like 'Fences' and 'Loving' [which portrays real-life interracial couple Richard and Mildred Loving's Supreme Court battle to end anti-miscegenation laws] are very much in the wheelhouse of what Oscar voters respond to."
Both films — as well as "Moonlight," "Hidden Figures" and "The Birth of Nation"— made advance copies readily available to academy members. Still, there is no definitive accounting for potential unconscious bias among Oscar voters.
"Just like with this past election, obviously we know people aren't always forthcoming about racial tensions and biases," Rogers said.