Spike Lee has decided to sit out the Oscars.
The outspoken "Do the Right Thing" director said in an Instagram post early Monday that he and his wife will not attend the Academy Awards ceremony in February because of the lack of racial diversity among the acting nominees. All the contenders in the acting categories this year are white.
Lee, who received an honorary Oscar at last year's Governors Awards, said it was "no coincidence" he announced his boycott on the birthday of Dr. Martin Luther King.
"Dr. King said 'There comes a time when one must take a position that is neither safe, nor politic, nor popular but he must take it because conscience tells him it's right," the filmmaker wrote in the post, using capital letter letters to start each word.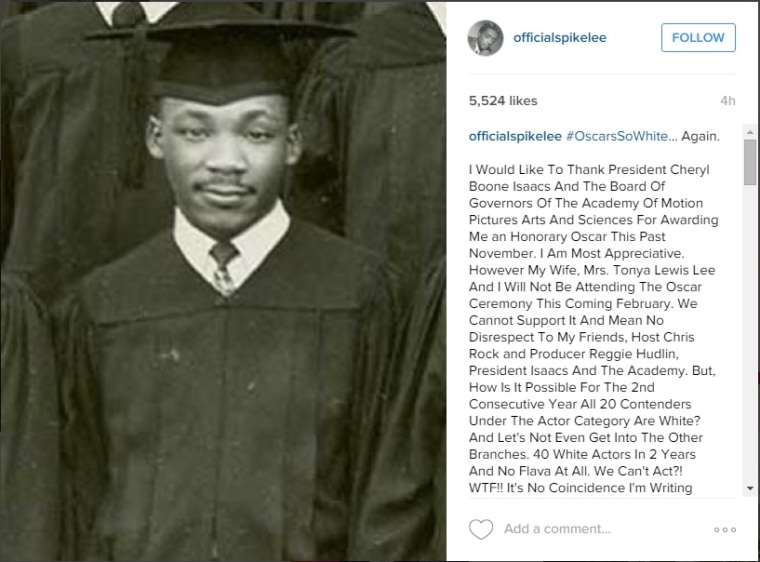 Lee, who has been nominated for two Oscars, added the Academy Awards "is not where the 'real' battle is."
"It's in the executive office of the Hollywood studios and TV and cable networks. This is where the gate keepers decide what gets made … This is what's important."
He added the Oscar nominees "will remain lily white" until minorities are "in those rooms" with industry decision-makers.
Lee made similar remarks in November when he accepted his honorary Oscar. He told a crowd of Hollywood luminaries that it's easier for a black person to become President of the United States than chief of a Hollywood studio or network.
"We need to have some serious discussions about diversity and get some flavor up in this," Lee said, according to The Associated Press. "This industry is so behind sports it's ridiculous."
Jada Pinkett Smith also said she would skip the Feb. 28 ceremony.
"Maybe it's time we pull back our resources and we put them back into our communities, and we make programs for ourselves that acknowledge us in ways that we see fit, that are just as good as the so-called mainstream," the actress and singer-songwriter said in a video posted on Facebook.