Peter Mayhew, who roared inarticulately yet somehow understandably as Chewbacca for generations of "Star Wars" fans, has died at age 74, his family announced Thursday.
Mayhew died Tuesday at his home in north Texas, his family said. A cause of death was not reported.
Mayhew towered — literally — as Chewbacca, a 200-year-old Wookiee from the planet Kashyyyk who co-piloted Han Solo's Millennium Falcon, which once made the Kessel Run in less than 12 parsecs. Various references listed his height as 7 feet, 2 inches to 7 feet, 4 inches.
Mayhew, a native of London, played the role in the original "Star Wars" trilogy in 1977, 1980 and 1983 and reprised the character in "Revenge of the Sith," in 2005, and "The Force Awakens," in 2015. He was consultant for the most recent installment, "The Last Jedi," guiding his successor, Joonas Suotamo, a Finnish basketball player.
"He put his heart and soul into the role of Chewbacca and it showed in every frame of the films from his knock-kneed running, firing his bowcaster from the hip, his bright blue eyes, down to each subtle movement of his head and mouth," his family said in a statement.
News of Mayhew's death immediately brought forth wells of grief. Suotamo called Mayhew "a dear friend and mentor."
"Peter's warm welcome when I came aboard as his double in 'The Force Awakens' meant so much to me," he said. "Studying the character he helped create was always a daunting task, but one that was made easier by his tutelage and kindness as we sought to bring Chewbacca to life for a new generation.
"He was an absolutely one-of-kind gentleman and a legend of unrivaled class and I will miss him."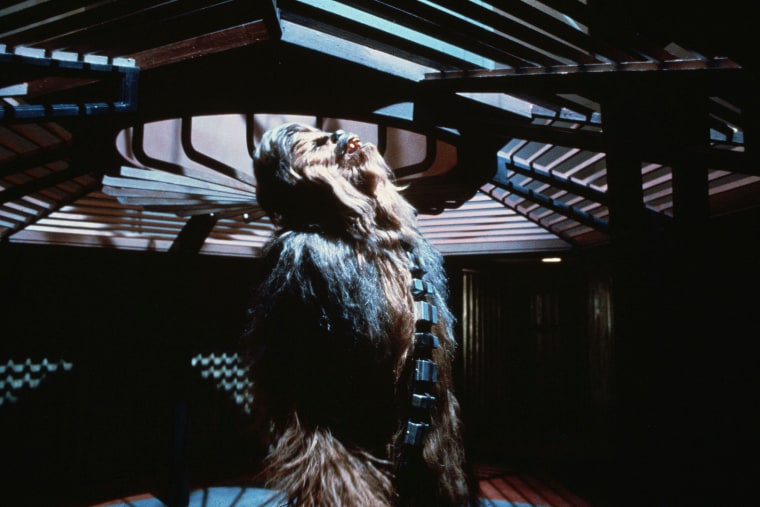 Harrison Ford, who played Han Solo, Chewbacca's partner in adventure and misadventure, called Mayhew "a kind and gentle man, possessed of great dignity and noble character."
"We were partners in film and friends in life for over 30 years and I loved him," Ford said in a statement to E News. "He invested his soul in the character and brought great pleasure to the Star Wars audience."
In an emotional tweet, Mark Hamill, who plays the protagonist of the series, Luke Skywalker, called Mayhew "a big man with an even bigger heart who never failed to make me smile."
George Takei — who as the original Sulu in the "Star Trek" franchise is another of the small number of actors whose lives were changed by iconic science fiction roles — called it "a sad day for millions of fans."
Likewise, Elijah Wood — Frodo in the "Lord of the Rings" trilogy — tweeted: "So long, Chewie, may the force be with you."
Kathleen Kennedy, president of Lucasfilm, the Disney-owned studio behind "Star Wars," highlighted Mayhew's uncanny ability to "express his personality through his skillful use of gesture, posture, and eyes."
"We all love Chewie, and have Peter to thank for that enduring memory," Kennedy said in a statement.
Mayhew didn't even get his first acting job until he was in his 30s, when he played a minotaur — a half-man, half-bull figure from Greek mythology — in the 1977 movie "Sinbad and the Eye of the Tiger." When George Lucas discovered and cast him in "Star Wars" later that year, Mayhew was working as an orderly in a London hospital.
Mayhew was typecast as Chewie for the rest of his life — even though most movie-goers never saw his face. He played the role not only in most of the "Star Wars" films but also on TV, in commercials, games, audio presentations and personal appearances for publicity and charity.
Mayhew became a U.S. citizen in 2005 because his wife was from Texas, and "Texas is an integral part of America, its lifestyle," he said at the time.
In the latter years of his life, Mayhew leveraged the popularity of Chewbacca to advocate for Venezuelan children, selling commemorative fundraising coins featuring Chewie's legs with a bullet belt around a map of Venezuela.
Mayhew became involved after he met Elisa Arguello, a Venezuelan actress who immigrated to the Dallas area about four years ago, he told The Associated Press last year.
"It had been bothering us for a while, and one night, my wife, Angie, picked up the phone and asked Elisa if there was any way we could get involved," he said at the time. "She started crying and said yes."
Mayhew is survived by his wife and three children. The family asked that donations be made to the Peter Mayhew Foundation in lieu of flowers.