LOS ANGELES — Disney's "Pirates of the Caribbean: Dead Men Tell No Tales" is sailing into first place at the domestic box office this weekend, but the story the numbers dictate is not one of swashbuckling heroics.
Johnny Depp's fifth outing as Jack Sparrow is looking at a three-day total of $62.2 million from 4,276 locations, and a four-day holiday weekend sum of $77 million. If not for international appeal, that would be a shipwreck for a movie riding on a $230 million production budget.
The first place finish also can't cover up a serious case of franchise fatigue. "Dead Men Tell No Tales" is the lowest opening for a Pirates movie apart from the original, which earned over $46 million in its first weekend (and was also the only installation approved by critics). Last time out in 2011, "On Stranger Tides" pulled in $90 million in its opening weekend. That's still less than 2007's "At World's End" ($114.7 million) and 2006's "Dead Man's Chest" ($135.6 million). But it's no question why Disney is still churning out sequels — combined, the movies have made $1.3 billion domestically and $3.8 billion worldwide.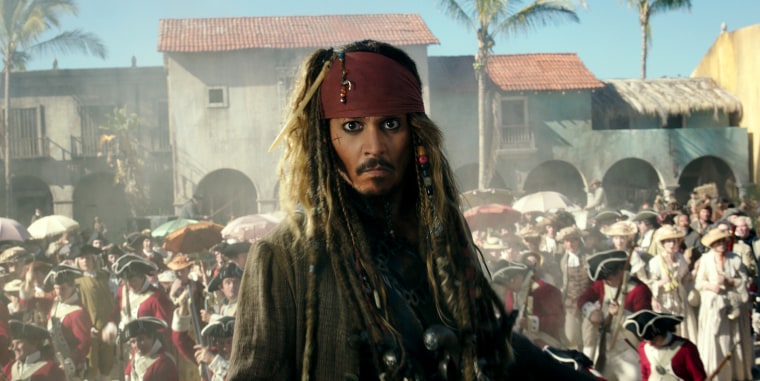 "Dead Men Tell No Tales" centers on Sparrow battling deadly ghost sailors, led by the Javier Bardem's Captain Salazar. Joachim Ronning and Espen Sandberg directed the film, which also sees the return of both Orlando Bloom and Keira Knightley, who were absent from the fourth installment.
Over time the "Pirates" franchise has become more reliant on overseas ticket sales, and that's certainly the case this time out. The studio should make back its production budget this weekend once worldwide ticket sales are taken into account. Since the franchise still makes money (even if U.S. grosses are dwindling) this may not be the last we see of Captain Sparrow.
Meanwhile, Paramount's "Baywatch" was hoping to make an oceanic summer splash, but looks to have ended up in the kiddie pool. The rebooted property should land a three-day total of $18.1 million from 3,647 locations and end the four-day holiday weekend with $22 million. That's far below early estimates. The movie carries a $60 million production budget.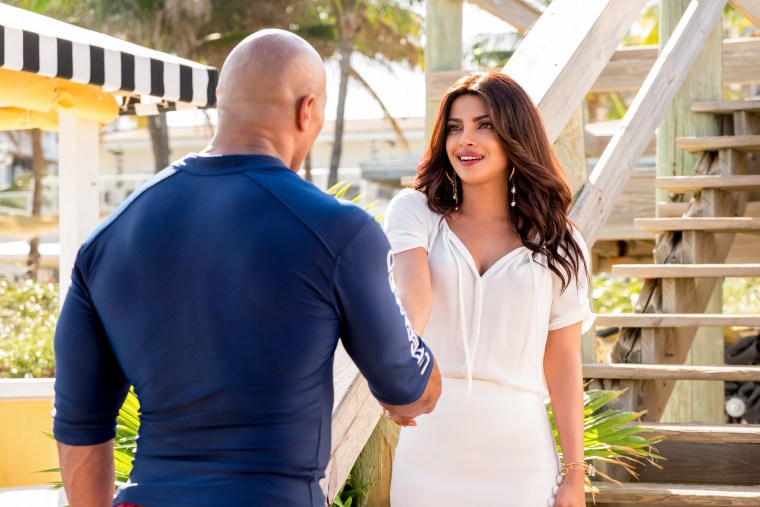 This is the latest in a string of misses for the studio this year including "Ghost in the Shell," "Rings," "XXX: The Return of Xander Cage," and "Monster Trucks."
Dwayne Johnson and Zac Efron star in the comedy that spawned from the 1990s NBC drama starring David Hasselhoff and a team of lifeguards who patrolled the beaches of Los Angeles. This time around it's Johnson, an experienced and devoted lifeguard, who butts heads with a new recruit, Efron, until they uncover a criminal plot.
Priyanka Chopra, Alexandra Daddario, Jon Bass, Kelly Rohrbach, and Ilfenesh Hadera also star. Seth Gordon directed the film based on a screenplay by Damian Shannon and Mark Swift. Jay Scherick, David Ronn, Thomas Lennon, and Robert Ben Garant all have story credits.
"Baywatch" will land in third behind Disney's "Guardians of the Galaxy Vol. 2," which has proven to be the only major hit to emerge from the summer box office so far. The sequel looks to pull in another $24.2 million over the four-day weekend, raising its domestic total close to $340 million.
Fox's "Alien: Covenant" should end up in fourth during its second weekend in theaters. The latest installment in the Alien franchise is looking at $13.1 million over the four-day stretch. Rounding out the top five, the YA adaptation "Everything, Everything" looks to have been a solid low-budget investment for Warner Bros. Its four day total should be about $7.6 million.