/ Source: Associated Press
LOS ANGELES — It was another weekend of buzz versus pure star power at the box office as the word-of-mouth sensation "A Quiet Place" found itself neck and neck again with Dwayne Johnson's "Rampage." This time, buzz had the slight advantage.
Studio estimates Sunday placed "A Quiet Place," with $22 million, in first and "Rampage" in second, with $21 million, but those numbers could shift when final results are tallied on Monday.
Still, John Krasinski's "A Quiet Place" continues to be a mini-phenomenon. With a $17 million production budget, "A Quiet Place" has grossed $132.4 million from North American theaters in three weeks. "Rampage," too, is down by only 41 percent domestically in its second weekend and continues to rake in the dollars worldwide. The film boasts a worldwide tally of $283 million, and Johnson has continued using his social media accounts to hype the film and thank audiences.
The staying power of both somewhat overshadowed newcomers like Amy Schumer's "I Feel Pretty" and the sequel to the 2001 cult comedy "Super Troopers," both of which nevertheless managed to find their own niche audiences despite largely negative reviews.
"I Feel Pretty," released by STX Entertainment, grossed an estimated $16.2 million — a little less than half of what Schumer's "Trainwreck" opened to in July 2015. Unlike "Trainwreck," Schumer didn't write "I Feel Pretty," which is about an insecure woman who gets a life-changing confidence boost after a head injury. The concept became somewhat divisive and the subject of a fair amount of scrutiny.
"She's a force, and that's not going to change," said Paul Dergarabedian, a senior media analyst for comScore. "She's always going to push the envelope. Sometimes that will bring big box office. Sometimes it won't."
The partly crowd-funded "Super Troopers 2," meanwhile, leaned into its opening Friday and scored a fourth-place $14.7 million opening weekend for Broken Lizards and distributor 20th Century Fox.
Fifth place went to the Blumhouse horror "Truth or Dare," with $7.9 million in its second weekend, while Lionsgate's thriller "Traffik," with Paula Patton, launched in ninth, with $3.9 million.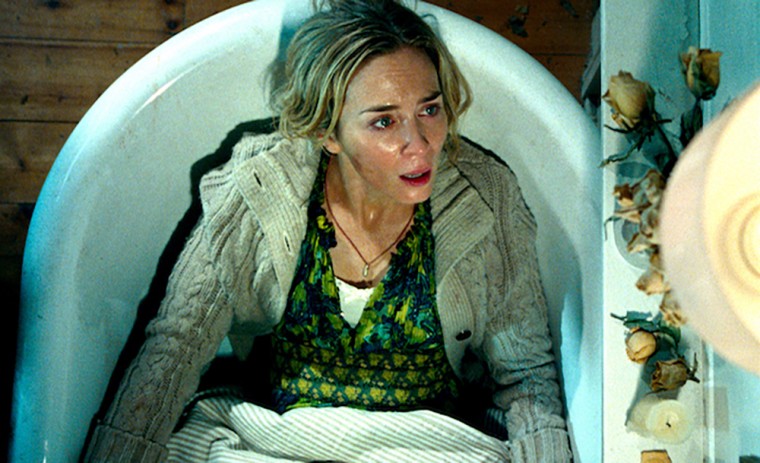 The box office for the year remains down about 2.4 percent from last year, but that will change next week.
"We're going to see a huge turnaround later this week in the box office fortunes with 'Avengers: Infinity War,'" Dergarabedian said.
The film is tracking to make more than $200 million in its first weekend in theaters, leading some experts to wonder whether the superhero pic could have the highest opening of all time, beating out even "Star Wars: The Force Awakens."
Estimated ticket sales for Friday through Sunday at U.S. and Canadian theaters, according to comScore. Where available, the latest international numbers for Friday through Sunday are also included. Final domestic figures will be released Monday.
"A Quiet Place," $22 million ($15 million international)
"Rampage," $21 million ($57 million international)
"I Feel Pretty," $16.2 million ($2.4 million international)
"Super Troopers 2," $14.7 million
"Truth or Dare," $7.9 million ($4.1 million international)
"Ready Player One," $7.5 million ($23 million international)
"Blockers," $7 million ($2.6 million international)
"Black Panther," $4.6 million ($1.2 million international)
"Traffik," $3.9 million
"Isle of Dogs," $3.4 million ($5.6 million international)