/ Source: Associated Press
NEW YORK — John Krasinski's "A Quiet Place" made a thunderous debut at the box office, opening with $50 million in ticket sales and rumbling to the year's second-best weekend after "Black Panther," according to studio estimates Sunday.
The Paramount Pictures thriller far exceeded expectations to land one of the top opening weekends for a horror release. It marks an unlikely breakthrough for Krasinski, the former "Office" star many associate more with inter-office romance and deadpan expressions than silent cinematic frights. Krasinski's third directing effort, which stars himself and his wife, Emily Blunt, is about a family in a future dystopia populated by violent creatures with extremely acute hearing.
But it was far from the only success story on the weekend, which also saw Universal's R-rated comedy "Blockers" open solidly, with $21.4 million; Steven Spielberg's virtual-reality adventure, "Ready Player One," dip by only 40 percent, with $25.1 million in its second weekend; and the period docudrama "Chappaquiddick" beat expectations with a debut of $6.2 million. In limited release, Wes Anderson's "Isle of Dogs," Lynne Ramsay's "You Were Never Really Here" and Andrew Haigh's "Lean on Pete" all did well, too.
For one weekend, at least, just about everything Hollywood could throw at moviegoers worked. The weekend was up by 35.3 percent from last year.
But nothing approached the runaway success of "A Quiet Place." Hollywood had forecast closer to $30 million for the film, which cost just $17 million to make. But "A Quiet Place" rode strong buzz from its South by Southwest premiere in March, good reviews (97 percent fresh on Rotten Tomatoes) and moviegoers' continuing thirst for horror.
"We always knew we had something special from the first screenings. But you don't get to a number like this without breaking free of the genre. I think this is about great storytelling," said Kyle Davies, head of domestic distribution for Paramount, who heaped praise on Krasinski. "We're looking forward to what else he has up his sleeve."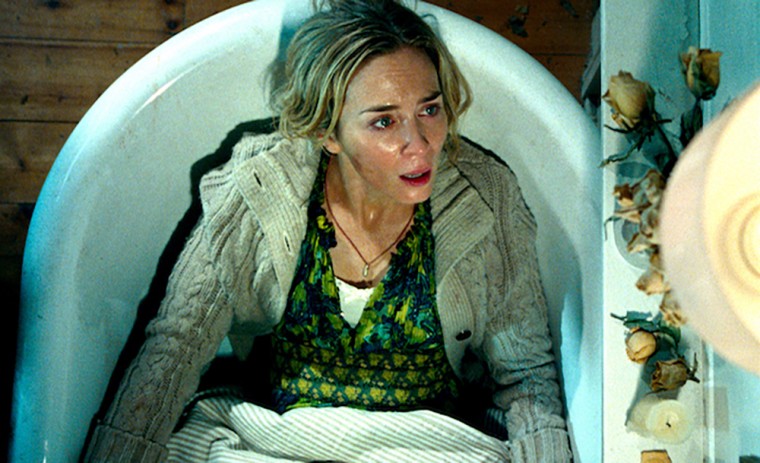 "A Quiet Place" is also a badly needed hit for Paramount, which has struggled mightily at the box office in recent years while its ownership has sometimes been in limbo. Last week, CBS Corp. submitted a bid to acquire Viacom Inc., Paramount's parent company.
Although it was greenlighted under the previous leadership, "A Quiet Place" is the first major success under Jim Gianopulos, who took over as studio head a year ago. The opening is Paramount's biggest since 2016's "Star Trek Beyond" and its best non-franchise opening since 2013's "World War Z."
"Blockers" also heralds a filmmaking breakthrough aided by an enthusiastic response from SXSW audiences. The film, which cost about $21 million to make, is the directorial debut of Kay Cannon, a writer whose credits include "30 Rock" and "Pitch Perfect." "Blockers," starring Leslie Mann, John Cena and Ike Barinholtz as parents trying to prevent their daughters from losing their virginity, shrugged off a recent slump for comedies in theaters.
"Kay Cannon knocked it out of the park," said Jim Orr, head of distribution for Universal, who credited Cannon with inverting the "double standards" of the teen sex comedy. "We could not be more pleased."
(Universal is a division of NBCUniversal, the parent company of NBC News.)
Despite the competition, Warner Bros.' "Ready Player One" held well, bringing its domestic total to $96.9 million. But it has fared even better overseas, where it has already grossed $294.4 million. It has done especially well in China, where the film has made $161.3 million in two weeks.
Continuing ticket sales also pushed Ryan Coogler's "Black Panther" further into the record books. The Marvel blockbuster now ranks third all time domestically, with $665.4 million, trailing only "Avatar" and "Star Wars: The Force Awakens." Over the weekend, "Black Panther" passed 1997's "Titanic," which grossed $659.4 million, although accounting for inflation would put it above $1 billion.
John Curran's "Chappaquiddick," about the 1969 Ted Kennedy scandal, opened with $6.2 million in 1,560 theaters. The film, starring Jason Clarke as Kennedy, was acquired by Byron Allen's Entertainment Studios at last fall's Toronto International Film Festival. It had originally been planned for an awards season release, but the move to spring seemed to give "Chappaquiddick" a better chance to stand out.
Estimated ticket sales for Friday through Sunday at U.S. and Canadian theaters, according to comScore. Where available, the latest international numbers also are included. Final three-day domestic figures will be released Monday.
"A Quiet Place," $50 million ($21 million international)
"Ready Player One," $25.1 million ($81.7 million international)
"Blockers," $21.4 million ($3.2 million international)
"Black Panther," $8.4 million ($4.5 million international)
"I Can Only Imagine," $8.4 million
"Tyler Perry's Acrimony," $8.1 million
"Chappaquiddick," $6.2 million
"Sherlock Gnomes," $5.6 million ($2.7 million international)
"Pacific Rim Uprising," $4.9 million ($12.4 million international)
"Isle of Dogs," $4.6 million ($1.1 million international)