LOS ANGELES — As awards season heats up in Hollywood, the annual Razzies Awards on Wednesday named the year's worst achievements in film with steamy romance "Fifty Shades of Grey" and Adam Sandler's video game adventure "Pixels" among the top nominees, while Sylvester Stallone was honored with a redemption.
"Fifty Shades of Grey," "Pixels," sci-fi saga "Jupiter Ascending," comedy "Paul Blart: Mall Cop 2," all of which landed six nominations, and superhero "Fantastic 4," which landed five nods, will compete for the Razzies worst picture award.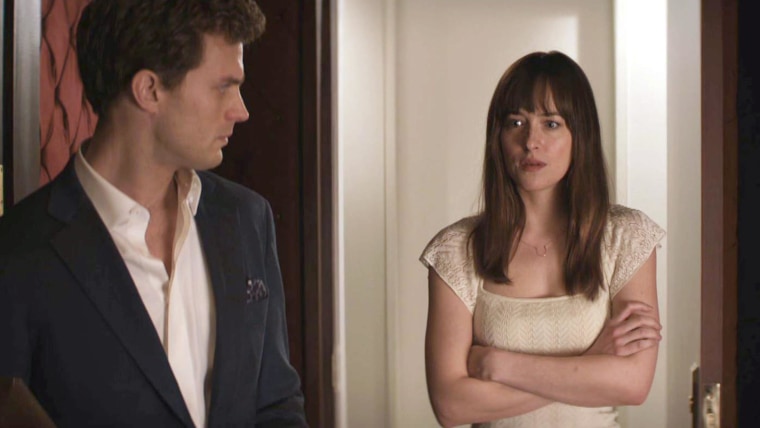 The tongue-in-cheek Razzies, created in 1980, serve as an antidote to Hollywood's prestigious Oscars ceremony, as organizers choose to bestow winners of the year's worst films with a gold spray-painted trophy worth $4.97.
Stallone, who won his first Golden Globe last week for reprising his iconic role as Rocky Balboa in "Creed," is nominated for the Razzie Redeemer Award, going from an "all-time Razzie champ to 2015 award contender."
He will compete for the title with Will Smith, nominated for his redeeming role in "Concussion," actor-director Elizabeth Banks for directing the hit "Pitch Perfect 2" and horror filmmaker M. Night Shyamalan for directing hit horror "The Visit" after a slew of flops.
Winners of the Razzies are voted for online by around 900 members of the Razzies committee, and anyone can sign up to vote, with memberships starting at $40.
The "tacky" Razzies ceremony are traditionally held in Hollywood on the night before the Feb. 28 Oscars ceremony, and those honored seldom show up.
Perennial Razzie favorite Sandler, nominated for five consecutive years, this year scored nods for worst actor in "Pixels" and worst screen combo for 'Adam Sandler & Any Pair of Shoes" for his role in "The Cobbler" — about a cobbler who can magically step into the shoes of his customers.
Eddie Redmayne, a potential best actor Oscar contender for his role in "The Danish Girl," landed a worst actor Razzie nomination for "Jupiter Ascending," while Rooney Mara, potential Oscar best actress nominee," landed a worst supporting Razzie nod for her role as Tiger Lily in "Pan."