Shia LaBeouf has turned binge-watching into performance art.
The former child star has spent the last two days cooped up in an art-house theater in New York City watching all his movies in reverse chronological order.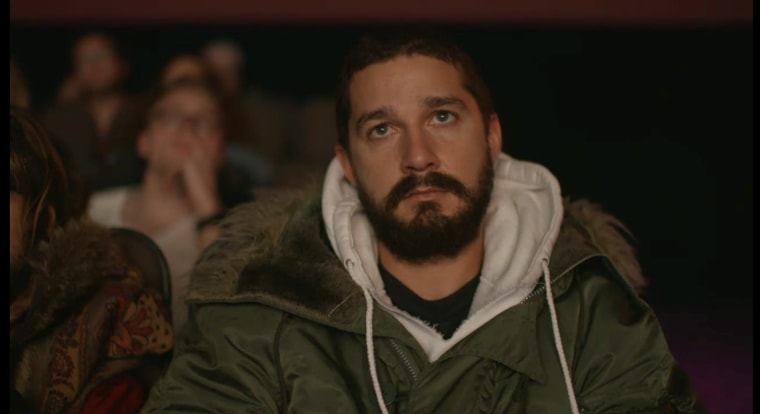 Oh, and you can livestream the whole thing.
LaBeouf, 29, entered the last leg of the "#ALLMYMOVIES" project on Thursday morning. He could be seen wearing a green raincoat and white hooded sweatshirt during an early-morning screenings of "Charlie's Angels: Full Throttle" and "I, Robot," in which he has small parts.
He spent Tuesday and Wednesday plowing through his more recent work — supporting turns in "Fury" and "Lawless," lead roles in the "Transformers" series and the last "Indiana Jones" installment.
The marathon is expected to conclude at 6:53 p.m. Thursday, after showings of early-2000s tween flicks like "Holes" and "The Even Stevens Movie."
The stunt at the Angelika Film Center in downtown Manhattan is open to the public. LaBeouf, who in recent years has made headlines for his erratic and sometimes criminal behavior, has been joined by dozens of fans and gawkers.
Meanwhile, livestream-watchers have documented the movie marathon on social media: