Steven Spielberg, a child of the 1950s, grew up with stirring Hollywood dramas about the sacrifices of World War II. But with "Saving Private Ryan," the Oscar-winning director set out to make a war film unlike any that he — or audiences around the world, for that matter — had ever seen.
"Saving Private Ryan," a no-holds-barred epic about D-Day and the Normandy invasion, would reshape America's cultural memory of WWII, exposing millions of viewers to the stomach-churning violence and soul-shaking intensity of that pivotal chapter in the war.
"If we pulled this off in the right way — and it stood the test of time — this was going to stand in, in some small way, for what those kids experienced at 6:30 in the morning on June 6, 1944," Spielberg told NBC News' Tom Brokaw, of the date of the Allied landings on the beaches of Normandy.
In the nearly 21 years since "Saving Private Ryan" debuted to $481.8 million in global ticket sales and five Oscars, few war movies have seized the public imagination as forcefully as Spielberg's acclaimed saga. And many filmmakers, on the big and small screen alike, have been inspired by its unprecedented, unflinching realism.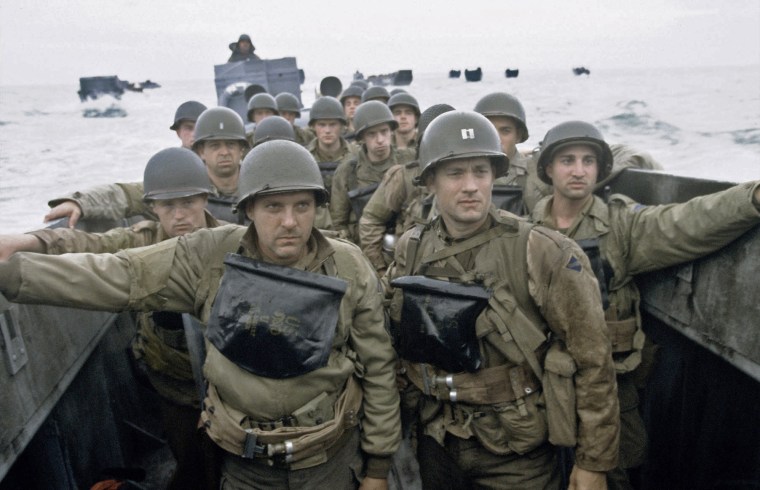 "What Steven wanted to do from the get-go was to use all of his magic, and all of the tools that existed in cinema as of 1997, and make a war movie that was going to break every one of the tropes, visually and cinematically, that all war movies had," Tom Hanks, who stars in the film, told Brokaw.
Fathom Events, a company that screens classics in theaters across the country, is betting a new generation of viewers will find "Private Ryan" just as gripping. The company plans to re-release it in select cinemas on June 2 and June 5, tied to the 75th anniversary of D-Day.
"This monumental film demands the movie-theater-viewing experience," said Ray Nutt, Fathom's CEO.
'It was a game-changer'
In the eyes of most critics and the film's legions of admirers, the bravura 25-minute set piece that opens "Private Ryan" — a frenetic recreation of the Normandy landing — has become its most influential and lasting contribution to the American movie pantheon.
"We took every inch of that beach — as filmmakers, not as war veterans," Spielberg told Brokaw with a laugh. "It took us 25 days of shooting to capture 25 minutes of those landings."
The scenes on Omaha Beach, partly recorded on a shaky handheld camera and drenched in sickly shades of green and gray, find Hanks' Captain Miller and his troops caught in a maelstrom of bullets, blood, bombs and viscera amid a seemingly endless stretch of sand.
The lengthy sequence — hailed then and now for its raw, gritty honesty — was a radical departure from the more stylistically restrained and sometimes sanitized war dramas of the 1950s and '60s.
"It was a game-changer," said Steven Jay Rubin, a screenwriter, film historian and author of a book about American combat movies. "It was devastatingly dramatic, visceral, immersive. I didn't touch my popcorn because it felt sacrilegious to eat while I'm watching it."
Spielberg and his production crew were relentless in their pursuit of historical authenticity. Hanks and his co-stars, including Tom Sizemore, Edward Burns, Barry Pepper and pre-"Fast and Furious" Vin Diesel, were put through rigorous "boot camp" under the command of Marine Capt. Dale Dye, who is now 74.
"The legend of it now is that we were out in the freezing cold woods for, you know, weeks and weeks. I think it was really only five days," Hanks told Brokaw with a laugh. "When a fake ambush happens at 3 in the morning, and gets you up out of your tent, your adrenaline gets pumping."
Rubin pointed to parts of more recent cultural works that he believes are clearly indebted to Spielberg, from the psychological anguish of Clint Eastwood's "American Sniper" and the disorienting intimacy of Christopher Nolan's "Dunkirk" to hit video games like "Call of Duty."
Matt Shakman, a television director who helmed the penultimate "Game of Thrones" episode, in which Daenerys Targaryen (Emilia Clarke) torches King's Landing with dragon fire, recently told The New York Times that he consulted Spielberg's violent opus ahead of production.
"I looked at 'Saving Private Ryan,' the opening battle on the beach, where the sound drops out and Tom Hanks is watching men being burned alive and shot to death. That to me was very much what it should feel like for Jaime, watching men die left and right around him," Shakman told The Times, referring to another "Thrones" character, Jaime Lannister.
Spielberg and Hanks, however, hope the most enduring legacy of "Saving Private Ryan" is its tough-minded but earnest celebration of the men who gave their lives defending their country and their brothers in arms.
"I think the danger is that it enters into some sort of mythological place," Hanks said. "If we ever forget that it was a bunch of individuals that went over, and they all had names like Ernie, and Buck and Robert — that's when we've done a bad job of being citizens of the world, I think."