LOS ANGELES — "War for the Planet of the Apes" is officially the box office champ during a weekend that demands a close look.
Fox and Chernin Entertainment's latest "Apes" movie is coming in on the low end of expectations with $56.5 million from 4,022 locations. It was pegged at $60 million-$65 million earlier in the week, but is ending up about the same as 2011's "Rise of the Planet of the Apes," which kicked off the modern trilogy with $54.8 million during its opening weekend.
2014's "Dawn of the Planet of the Apes" was a bigger hit with a $72.6 million domestic opening, when it hit theaters against the third weekend of "Transformers: Age of Extinction."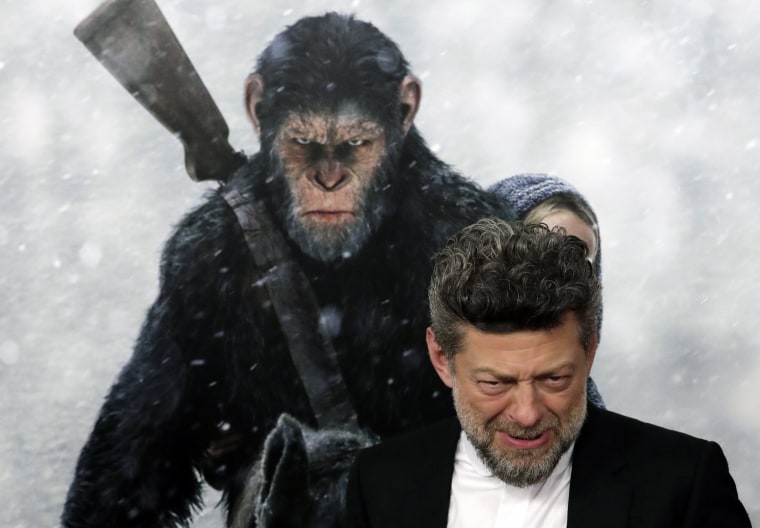 One way "War for the Planet of the Apes" stands out from other big-budget studio films is its rave reviews — it currently has a 94% on Rotten Tomatoes. The film, which depicts the titular war between apes and humans, is directed by Matt Reeves, who joined the franchise when he stepped in on "Dawn."
"Spider-Man: Homecoming," meanwhile, is landing in second with about $45.2 million. That's a 61 percent drop from last weekend's heroic opening, which is probably a steeper falloff than Sony would have liked to see.
"Homecoming" is a hit with critics and audiences, and dominated social media chatter for weeks leading up to its release. Tom Holland is the teen in the red suit, who first joined the Marvel universe in "Captain America: Civil War."
The weekend's other major release apart from "Apes" is the horror flick "Wish Upon" from Broad Green Pictures and Orion Pictures. The movie is entering the box office with a whisper, about $5.6 million from 2,250 locations.
Universal's "Despicable Me 3" is showing in third place for the weekend, expecting to earn an additional $19 million from 4,155 locations. And Sony's "Baby Driver" stays in the conversation with a strong hold that should land it in fourth at the box office.