Deep in the heart of Motown, a who's who of musical luminaries and political dignitaries gave Aretha Franklin a funeral service worthy of the Queen of Soul.
"I figured out the secret of her greatness," former President Bill Clinton told the crowd at the invitation-only service at Detroit's Greater Grace Temple Church Friday. "She took this massive talent and the culture that raised her and decided to be the composer of her own life song. And what a song it turned out to be."
Franklin, who died on Aug. 16 at the age of 76 from pancreatic cancer, is being honored in her hometown with a funeral service for family and friends, capping a weeklong celebration of the late soul singer's life. Some open seats inside the church were made available to the public shortly before the service started.
The first sign that the funeral would be a regal affair was a procession of dozens of pink Cadillacs in the street leading to the church — an homage to the vehicle at the center of the lyrics and video for Franklin's '80s hit "Freeway of Love."
In his opening prayer, Dr. E. L. Branch, the pastor for the Third New Hope Church, hailed Franklin, "who touched so many — from popes and presidents, even to the least and the last."
Proof of that was on display Friday, as Clinton shared his remembrances of the musical icon. Letters from two other presidents, Barack Obama and George W. Bush, were read out loud.
"We started out not as a president and first lady, a senator and a secretary of state, we started out as Aretha groupies," Clinton said of himself and Hillary Clinton.
During his speech, Rev. Al Sharpton put the focus not on Franklin's music, but on her history as a civil rights activist who had performed for free earlier in her career to help raise money for Dr. Martin Luther King. The MSNBC host and contributor received a standing ovation when he called out President Donald Trump for a ill-received tweet that suggested Franklin had "worked" for him.
"No, she used to perform for you, she used to work for us," said Sharpton. "Aretha used to take orders from nobody but God."
Sharpton's mentor, the Rev. Jesse Jackson, who was friends with Franklin for 60 years, lamented that the lines to mourn famous people were so long, while the lines to vote were so short in Michigan, a state which Trump won by about 11,000 votes.
"If you leave here today and don't register to vote, you'll dishonor Aretha," Jackson warned the audience during his speech.
Contemporaries like Smokey Robinson, who first met Franklin and was stunned by her singing when he was 8 years old and she was just 6, recalled personal memories. And 93-year-old Cicely Tyson delivered an acting clinic, performing a dramatic reading of Paul Laurence Dunbar's "When Malindy Sings," subbing out Aretha's name for the poem's title character.
Controversy, however, surrounded the long eulogy delivered by the the Rev. Jasper Williams Jr., the pastor of Salem Baptist Church in Atlanta, towards the end of the service. Williams spent more of his time at the pulpit to admonish black men for "having lost their souls" than talking about Franklin herself.
"Black lives don't matter until blacks respect each other lives," he preached to a mixed reaction from those in attendance and a poorer reception on social media immediately.
Immediately after the eulogy, Stevie Wonder felt the need to bring the message back to love. "Black lives do matter," he said before starting his performance.
Music, of the joyful kind, however, very much remained at the center of the service.
More than a dozen musical tributes punctuated the sermons and speeches. Wonder contributed a powerful rendition of his signature tune, "Always." Earlier, Jennifer Hudson turned the Christian hymn, "Amazing Grace," into a truly spiritual experience. Ten-time Grammy winner Chaka Khan shined on the gospel song, "I'm Going Up Yonder," which had Congresswoman Maxine Waters dancing in the aisle.
Country crooner Faith Hill kicked off the musical tributes with a rousing rendition of "What a Friend We Have in Jesus," a gospel staple that Franklin covered in 1972. Pop princess Ariana Grande, chipped in with a cover of one of her idol's signature hits, "(You Make Me Feel Like) A Natural Woman."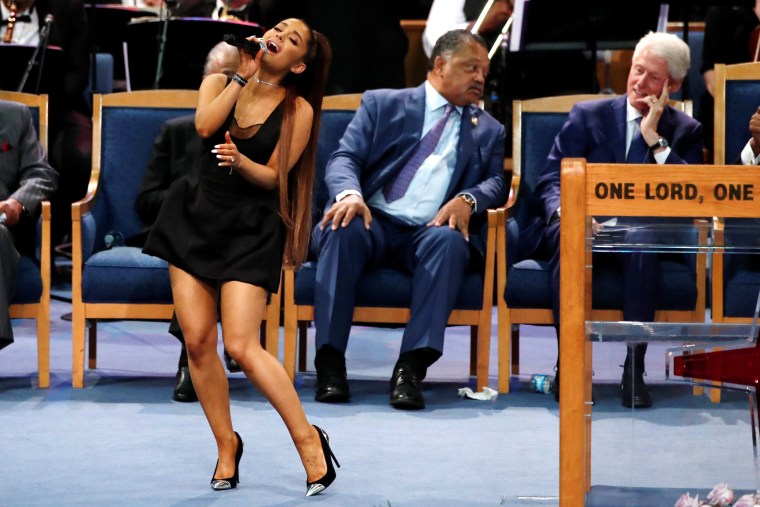 Franklin may have been internationally renowned, but she was also locally beloved. Detroit Mayor Mike Duggan told the crowd that the city would rename Chene Park — site of the amphitheater that hosted a tribute concert the night before — as Aretha Franklin Park. To make it official, the proclamation would be voted on by City Council next Tuesday.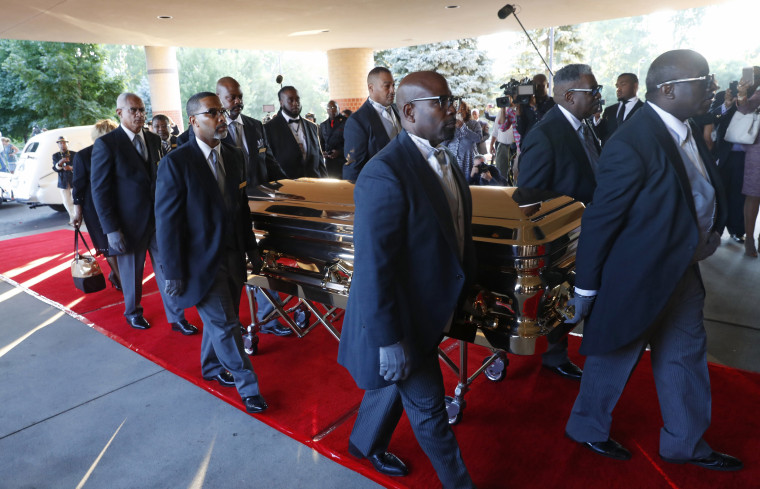 The gold-plated casket carrying Franklin arrived at the church at 7:45 a.m. EST, with the processional beginning three hours later. The service was expected to run at least five hours.
"After all she gave to the world, I felt we needed to give her an appropriate send-off that would match her legacy," Sabrina Owens, Franklin's niece, told The Associated Press.
Then there are the diva flourishes. Those pink Cadillacs were organized by Crisette Ellis — the wife of Bishop Charles H. Ellis III, the pastor of the Greater Grace Temple — who told NPR that 130 such Caddies were expected to participate.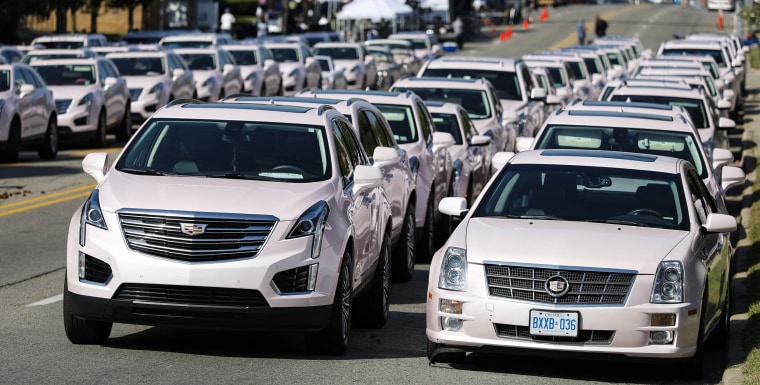 Franklin was also feted Thursday with an all-star concert in the amphitheater that would soon be renamed in Franklin's honor. Her fans got the chance to pay their respect with public viewings on Tuesday and Wednesday at the city's Charles H. Wright Museum of African American History.
Greater Grace Temple had a deep connection for Franklin: The "Natural Woman" crooner sang at the 2005 funeral for civil rights icon Rosa Parks. In a nod to that link, Franklin's casket was ferried to the church in the same hearse that brought Parks there 13 years ago.
After the funeral service ended, Franklin was buried at Woodlawn Cemetery, where several family members, including her father, Rev. C. L. Franklin, are interred.