Bob Dylan spent the first half of his career going to great lengths to protect his music — rehearsal and recording sessions, outtakes and unreleased songs — from rapacious bootleggers.
He has spent the second half releasing them himself, through his ongoing "Bootleg Series," opening a new window into how some of his best-known work grew from sketches of songs into final tracks.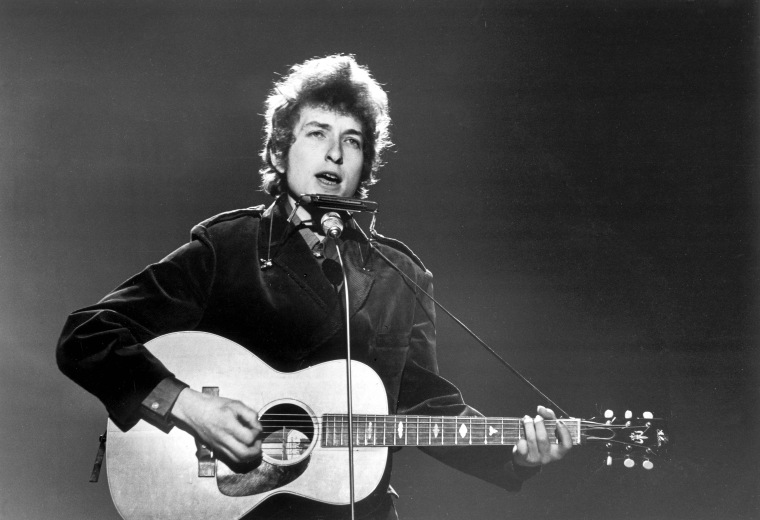 The latest volume, "The Cutting Edge, 1965-1966," on sale Friday, takes listeners inside the recording sessions that produced three of his most acclaimed albums: "Bringing It All Back Home," "Highway 61 Revisited" and "Blonde on Blonde."
Those sessions yielded a long string of his hits, including "Like a Rolling Stone," "Desolation Row," "Ballad of a Thin Man" and "Rainy Day Women #12 & 35," which influenced a generation of songwriters and transformed Dylan almost overnight into a cult figure.
By as early as 1965, Dylan, 23, had already penned nearly his entire canon of protest songs and was moving swiftly into blues and rock — too swiftly for many fans.
His transformation played out over 18 chaotic months in 1965 and 1966. What's remarkable about this period is that all of these songs were written on the run, in the midst of the chaos of sudden fame.
In March 1965, he released "Bringing It All Back Home," a half-acoustic, half-electric album. In July 1965, he "went electric" at the Newport Folk Festival, days after the release of "Like a Rolling Stone." In August 1965, he released "Highway 61 Revisited," and the following May, he turned out the double album "Blonde on Blonde."
Related: Bob Dylan's Famed Electric Guitar From 1965 Folk Fest Sells for $965,000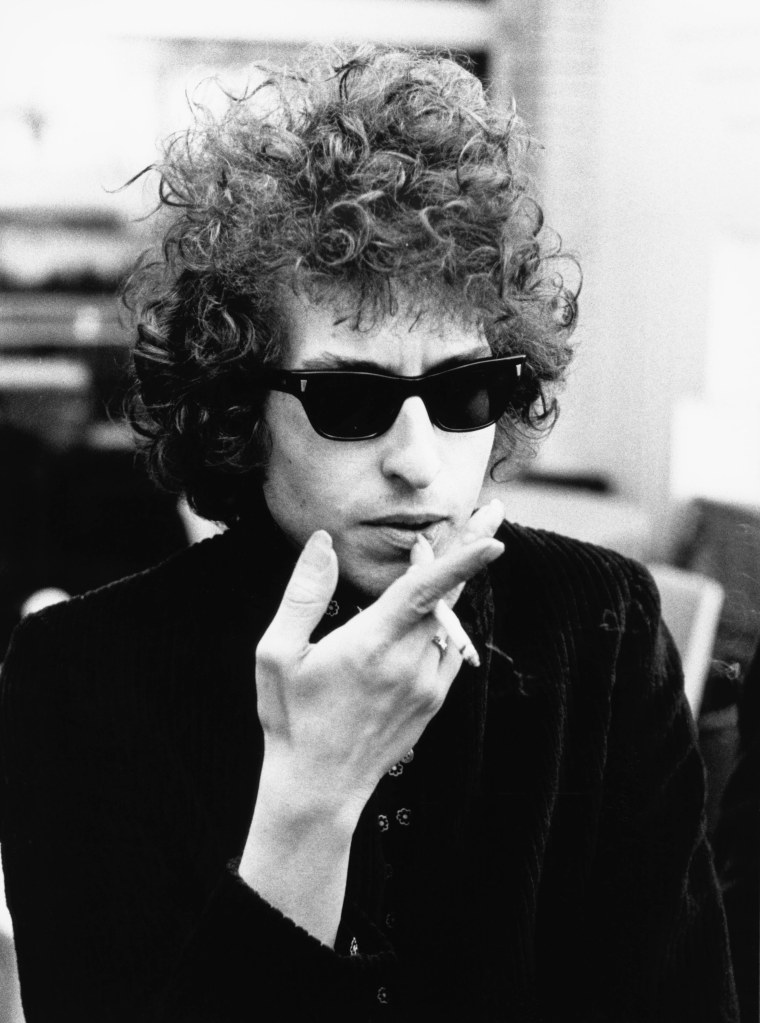 Between and among albums, he was touring; he toured the United States and Europe twice, playing 65 dates in 1965 and 39 more in 1966. His concerts during those years were marked by a disorienting response from audiences, who would cheer his acoustic songs during the first half of the show and then boo throughout his electric second set.
Outside the studio, Dylan has also always moved at warp speed. He turned up at Andy Warhol's Factory in New York City, at John Lennon's sprawling British estate and at a famous gathering of Beat poets at San Francisco's City Lights bookstore. He secretly married a model on Long Island in the fall of 1965 and managed to keep the marriage under wraps from even close friends for months.
Almost a year to the day after the Newport concert, Dylan crashed his motorcycle in upstate New York. Battered by relentless touring and too much fame, he withdrew completely from public life and didn't re-emerge to tour again until 1974.
Since then, he's kept on moving — in recent years, he's even released multi-performer videos packed with interactive features.
Previous "Bootleg Series" volumes have generally used completed outtakes or unreleased songs. "The Cutting Edge" extends the experiment, introducing numerous versions of a single song in the order they were recorded to show how the song evolved.Dylan would often show up with half-finished songs or loose drafts of lyrics and would write between takes, trying out different verses or lines or changing the songs' tempi, according to musicians who were there.
Sometimes, a track would come together with lightning-like efficiency. "Sad Eyed Lady of the Lowlands" was recorded in one take at 4 a.m. in Nashville, Tennessee, recalled Charlie McCoy, the veteran studio man who led the Nashville band that played on "Blonde on Blonde."
"A lot of times with Dylan, even the best musicians are hanging on for dear life," McCoy said, because Dylan is not much for offering direction in the studio. "He just starts playing, and you just pick up behind him as best you can."
Other times, Dylan will labor over a track across the course of days. One full disc of the set contains 20 sequential takes of "Like a Rolling Stone." Before it became the explosive rock anthem in 4/4 time with the famous pistol-shot snare-drum opening, Dylan's most famous song was a slow, harmonica-driven piano waltz.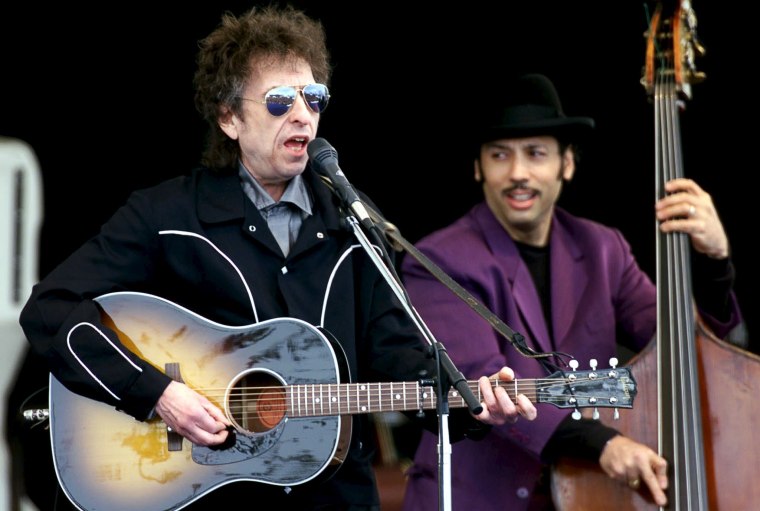 Dylan's way of trying songs in different arrangements can provide for some fascinating insights, even years later.
He recorded early takes of some of the songs of "Blonde on Blonde" with members of The Band (who at the time called themselves The Hawks) in New York, and one of the volume's highlights is several new versions of "Visions of Johanna," including a reeling, foot-stomping rock jaunt and a slower, more ponderous arrangement that laid the groundwork for the album version.
A drum-driven "Mr. Tambourine Man" gives the song a new sound. "Highway 61 Revisited" is offered with and without the famous police whistle.
But Dylan's studio experiments take wrong turns, too, as when Al Kooper employs a celeste — essentially a xylophone inside a piano cabinet — during one very chimey, early version of "Queen Jane Approximately."The new volume comes in three sets: a two-disc best of set, a six-disc set and an 18-disc box set that includes every version of every song on the trio of albums.
The title of the series is something of an inside joke within Dylan's camp.
In the late 1990s, the chief of the Recording Industry Association of America's anti-piracy division, Frank Creighton, testified as part of a legal dispute between Dylan and one of his employees that the artist "is the probably the most bootlegged artist in the history of the music industry," according to "Down The Highway: The Life of Bob Dylan," a biography by Howard Sounes.
Things got so bad, Sounes reports, that his management team had to start hand-delivering his newly copyrighted songs to the U.S. Copyright Office.
Even there, someone snatched a Dylan tape, "apparently the only time such a theft had occurred," Sounes wrote.
After that theft, Dylan's management began storing his audio material in secret vaults equipped with alarms and requiring multiple key-access points.