Grammy-winning singer Chris Brown was arrested Tuesday after a woman claimed he threatened her with a gun, police said.
Earlier, officers obtained a search warrant allowing them to enter the entertainer's Los Angeles mansion.
"Mr. Brown is going to be transported where he will be arrested for ADW — assault with a deadly weapon," LAPD Lt. Chris Ramirez told reporters at around 5 p.m. local time (8 p.m. ET).
Brown was later booked and then released on $250,000 bail, according to officials.
The woman reported the early morning incident to police, saying 27-year-old Brown pointed the gun at her before she left his gated estate in the wealthy Los Angeles enclave of Tarzana, law enforcement sources told NBC News.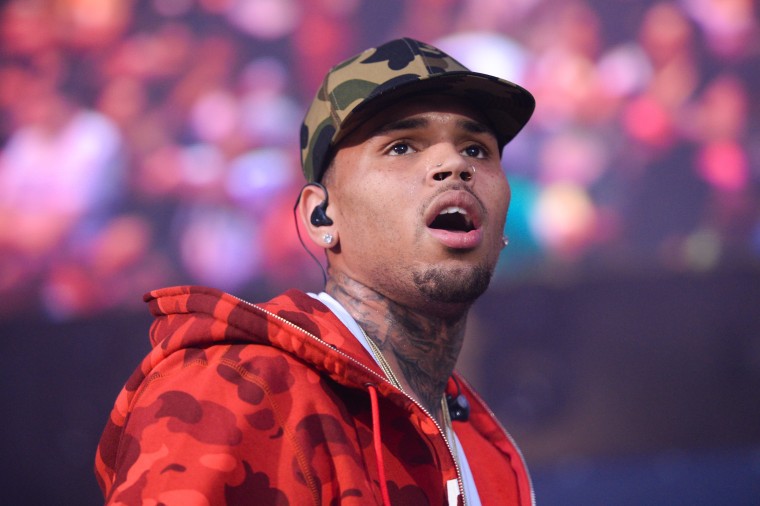 The LAPD received a call at about 3 a.m. local time (6 a.m. ET) and sent several patrol cars to the home later Tuesday morning.
Brown, who has previously pleaded guilty to a felony assault, had refused to come out of his home and talk with officers. Sources earlier told NBC News that other witnesses have also been uncooperative.
The "Run It!" singer recorded a profanity-laced rant on his official Instagram account Tuesday morning, saying he was fed up with police at his home.
"Every three months, y'all come up with something, bro. What is it? What's going to be next?" he asked, adding: "At the same time, when I call police for stalker people … they don't come until the next day."
Ramirez said Brown was later cooperative with detectives. Brown's attorney, Mark Geragos, did not immediately return calls for comment but was seen arriving at the home.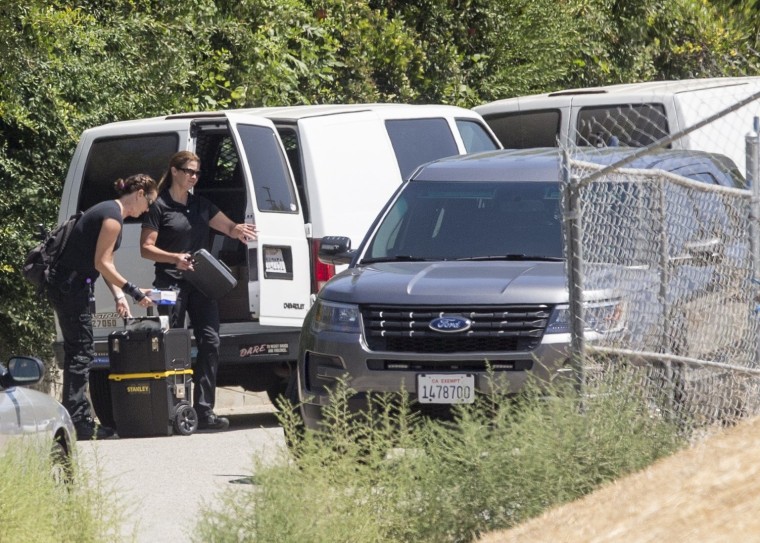 The woman who made the complaint in an interview with E! said Brown pointed a gun at her face after an argument about a diamond cross necklace.
The woman said there was a man selling diamond watches and necklaces near the kitchen area, she admired a diamond cross but did not touch it or pick it up, and there was a dispute and another man began nudging her toward the door and telling her she needed to leave.
"And that's when Chris Brown kind of went off off, pulled out his gun and said, 'get the f out,'" she told E! in a phone interview. "He was saying, 'get the f out.' Like, 'haven't I told you guys enough,' and he was kind of threatening me with the gun, like he's gonna shoot me with it if I don't get out," she said.
The woman said that after she left an associate who brought her shoes and cellphone tried to get her to sign some sort of non-disclosure agreement, she said.
The LAPD's Robbery-Homicide Division, which in addition to high profile and complex murders and robberies also handles cases involving VIPs and celebrities, is investigating the case.
Related: Chris Brown Suicide Rant Has Consequences
The artist has been a lightning rod for trouble. His most notable arrest took place in 2009 for assaulting then-girlfriend Rihanna following a pre-Grammy party.
He pleaded guilty to felony assault and was sentenced that year to five years' probation, a year-long domestic violence class and six months of community labor. He had issues complying with the terms of probation in that case, but completed that probation in Los Angeles County early last year.
Since then, he has also dealt with a fraud complaint against him in the Philippines last summer for allegedly canceling a New Year's Eve concert and was the subject of a potential battery investigation against a model in Las Vegas in January. She claimed that he hit her and took her cellphone, but police never pursued charges.
Brown moved to Tarzana about a year ago, and the LAPD has responded multiple times to the location, including for a home invasion robbery and for a report that Brown and others were illegally riding ATVs on a neighbor's property.
He bought the more than 8,300 square feet of living space for $4.35 million, and it included a security system with 16 cameras, The Los Angeles Times reported last summer.
On Tuesday morning, one of Brown's neighbors, television and radio host Jillian Barberie, tweeted the noise from helicopters as they flew over the area.