/ Source: Associated Press
The media guidelines were clear: Don't ask questions about the Las Vegas massacre, gun rights, politics or "topics of the like" at the CMAs next week.
The backlash was swift: Seriously?
The Country Music Association apologized on Friday and said it lifted those restrictions for its awards show next Wednesday. That move came after fierce criticism from some artists, including co-host Brad Paisley, who had tweeted Friday morning that the ban was "ridiculous and unfair."
Just two hours after that tweet, CMA said it was sorry but insisted the "sentiment was not to infringe and was created with the best of intentions to honor and celebrate country music."
In the original media guidelines, the CMA said the topic restrictions came "out of respect for the artists directly or indirectly involved." Reporters and media outlets who did not abide by the guidelines could have their credentials "potentially revoked via security escort."
The controversial restrictions, issued on Thursday, were first noted by the Nashville Scene.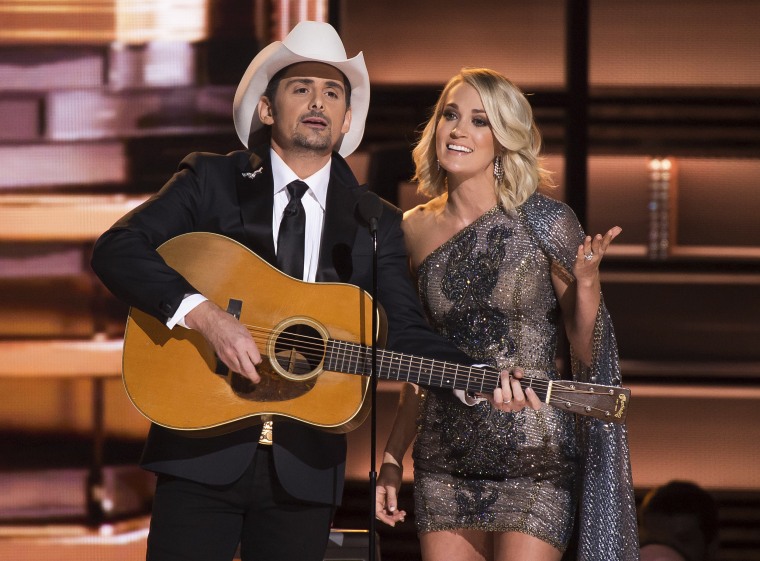 A slew of country stars slammed the restrictions. Singer-songwriter Maren Morris, who is slated to perform at the show, tweeted: "Country music has always been about the truth. Out of respect for the Las Vegas victims, let's keep it that way."
Another singer, Cam, blasted the ban, tweeting that one can "encourage respect without silencing people."
Country superstar Jason Aldean was performing when a gunman opened fire in Las Vegas on Oct. 1. At least 58 people were killed and nearly 500 others were injured in the attack on the Route 91 Harvest festival, making it the deadliest mass shooting in modern U.S. history.