Beyoncé on Saturday night became the first black woman to headline the massive Coachella Music and Arts festival, in her highly anticipated 2018 performance, during which she dropped bombshell after bombshell.
"Coachella, thanks for allowing me to the first black woman to headline," she said in the middle of her set, right before bursting into one of her signature songs, "Run the World (Girls)."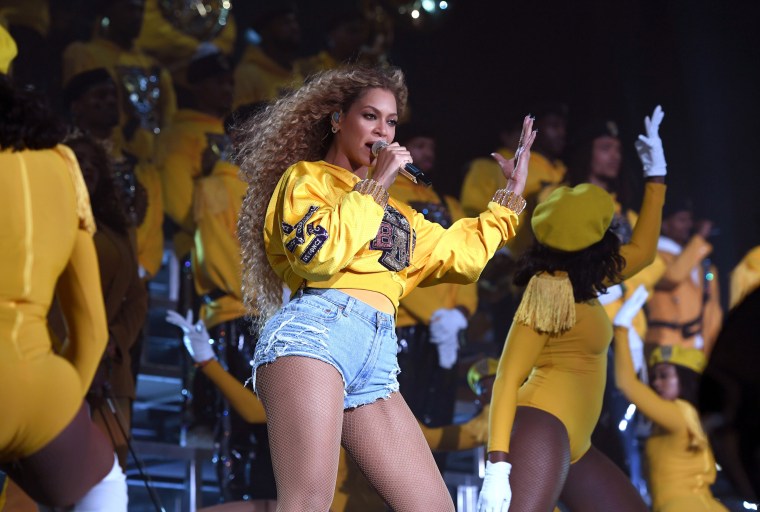 The performance was already expected to be legendary, given Beyoncé's popularity and influence, but fans began calling the festival "Beychella" after an epic set that featured surprise guests like husband Jay-Z and sister Solange, and a reuniting of Destiny's Child.
The 36-year-old performer's two-hour show list kicked off with "Crazy in Love" and then halfway into the set she sang "Déjà Vu" with Jay-Z — before former bandmates Kelly Rowland and Michelle Williams joined her on stage to sing hits "Say My Name" and "Lose My Breath."
The acclaimed girl group last performed together at the 2015 Stellar Gospel Music Awards together.
Beyoncé appeared on stage decked out in apparel with black power emblems. She wore a crest with symbols of black power like a Ancient Egyptian queen and a panther. Throughout her performance, Beyoncé uttered quotes from Malcolm X and Nina Simone.
High-end artists like The Weeknd and Eminem are also headlining Coachella, which is scheduled to go until April 22. Beyoncé was scheduled to headline Coachella last year but unexpectedly dropped out because of her pregnancy. Lady Gaga headlined instead.
Beyoncé is scheduled to go on a joint tour with Jay-Z starting in June.