David Bowie, the rock and roll visionary whose career spanned six decades, died Sunday after a long battle with cancer. He was 69.
Bowie has released his 25th studio album, "Blackstar," to strong reviews on Friday.
Born David Jones, he was inducted into the Rock and Roll Hall of Fame in 1996. It called Bowie "rock's foremost futurist and a genre-bending pioneer, chameleon and transformer."
PHOTOS: See David Bowie's Transformation into Rock Legend
Bill Zysblat, Bowie's business manager, confirmed the death to NBC News.
An official statement posted online said Bowie had passed away "surrounded by his family after a courageous 18-month battle with cancer."
Bowie's son, Duncan Jones, also tweeted about the news early Monday.
Bowie was among the primary innovators and showmen of rock 'n' roll for four decades. He didn't just push the edge of the envelope. He often manufactured the envelope itself, with such creations as glam rock and Ziggy Stardust, the otherworldly representative of extraterrestrials; the post-apocalyptic Thin White Duke of the mid-1970s; and cutting-edge explorations into dance music ("Let's Dance," 1983), European electronic music and even guitar-driven speed metal (the poorly received band Tin Machine, which he fronted in the late 1980s).
Related: 'Weirdo' Bowie Broke Down Barriers
Bowie came to fame with the appropriately named "Space Oddity" in 1969. It was an ethereal outer space ballad that made Bowie — and the song's main character, the enigmatic "Major Tom" — worldwide household names. In 2013, astronaut Chris Hadfield created a viral sensation when he recorded it aboard the International Space Station.
Three years later, Bowie returned to the cosmos with "The Rise and Fall of Ziggy Stardust and the Spiders From Mars," a bizarre cabaret piece-slash-arena rock spectacle-slash-drug nightmare that essentially created the spangled and sequined world of glam rock. Rolling Stone magazine named it one of the 50 greatest rock albums of all time.
In what would become a recurring motif, Bowie reversed course again in the mid-1970s, switching to a chilled soul and funk sound with the release of "Diamond Dogs." It signaled the debut of another persona — the Thin White Duke — under which Bowie released the smash album "Young Americans," which gave Bowie his first U.S. No. 1 hit, "Fame."
A sly undercurrent of apposite whimsy was always embedded in Bowie's music, which came through most clearly during this era in a 1977 Christmas TV special. Bowie — as himself, not any of his stage personae — performed "The Little Drummer Boy" with none other than Bing Crosby.
Even at the same time, Bowie was already making another transition — this time to synth-driven Europop. He moved to Germany and released "Low" and "Heroes." He capped that period two years later with a more traditional guitar rock album, "Lodger." And then it was time to change again.
In 1980, Bowie turned to pop and New Wave, which married smooth pop riffs to a punk rock aesthetic. Some of his biggest hits flowed from Bowie during this period, which lasted most of the 1980s: "Ashes to Ashes," "Under Pressure" (with Queen), "Let's Dance," "Modern Love" and "China Girl," among many others.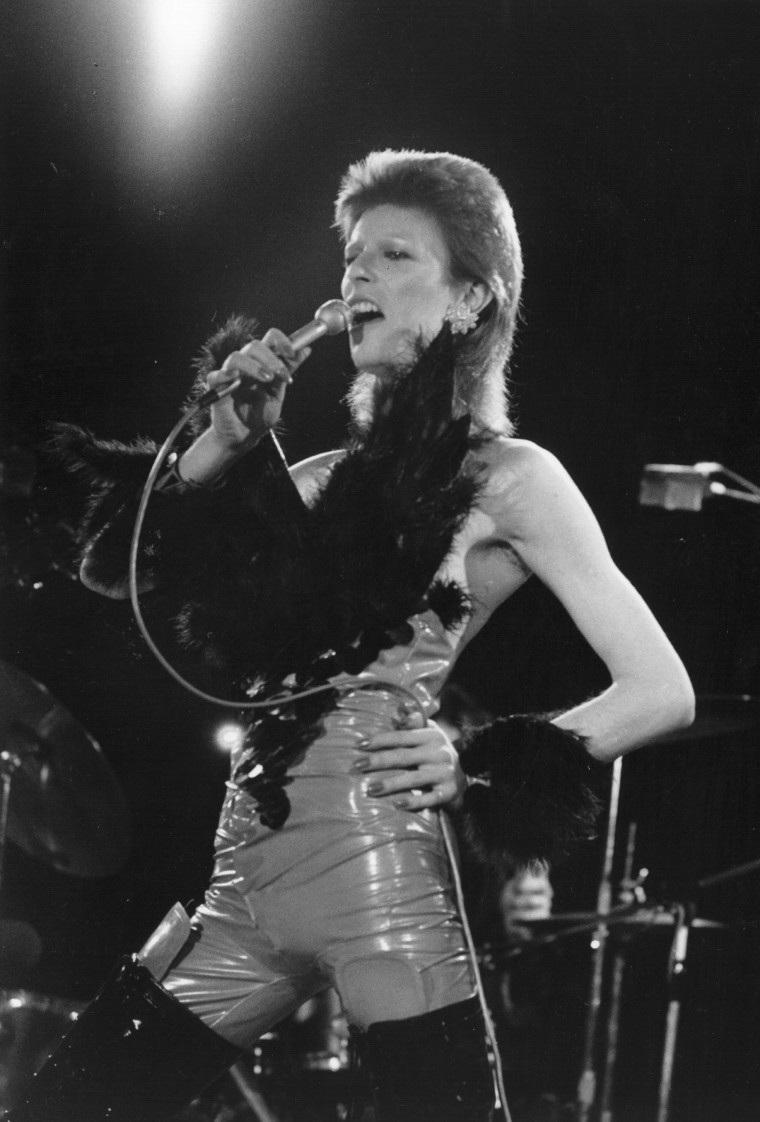 Perhaps the least successful stetch of Bowie's career came around 1990, when he joined Tin Machine, a straight-ahead hard-metal band that was ostensibly an equal partnership, although Bowie's prominence couldn't be ignored.
As a member of Tin Machine, Bowie abandoned the androgynous, aloof persona that had characterized the first parts of his career, cranking out ear-bleeding metal riffs paired with lyrics that many critics found preachy and simplistic.
Related: Celebrities Pay Tribute to 'True Innovator' Bowie
In the minds of many critics, Tin Machine signaled the end of Bowie's experimental authority. But his musical legacy was firmly secure by that point, and over the next two decades, many more albums and hits came as he returned to (relatively) more traditional pop and rock.
"I don't know where I'm going from here, but I promise it won't be boring," Bowie told fans during his 50th birthday concert at New York's Madison Square Garden in 1997.
Bowie's song "Lazarus" on newly released "Blackstar" — his 47th overall including live albums and compilations — features the lyric: "Look up here, I'm in heaven / I've got scars that can't be seen / I've got drama, can't be stolen / Everybody knows me now."
Along the way, Bowie also made a significant mark on stage and in movies. In 1976, he played a somewhat Ziggy-like alien in "The Man Who Fell to Earth," and he performed the title role — without makeup — in "The Elephant Man" on Broadway in 1981.
Other movies included "The Hunger" (1983), "Merry Christmas, Mr. Lawrence" (1983), "Into the Night" (1985), "Labyrinth" (1986), "The Last Temptation of Christ" (as Pontius Pilate, in 1988), "Twin Peaks: Fire Walk With Me" (1992), "The Prestige" (2006) and "August" (2008).
Related: David Bowie's Best-Loved Characters
He even got a chance to play a Bond villain in 1985's "A View to a Kill" but turned it down.
Bowie — who divorced Angela Barrett in 1980 — married the supermodel Iman in 1992, and they had one daughter, Alexandria Jones. He is also survived by his son, Duncan, from his first marriage.
Barrett is currently appearing on "Celebrity Big Brother" in Britain. Its producers said she was "informed off camera" of the death but later decided to stay on the reality TV show.