David Bowie touched millions of lives during his five-decade career — but he was also credited Monday with helping shape the landscape of Cold War geopolitics.
Among the legions of fans paying their respects following Bowie's death Sunday, Germany's Foreign Office thanked him for "helping to bring down" the Berlin Wall.
This was a reference to Bowie's 1987 open-air concert outside the Reichstag in what was then West Berlin.
The stage was adjacent to the Berlin Wall, and Bowie said he and his band could hear thousands of East Germans on the other side who had come to listen and sing along.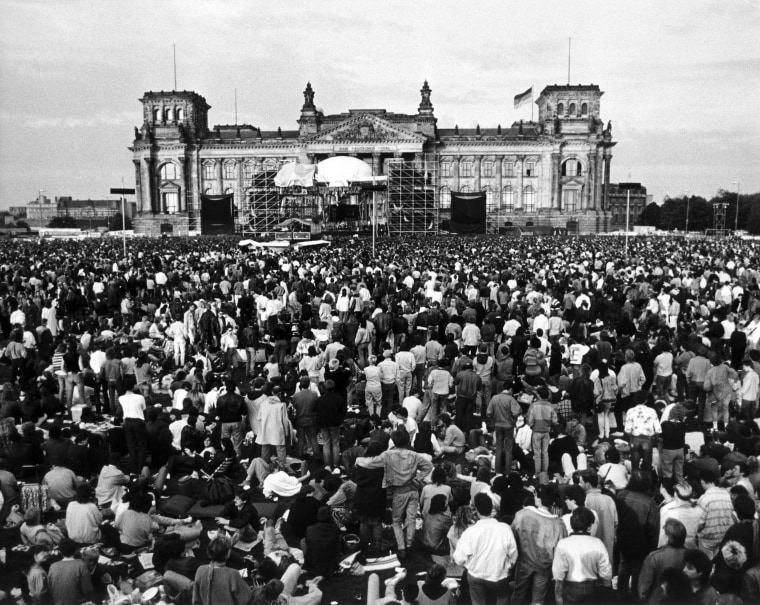 "I'll never forget that," he later told Performing Songwriter magazine. "It was one of the most emotional performances I've ever done. I was in tears."
He described the gig as being "like a double concert where the wall was the division, and we would hear them cheering and singing along from the other side. God, even now I get choked up. It was breaking my heart," Bowie added.
Related: 'Weirdo' Bowie Broke Down Barriers, Inspired Legions
Bowie, who lived in Berlin during the 1970s, said the song "Heroes," which he and Brian Eno wrote in 1977 about the city, was particularly emotional.
"I'd never done anything like that in my life, and I guess I never will again," he told the magazine. "When we did 'Heroes' it really felt anthemic, almost like a prayer."
Bowie is one of several people, including Bruce Springsteen and David Hasselhoff, credited with helping the Berlin Wall finally crumble in November 1989.
However, detractors have pointed out that the Wall did not fall for more than two years after Bowie performed. Several other acts, including the Eurythmics and Phil Collins, also played at the three-day event of which Bowie's concert was a part.