Dmitri Hvorostovsky, widely considered one of the finest baritones ever to grace the world's opera stages, died early Wednesday in London of brain cancer, his family said. He was 55.
His management company confirmed the news later Wednesday.
Hvorostovsky, a charismatic, silver-maned Siberian specialist in the operas of Giuseppe Verdi, retired in December 2016, a year and a half after he announced his diagnosis.
But he then made a surprise appearance in May at the Metropolitan Opera's 50th-anniversary gala in New York, performing "Cortigiani! Vil Razza!" from Verdi's "Rigoletto." The industry publication OperaWire called the performance the emotional highlight of the evening, reporting that "the audience exploded with passionate applause."
The Met replaced its website banner Wednesday with a screen-wide photo of Hvorostovsky on stage and a caption calling him "one of the greatest and bravest artists to ever grace our stage." It said it was dedicating four performances of Verdi's "Requiem," beginning Friday, in his honor.
Milan's Teatro alla Scala, where he first performed in 1992, called Hvorostovsky "one of the most charismatic interpreters of the last decades in a repertoire ranging from Verdi to Tchaikovsky and Mussorgsky."
"The world of music loses with him one of its most beloved and respected figures," the theater said in a statement.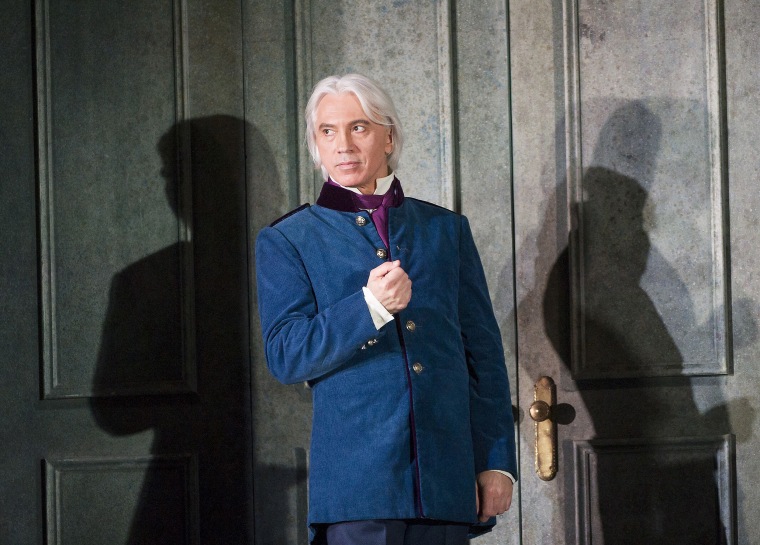 Plácido Domingo, another giant of the opera world, called Hvorostovsky "a great artist" and "a great colleague," saying, "the heavenly choir may add a marvelous voice and soul to her prestigious angels."
Hvorostovsky emerged on the public scene in 1989, when he won the BBC's Cardiff Singer of the World competition — besting Bryn Terfel, who would go on to a glittering career of his own.
Survivors include his wife, Florence Hvorostovsky; their two young children, Maxim and Nina; and twin children from a previous marriage, Alexandra and Daniel.