Pop star Ed Sheeran testified Tuesday against allegations that he took part of the melody of the Marvin Gaye classic "Let's Get it On" when he created his hit, "Thinking Out Loud."
The singer-songwriter stood up quickly when called to the stand in a Manhattan federal courtroom to face questioning by Keisha Rice, an attorney for the heirs of Ed Townsend, Gaye's co-writer, who first filed suit in 2017.
The plaintiffs were also represented by civil rights attorney Benjamin Crump.
The civil suit claims Sheeran's hit has "striking similarities" to the 1973 hit "Let's Get It On" and shares "overt common elements" with the classic, which is protected by copyright.
Questioned about his live mash-up of the two songs during a stage performance that was captured on video, Sheeran said he's done this with other songs and argued that if he really stole from "Let's Get it On," it would be unwise to highlight it this way.
"If I did what you're accusing me of, I'd be an idiot to stand in front of people," said Sheeran, 32.
Crump told jurors earlier in the day that the merging of the two songs was tantamount to "a confession."
"We have a smoking gun," he said of the mash-up video.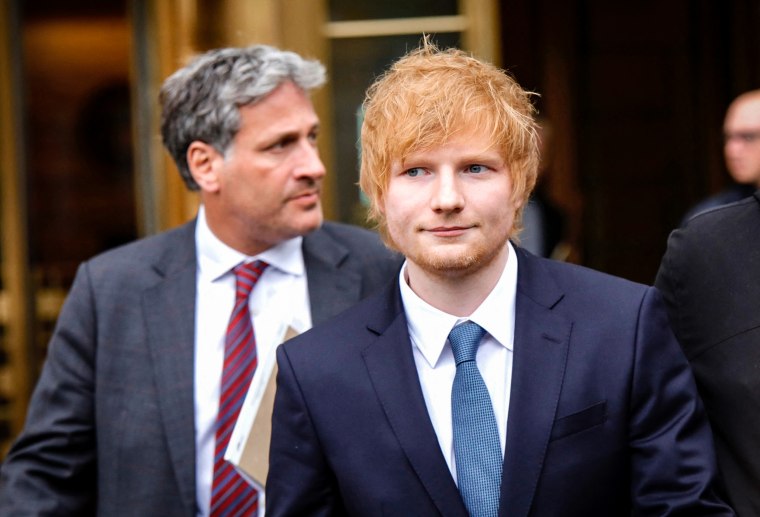 Sheeran defended his art, including a No. 1 hit he said he wrote himself, as well as other songs he said were written with partners. "Thinking Out Loud" was co-written with Amy Wadge, who has not been named in the lawsuit, but is planning to take the stand during the trial.
In a lighter moment, Sheeran said he first heard "Let's Get it On" in the 1999 movie "Austin Powers: The Spy Who Shagged Me," which evoked laughter.
"It's true," he said.
Sheeran said he has associated "Thinking Out Loud," released in 2014, with Van Morrison and that the single was known among his crew as "the Van Morrison song."
A month after the song's release, Morrison, known for songs including "Brown Eyed Girl", turned up at Sheeran's hotel and told him that "he liked it," Sheeran said of "Thinking Out Loud."
He said he came up with the song after the death of a grandfather. The song is about finding love at an old age, he told the court.
"I was in a new relationship at the time," Sheeran said.
The defense, which did not cross examine the star, has said Sheeran would be brought to the stand once more during its presentation.
Townsend's daughter, Kathryn Townsend Griffin, also took the stand Tuesday as the first witness called by the plaintiffs. 
Griffin said she had never heard of Sheeran before "Thinking Out Loud."
"No disrespect Mr. Sheeran," she said, looking at the singer.
Asked whether she had animosity towards Sheeran, she said, "absolutely none of that," and added she has respect for Sheeran and "for the talented gifts God gave him."
Griffin said she didn't want the case to get to this point, "But I have to protect my father's legacy."
A jury was seated Tuesday to start what was expected to be a two-week trial.