Tributes to Chuck Berry, called the "father of rock 'n' roll," continued to pour in a day after the legendary musician's death on Saturday. Berry, who lived in St. Louis, Missouri, was 90.
Musicians, celebrities, former presidents and music fans alike offered remembrances and praise for the man who many rock 'n' roll giants have said is inseparable from the genre.
"If you had tried to try and give rock 'n' roll another name, you might call it 'Chuck Berry,'" the estate of John Lennon said, recalling the words Lennon himself used to introduce Berry on a TV show in 1972.
Former President Barack Obama paid tribute to the legendary musician on Sunday, tweeting, "Chuck Berry rolled over everyone who came before him - and turned up everyone who came after."
Referencing Berry's 1958 hit Johnny B. Goode, Obama said, "We'll miss you. Be good."
Brian Wilson, The Beach Boys singer, told Rolling Stone that he was backstage on Saturday waiting to perform a tour show when he heard news of Berry's death.
"He taught me how to write rock & roll melodies, the way the vocals should go. His lyrics were very, very good," Wilson said.
Lennon's fellow former Beatle, drummer Ringo Starr, was also among those who paid tribute Saturday. Bruce Springsteen, meanwhile, called Berry "rock's greatest practitioner, guitarist, and the greatest pure rock 'n' roll writer who ever lived."
At a bronze statue of Berry at University City near St. Louis, a crowd gathered to watch a band performance not long after news of Berry's death spread Saturday evening.
"He meant a whole lot … I remember my parents played Nadine and Johnny B. Goode," Denise Kirby told NBC affiliate KSDK of St. Louis. "I was younger and I just remember the Nadine, the hook, and him doing the duck walk," she said with a laugh.
Others left flowers at the statute. "If Elvis was the king, Chuck built the kingdom," another person who paid tribute said.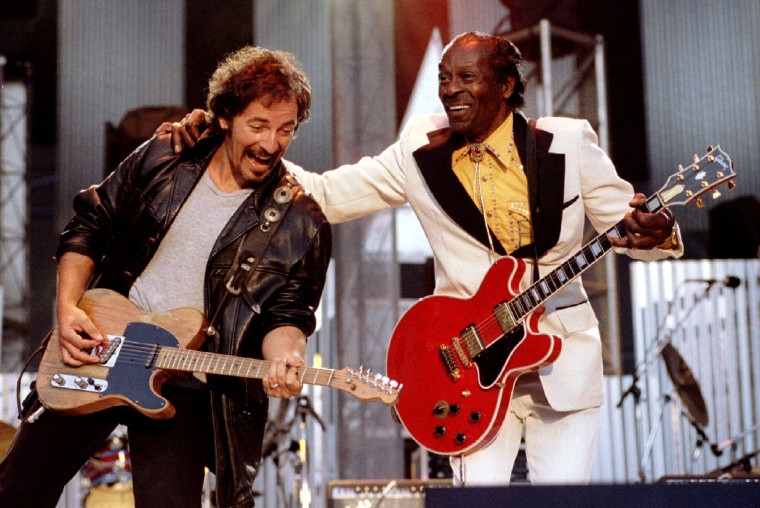 PHOTOS: Chuck Berry, Rock 'n' Roll's First Guitar Hero
NASA reminded Twitter on Saturday that Berry's 1958 hit "Johnny B. Goode" was sent into space in 1977 on the "Golden Record," a collection of Earth artifacts attached to the Voyager 1 spacecraft that included 27 song recordings. Berry's "Johnny B. Goode" was the only rock'n'roll song featured on the record.
The Rock & Roll Hall of Fame said in a statement that Berry "created the rock sound."
"Chuck Berry is rock and roll. The undisputed original poet laureate, he influenced every rock and roll artist after him and every guitarist that ever plugged in," hall of fame President and CEO Greg Harris said in a statement.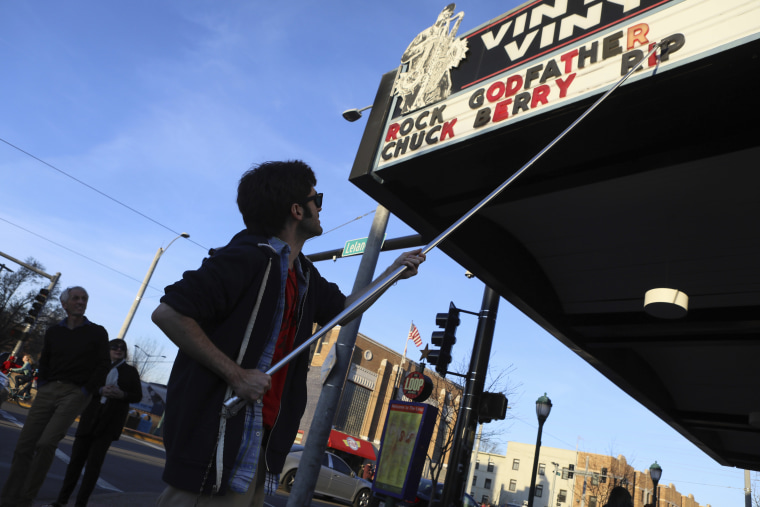 "Today, we celebrate his poetry, his artistry and his massive contributions to 20th century culture," Harris said. It's fitting that he was the first person inducted into the Rock & Roll Hall of Fame. Rock and roll as we know it would not exist without him. Hail Hail, Rock and Roll. Hail Hail, Chuck Berry."
The museum, which is working on a tribute to Berry, projects that more than 1,000 people will visit on Sunday to honor the father of rock and roll.
Berry was inducted in 1986. At the time, the Rolling Stones' Keith Richards joked while introducing Berry "it's very difficult for me to talk about Chuck Berry because I lifted every lick he ever played."
The Rolling Stones were among those who hailed Berry as a pioneer Saturday.
President Bill Clinton and Hillary Clinton said in a statement that "Hillary and I loved Chuck Berry for as long as we can remember." Berry played at both of President Clinton's inaugurations.
"The man was inseparable from his music — both were utterly original and distinctly American. He made our feet move and our hearts more joyful. And along the way he changed our country and the history of popular music," the Clintons said in the statement.
Other mourners joined the chorus on Twitter: