There are countless versions of the classic Leonard Cohen song "Hallelujah" shared on social media. But how many have been viewed more than 2 million times and come with an inspiring message of perseverance?
Ten-year-old Kaylee Rogers, who performed a Christmas-themed remake of the song at her Northern Ireland school, knows the experience of having one.
"I can't believe it has brought so much joy all around the world," her mother, Tracy Rogers, told NBC News about the video.
Related: In Pictures: Remembering Visionary Musician Leonard Cohen
Kaylee, who has autism and attention-deficit/hyperactivity disorder, attends the Killard House School, which is dedicated to children with special needs. The school recorded the choir performing a rendition of "Hallelujah" four weeks ago, and Kaylee was the lead singer.
Last Sunday, she had a performance at a local church, but couldn't go because she was sick.
"She had a huge autism meltdown because she didn't understand that when you are sick it is OK to cancel. She is very hard on herself," said Rogers, who told her disappointed daughter that even professional singers like her idol, Adele, take sick days.
Because she was sick, the principal decided to play the video of the earlier performance instead, and the congregation was moved to tears.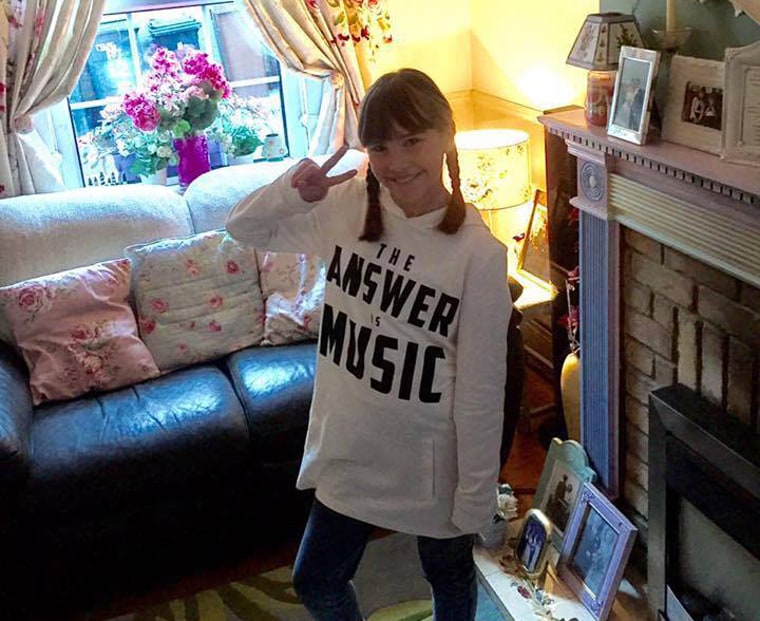 Soon after, the video was posted online, racking up views for Kaylee's inspiring solo.
Kaylee has been singing since she was 3, but her music teacher, Lloyd Scates, encouraged her to perform at school events after hearing her sing the "Frozen" song "Let it Go" in class a few years ago.
"Her voice is absolutely fantastic, she's just fantastic," Scates told NBC News. "We work as a team. Anytime I play the piano, she sings."
The music teacher said his phone has not stopped ringing after the "Hallelujah" remake went viral. The song is a reworked version with lyrics by American Christian rock band Cloverton that was put on YouTube in 2014.
Rogers, 46, said it has been a challenge to raise two kids with special needs; her little boy Noah also has autism. But knowing that Kaylee has found her voice — and can share it with others — is rewarding.
"She gives off love and purity," Rogers said, "and when she sings, it's raw and pure."