Glen Campbell, the country crooner and guitarist whose sentimental ballads and catchy pop hits soothed America during the tumult of the 1960s and 1970s, has died. He was 81.
The singer, a mainstay on AM radio stations with beloved tracks like "Rhinestone Cowboy," had suffered from Alzheimer's disease in recent years.
"It is with the heaviest of hearts that we announce the passing of our beloved husband, father, grandfather," Campbell's family said in a statement posted on his website. No cause of death was immediately announced.
Campbell, the son of an Arkansas sharecropper with a gift for the guitar, scored hits with "Gentle on My Mind," "Wichita Lineman," "Galveston," and his signature track, "Rhinestone Cowboy." A good-natured showman with a wide grin, Campbell made unabashedly earnest tunes for a country riven by the social upheaval of the Vietnam and Watergate eras.
"I did what my Dad told me to do — 'Be nice, son, and don't cuss. And be nice to people.' And that's the way I handled myself, and people were very, very nice to me," Campbell told The Telegraph in 2011.
Related: Glen Campbell's Battle with Alzheimer's and Last Recorded Song
Campbell also found fame as host of "The Glen Campbell Goodtime Hour," a CBS music and comedy jamboree that ran from 1969 to 1972.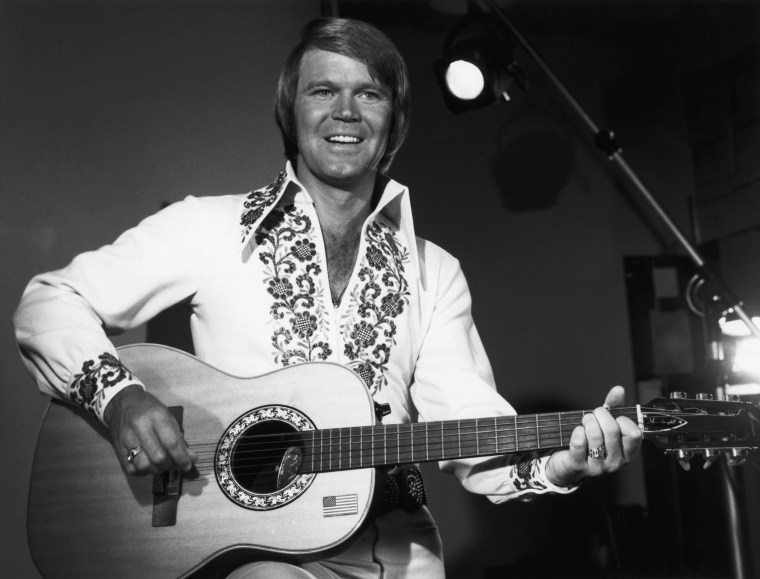 He appeared in a handful of Hollywood productions, most notably the classic Western "True Grit." Campbell earned acclaim for his performance as a fresh-faced Texas Ranger, La Boeuf, who joins forces with John Wayne's grizzled U.S. marshal to track down a killer.
Campbell — like Johnny Cash, Roy Clark and Kenny Rogers — became a crossover superstar, cherished in the heartland and on the coasts.
He was born just outside of Delight, Arkansas — the seventh of 12 kids. He was a prodigy on the guitar who moved from Arkansas to New Mexico to southern California, where he opened for The Doors and jammed with The Beach Boys.
In the course of his prolific career, he released more than 70 albums — even a few gospel CDs.
Campbell, who drank heavily and dabbled in drugs, had a sometimes turbulent behind-the-scenes life. He was married four times and had eight children.
The five-time Grammy winner and Country Music Hall of Famer went public with his Alzheimer's diagnosis in 2011, hoping to raise awareness about the devastating disease.
In his final months, Campbell struggled with the disease and lived at a full-time care facility in Nashville.
His wife of 32 years, Kim Woolen, took NBC News' Cynthia McFadden to visit her husband at that facility in the fall of 2014.
"We need to let people know about this disease, we need to do something about it," Woolen remembered her husband telling her at the time. "He really made himself vulnerable, because he wanted to make a difference."
He is survived by his wife, Kim; their three children, Cal, Shannon and Ashley; and his children from previous marriages, Debby, Kelli, Travis, Kane and Dillon. He had 10 grandchildren, according to The Associated Press.