Gregg Allman, the legendary Southern rocker who composed countless hits as frontman for The Allman Brothers Band, battled a very public addiction with drugs and overcame personal tragedies, died Saturday at his home in Savannah, Georgia, his family said. He was 69.
"Gregg struggled with many health issues over the past several years. During that time, Gregg considered being on the road playing music with his brothers and solo band for his beloved fans, essential medicine for his soul," Allman's family said in a statement. "Playing music lifted him up and kept him going during the toughest of times."
A pioneer of the Southern rock sound, Allman and his band catapulted to fame in the 1970s with songs like "Ramblin' Man," "Whipping Post" and "Midnight Rider."
Allman, with his ideal blues voice and prowess on the keys and guitar, co-founded the group with older brother Duane Allman, also a guitarist, in the late 1960s. Their unique blend of soulful lyrics and gritty guitar riffs made them one of the most popular concert attractions of the rock ballroom era and earned them legions of adoring fans.
The band's 1971 set "At Fillmore East," recorded at Bill Graham's New York hall, was a commercial breakthrough and sailed to No. 13 on the charts.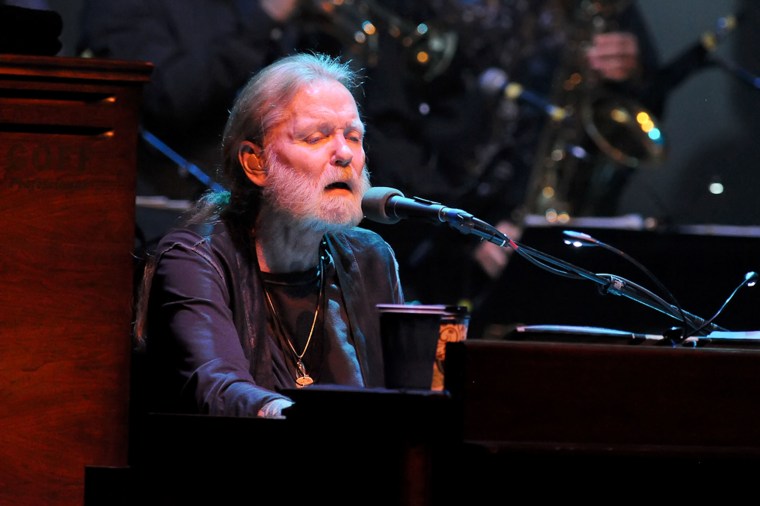 But the success was bittersweet. Duane Allman died in a motorcycle accident weeks after the live album's release, leaving his younger brother to cope with his grief while navigating his new-found fame.
A year later, the band's bassist, Berry Oakley would die in an eerily similar accident, driving his bike into the side of a truck.
Ultimately, the album would go on to sell more than 1 million copies and help cement the band's status as architects of a Southern rock sound that included jazz and blues.
Reeling from the deaths of his brother and Oakley, Allman struggled with alcohol and drug addiction. In 1975, he married pop entertainer Cher and the couple had a son, Elijah Blue, a year later. But their rocky relationship was tabloid fodder until their highly publicized divorce in 1979.
Cher mourned Allman's passing on Twitter.
Allman led the band through four stormy decades of playing and recording, and opened the commercial door for such other Southern acts as Lynyrd Skynyrd and the Marshall Tucker Band.
In 1995, The Allman Brothers Band won a Grammy Award for Best Rock Instrumental Performance and was inducted into the Rock and Roll Hall of Fame. But the band's latter-day career proved tumultuous, with multiple disbandings and regroupings as Allman continued to battle addiction.
In January, one of the band's founding drummers, Butch Trucks, died. Allman said in a statement at the time that he was "heartbroken" at the loss of "another brother."
"Butch and I knew each other since we were teenagers and we were bandmates for over 45 years. He was a great man and a great drummer and I'm going to miss him forever. Rest In Peace Brother Butch," he said.
In 2012, The Recording Academy presented The Allman Brothers Band with a Lifetime Achievement Award.
Allman was scheduled to begin performing again in June, but he abruptly canceled all upcoming shows and his 2017 tour in March, fueling rumors that his health was deteriorating. On Saturday, Allman's longtime manager Michael Lehman said the world has lost "a brilliant pioneer in music."
"His love for his family and bandmates was passionate as was the love he had for his extraordinary fans," Lehman said. "Gregg was an incredible partner and an even better friend. We will all miss him."
As news of Allman's passing broke, tributes for the rock legend began pouring in on social media from fans and celebrities alike.
CORRECTION (May 27, 2017, 6:38 p.m.): An earlier version of this article misstated the role of Butch Trucks. He was a founding drummer of the The Allman Brothers Band, not a founding guitarist.