A federal appeals court has ruled in favor of the Insane Clown Posse in their bid to get the FBI to remove the Detroit hip-hop duo's followers — known as "Juggalos" — from a gang list.
Posse pair Joseph Bruce (aka Violent J) and Joseph Utsler (aka Shaggy 2 Dope) said Friday that the ruling by an appeals court in Ohio is a "big victory" — and will finally give them their day in court.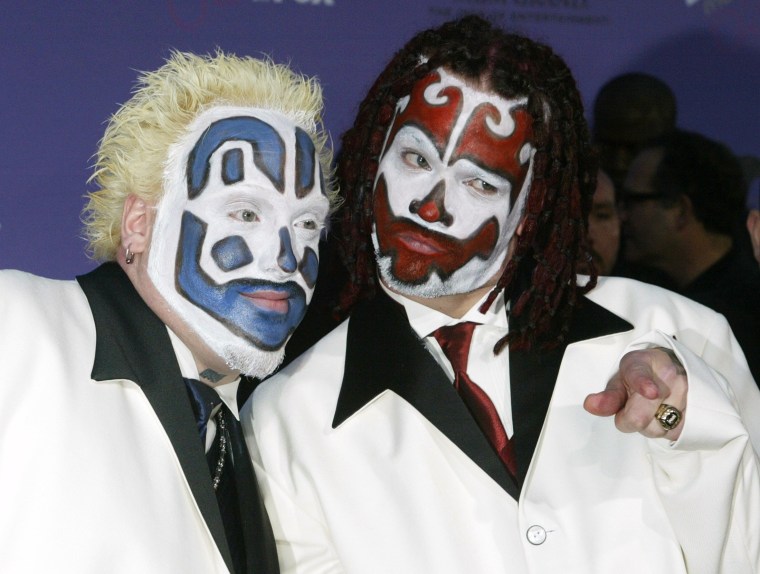 The lawsuit, filed in January 2014 with the American Civil Liberties Union of Michigan, was later tossed out by a district court in Michigan after it found the plaintiffs had failed to show they suffered any injuries.
But the federal appeals court on Thursday reversed that district court's decision and ordered that the case be considered.
"Discrimination against someone based solely upon the type of music they listen to is just flat out wrong and it's time that the legal system acknowledges that," the Insane Clown Posse said in a statement.
They said that the feds' labeling of Juggalos as a "loosely organized hybrid gang" in a 2011 National Gang Threat Assessment report violated their constitutional rights and "wreaked havoc on thousands of lives."
Juggalos are known for wearing clown-like face paint and sporting logos of a "hatchetman."
The "hybrid gang" designation resulted in a profiling of its fans, with some losing their jobs, being evicted from their homes or even dismissed from the military, the Insane Clown Posse claimed.
Related: Insane Clown Posse Sues FBI Over Gang Classification
In addition, the group said that they had to cancel a 2012 performance because of the federal report.
A court date for the lawsuit against the FBI and the Department of Justice has yet to be set. Meanwhile, an FBI spokesman declined to comment on ongoing litigation. A spokeswoman for the Justice Department said it was reviewing the opinion but would have no further comment.