A Los Angeles jury found Tuesday that Pharrell Williams' and Robin Thicke's 2013 hit "Blurred Lines" infringed upon the copyright for Marvin Gaye's 1977 "Got to Give It Up" and awarded $7.3 million to Gaye's family.
The Gayes' attorney, Richard Busch, told reporters that he had immediately filed for an injunction to stop the sale of "Blurred Lines."
"They started this fight, and we ended it," Busch said. "The jury saw through everything, and we're very pleased."
Sobbing with emotion, Gaye's daughter Nona said she and her family brought the case because her father, who died in 1984, "couldn't be here."
"Right now, I feel free from Pharrell Williams' and Robin Thicke's chains that they tried to keep on us and the lies that they told," Nona Gaye said. "This was a miracle."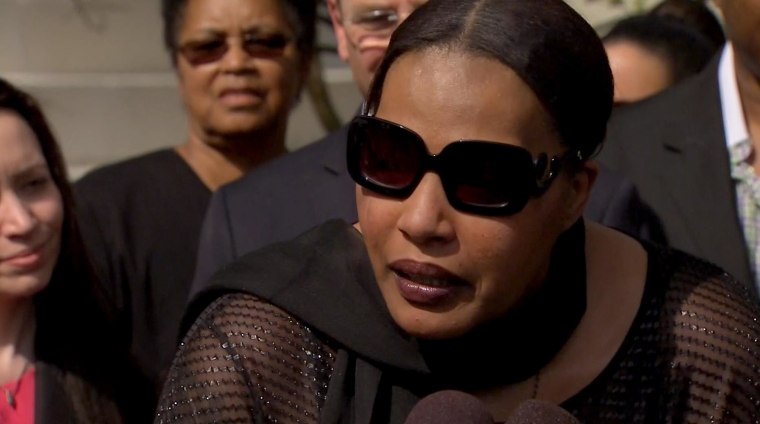 Howard King, the attorney for Williams and Thicke, said, "Of course, we're disappointed." He said he had "no idea" whether his clients wanted to appeal, but he said the case "is only in the seventh inning."
"Nothing detracts from the fact as we know it that the track 'Blurred Lines' came from the heart and soul of Pharrell Williams," King said.
Williams, T.I. (real name Clifford Harris Jr.) and Thicke — who performed "Blurred Lines" — took credit in multiple interviews for co-writing the song. They preemptively sued the Gaye family in August after members complained about similarities between "Blurred Lines" and "Got to Give It Up."
The family countersued, claiming not only that Thicke ripped off "Got to Give It Up" but also that he infringed on the copyright to "After the Dance" for the title track of his 2011 album "Love After War."
The jury found that T.I. wasn't responsible for any infringement.
Williams testified last week that he grew up listening to Gaye's music and was familiar with "Got to Give It Up" but didn't use it as a basis for "Blurred Lines." He said he was only trying to evoke the feel of Gaye's music.
Gaye was "one of the ones we look up to," Williams said. "This is the last place I want to be."