Kurt Cobain's smashed Fender Stratocaster guitar sold at auction for $595,900, more than 10 times its original estimate.
The Nirvana frontman's left-handed electric guitar was smashed while the grunge pioneers were making their seminal Nevermind album in the early 1990s. Reassembled but unplayable, it was expected to sell for between $60,000 and $80,000 at the Julien's auction at the Hard Rock Cafe in New York over the weekend.
It features the signatures of Nirvana's three members — Cobain, Krist Novoselic and Dave Grohl — along with an inscription by Cobain addressed to the late Screaming Trees lead singer Mark Lanegan. According to Julien's Auctions, Cobain gave the guitar to Lanegan during Nirvana's Nevermind tour in 1992.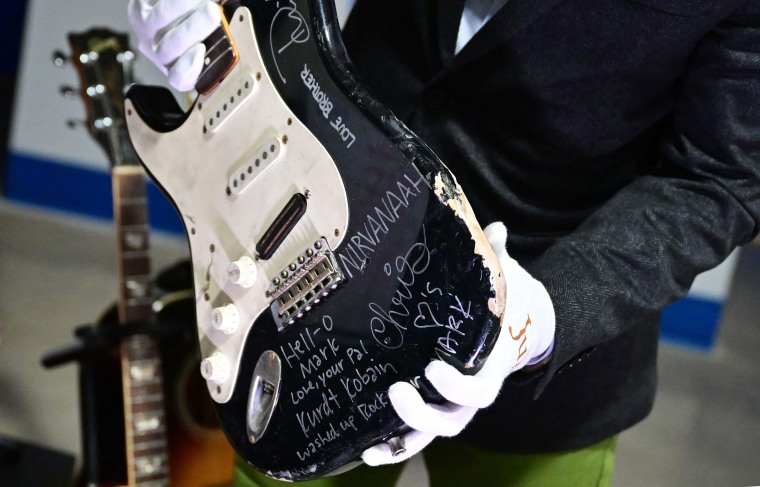 Cobain, who took his own life in 1994 at the age of 27, was renowned for his frenetic performances and smashed a number of Stratocasters during his hugely influential career.
Nirvana's handwritten set list from the band's "Smells Like Teen Spirit" debut performance in 1991 also sold at the same auction Saturday for $50,800, twelve times its original estimate.
The guitar Cobain played during a legendary live acoustic concert on MTV Unplugged in 1993, just five months before his death, was sold two years ago for $6 million.
A trove of musical memorabilia sold over the course of the two-day Julien's auction, including guitars played by Bono and Eddie Van Halen, and Michael Jackson's "Dangerous" World Tour jacket.