Migos rapper Takeoff was shot and killed overnight outside a Houston bowling alley, his attorney and police said. He was 28.
"Along with my firm, I am devastated by the tragic death of Kirshnik Ball, known to his fans as Takeoff," attorney Drew Findling said in a statement.
"Takeoff was not only a brilliant musical artist with unlimited talent, but also a uniquely kind and gentle soul. He will be greatly missed now and always."
Quality Control, the record label for Migos, said in a statement that it was mourning the loss "with broken hearts and deep sadness."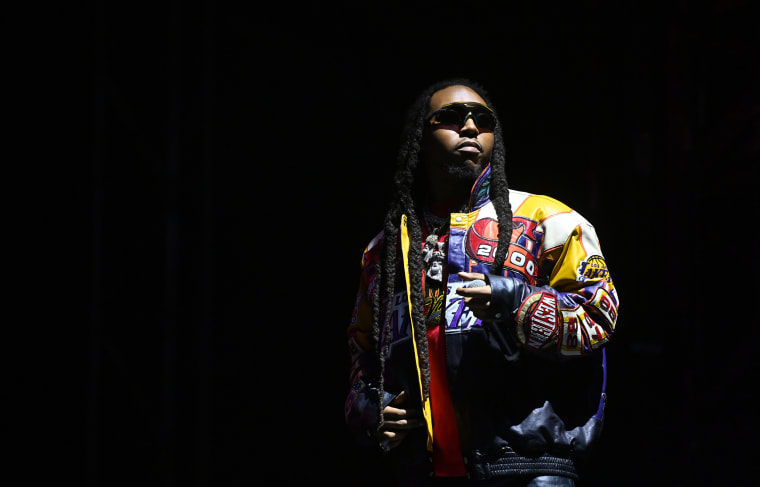 Officials said that Takeoff and Quavo, 31, another member of the hip-hop group Migos, were at 810 Billiards & Bowling in downtown Houston at a private party, NBC affiliate KPRC of Houston reported, and that a man with a gunshot wound to the head or neck was pronounced dead.
Police confirmed at a news press conference Tuesday afternoon that Takeoff was killed in the shooting, which involved two guns' being fired, shortly after 2:30 a.m.
Police Chief Troy Finner called Takeoff "well respected and non-violent" and said there was no reason to believe he was involved in anything criminal when he was shot.
Finner said he did not want the shooting to reflect poorly on hip-hop.
"Sometimes the hip-hop community gets a bad name," he said. "We all need to stand together and make sure nobody tears down that industry."
Sgt. Michael Arrington of the Homicide Division said two people, a 23-year-old man and a 24-year-old woman, were hospitalized with injuries that were not considered life threatening.
He said the shooting occurred after the private party ended, near the entrance, following an argument. Police said about 40 people were there, and they pleaded with witnesses to step up and provide information.
"The only thing that we can do is hope that y'all reach out and assist us in any way to lead to evidence that will help us apprehend and get charges and an arrest of the person responsible for the death of Takeoff," Arrington said.
Houston Mayor Sylvester Turner condemned the violence.
"There are too many young men of color that are killing young men of color," he said. "And we do need to have that conversation. We do need to deal with it head on."
He added he hopes the case is solved sooner rather than later. "So you don't have others out there trying to solve it for themselves," Turner said. "We owe that to Takeoff's mom and to the family."
Takeoff was the youngest member of Migos, the rap trio from suburban Atlanta that also featured his uncle Quavo, real name Quavious Keyate Marshall, and a cousin, Offset, or Kiari Kendrell Cephus, 30. They first broke through with the massive hit "Versace" in 2013. The song was remixed by Drake, heightening its popularity.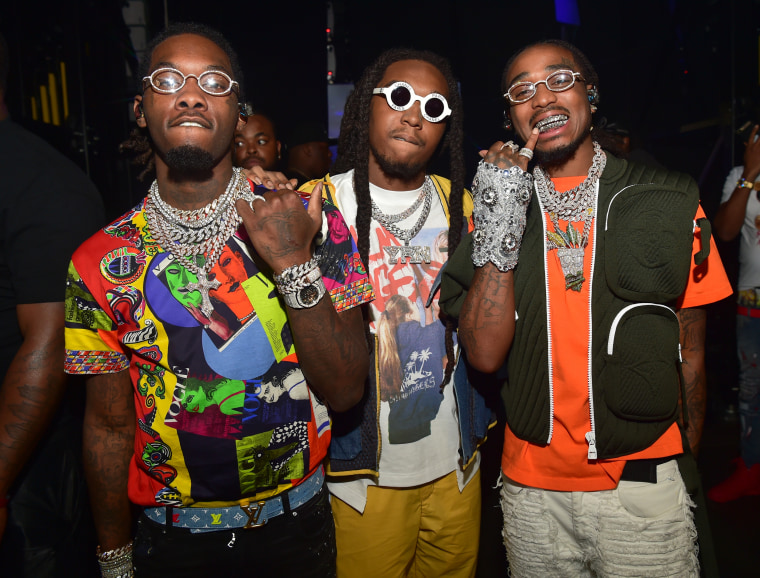 The group had four Top 10 hits on the Billboard Hot 100, although Takeoff was not on its multiweek No. 1 "Bad and Boujee," featuring Lil Uzi Vert. It put out a trilogy of albums called "Culture," "Culture II" and "Culture III," with the first two albums hitting No. 1 on the Billboard 200 album chart.
It also earned an ASCAP Vanguard Award in 2018 for its streaming success with multiplatinum songs such as "Motorsport" (featuring Cardi B and Nicki Minaj), "Stir Fry" and "Walk It Talk It."
The trio also played a fictional version of themselves on an episode of the hit TV show "Atlanta," but the group was not currently together.
Offset, who is married to Cardi B, released a solo album in 2019, while Takeoff and Quavo released a joint album, "Only Built for Infinity Links," last month.
Takeoff was the subject of a 2020 lawsuit filed by a woman, identified as Jane Doe, who accused him of raping her at a party in June of that year. The allegations were denied by Takeoff's attorney, who at the time called them "provably false." 
The Los Angeles County district attorney's office declined to prosecute the case because of insufficient evidence, records show. A civil case was marked as pending in Los Angeles County Superior Court, with further proceedings set for next year.
Tributes poured in on social media Tuesday from musicians and entertainers who learned of Takeoff's death, including from the rappers Gucci Mane, Lecrae and Ja Rule and the singer Keri Hilson.
Notable sports and political figures also offered condolences.
His hometown professional baseball and football teams, the Braves and the Falcons, both paid tribute. "RIP to Atlanta's own Takeoff. Our thoughts and prayers go out to his family and friends," the Braves tweeted. "Takeoff's legacy lives on in Atlanta and across the world," the Falcons wrote.
Prominent attorney Benjamin Crump said on Twitter: "Gun violence is killing our communities. This young, talented Black man did not deserve to have his life ended so early. Sending prayers to his family, loved ones, and fans. Rest In Power, Takeoff."
Georgia gubernatorial candidate Stacey Abrams tweeted: "This is heartbreaking news and a tragic loss to GA and the music industry. Born and raised in Gwinnett County, Kirshnik Khari Ball influenced Hip Hop and our Culture beyond measure.
"My condolences are with Takeoff's family, friends and all those who were inspired by his talent," Abrams wrote.