Hollywood celebrities, celebrated musicians and music fans alike said goodbye to Soundgarden frontman Chris Cornell on Friday as the grunge rock icon was laid to rest in Los Angeles.
"Chris was as melodic as The Beatles, as rocking as Sabbath and as haunting as Edgar Allan Poe," said Audioslave bandmate Tom Morello during his eulogy at Hollywood Forever Cemetery.
Cornell's wife Vicky and two children were joined by members of Soundgarden at the ceremony, as well as Foo Fighters frontman Dave Grohl, Courtney Love, Tom Morello, Pharrell Williams and actors Brad Pitt, Christian Bale and Josh Brolin, according to NBC Los Angeles.
Chester Bennington, of the band LInkin Park, sang Leonard Cohen's "Hallelujah" to the group of mourners present at the private memorial service.
Cornell, 52, died late May 17 after being found unresponsive in his Detroit hotel room after performing at a Soundgarden concert. The Wayne County Medical Examiner's Office declared the cause of death a suicide by hanging, but Cornell's family have questioned that ruling.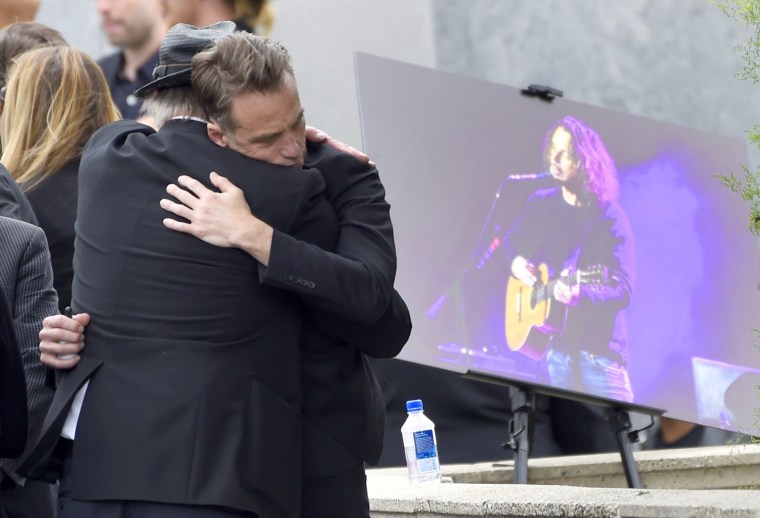 Fans waited outside the cemetery gates for hours to be the first ones to the public viewing of the grave site following the memorial ceremony.
"I feel like this is just as big as the death of Elvis or John Lennon. That's why I had to bring my son," Melody Andrade, a fan who brought her 4-year-old son, told NBC Los Angeles. "There will never be another. He's a modern day Freddie Mercury. I needed some closure on this."
Related: Chris Cornell, Dead of Suicide, Was Guiding Force in Grunge Music
The Hollywood Forever Cemetery boasts "landmarks," or graves, of 171 actors, filmmakers, musicians and other Hollywood celebrities. It is the final resting place for such stars as Looney Tunes voice artist Mel Blanc, Maila Nurmi (also known as Vampira), actor Peter Lorre, filmmaker Cecil B. DeMille and bandmates Johnny and Dee Dee Ramone.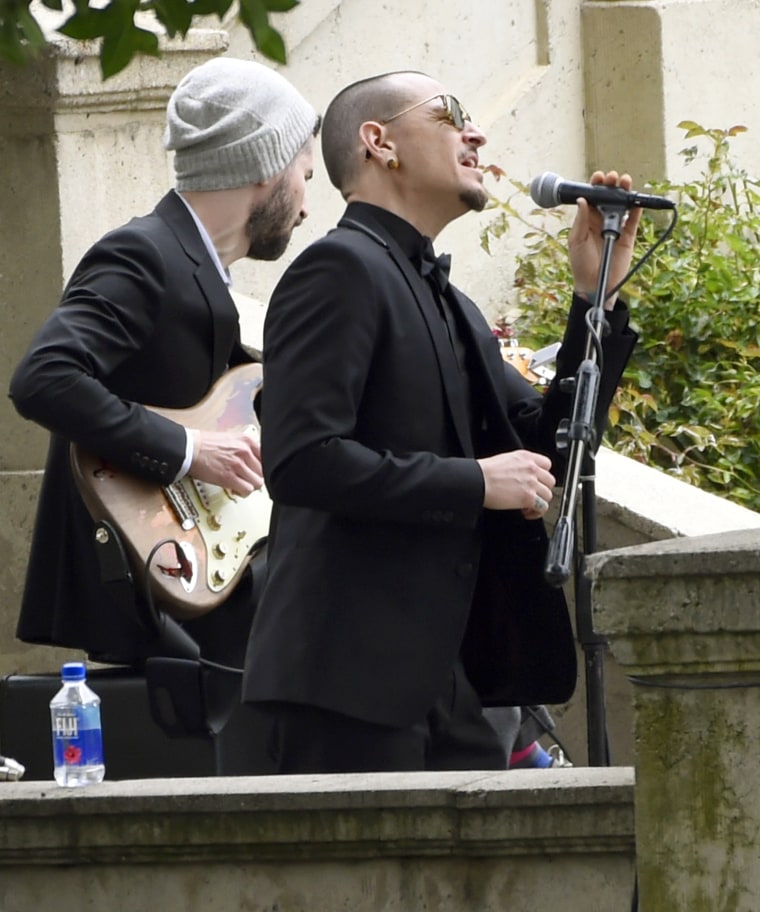 Morello, Brolin, and Soundgarden bandmates Kim Thayil and Matt Cameron provided eulogies next to four large portraits of their departed friend at the ceremony.
Cornell was found unresponsive by his bodyguard, officials said. Although the coroner ruled the cause of death a suicide, his family has pushed back on the preliminary ruling and suggested that his anti-anxiety medication may have played a role in his death. Toxicology tests have not yet come back, the coroner said.
"When we spoke after the show, I noticed he was slurring his words; he was different," his wife, Vicky Cornell, said in a statement last week. "When he told me he may have taken an extra Ativan or two, I contacted security and asked that they check on him."
Cornell was an integral and foundational member of the 1990s grunge scene that developed in Seattle and grew across the country. His band Soundgarden formed in 1984 and introduced the nation to a new subgenre that blended elements of punk and metal.
The band broke up in 1997 but reformed in 2010. They were on tour and were reportedly working on a new record when Cornell died. The band subsequently cancelled the tour.
Cornell's wife, Vicky, wrote an open letter to her husband that was published by Billboard on Wednesday. In it she celebrated his life as a good father, husband and son-in-law.
"We had the time of our lives in the last decade and I'm sorry, my sweet love, that I did not see what happened to you that night," his wife wrote in the letter. "I'm sorry you were alone, and I know that was not you, my sweet Christopher. Your children know that too, so you can rest in peace."