NEW ORLEANS — Clarinetist Pete Fountain, whose Dixieland jazz virtuosity and irrepressible wit endeared him to his native New Orleans and earned him decades of national television fame, died Saturday of heart failure. He was 86.
Benny Harrell, Fountain's son-in-law and manager, said Fountain was in hospice care in New Orleans when he died early Saturday.
With his ready wit and infectious laugh, Fountain was the epitome of the New Orleanian who knew how to "let the good times roll." He was well known to television fans through his appearances on the Lawrence Welk and Johnny Carson shows. Even his blues had a happy note.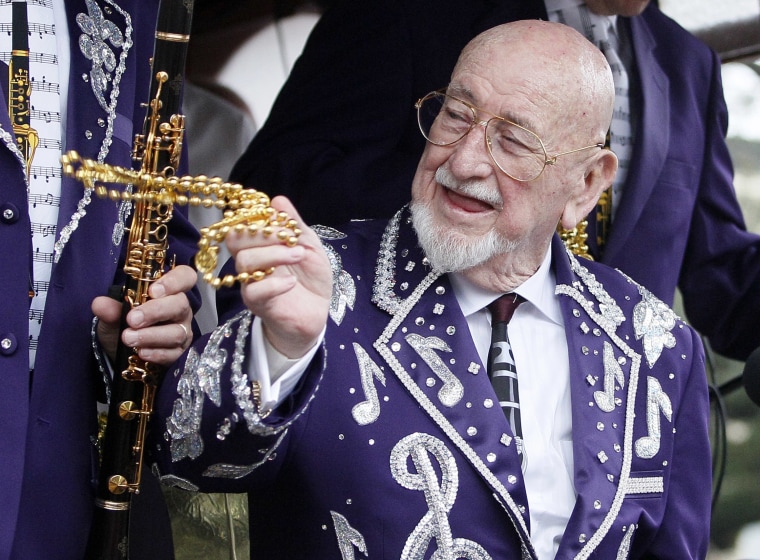 In New Orleans, he opened his first Bourbon Street club in 1960, later moving to a larger location on the bawdy thoroughfare before settling in for a long run at the nearby Hilton on Canal Street in the 1970s.
In a tradition-drenched city, his annual trek through the French Quarter with his "Half-Fast Walking Club" was a raucous New Orleans ritual — one he rarely missed even when he was in failing health.
Fountain, who often split time between the New Orleans area and the Mississippi gulf Coast, suffered devastation when Hurricane Katrina hit in August 2005, destroying his Bay St. Louis, Mississippi, home. But he stayed upbeat. Late in 2005, after several temporary homes, he settled in Hammond, Louisiana, telling The Daily Star newspaper, "We went from 10,000 square feet to 1,500. That's really what you would call downsizing."
Fountain started playing professionally on Bourbon Street in his teens. He once called the street of strip clubs, music joints and bars his "conservatory." In his early years he toured nationally with the Dukes of Dixieland and the late trumpeter Al Hirt. Real fame came in 1957 when he joined "The Lawrence Welk Show" as a headliner.
He expressed deep appreciation for the exposure Welk gave him and his music. Still, Fountain also joked that his Bourbon didn't mix with Welk's champagne. There was, for example, the night Fountain overfilled the bubble machine, stranding Welk on live television in a virtual storm of blowing bubbles.
Fountain's freewheeling personality and swinging performances contrasted sharply with Welk's rigidly orchestrated polkas and pop hits. The breakup came in 1959 after Welk chastised him for jazzing up an arrangement of "Silver Bells" in a Christmas performance.
His recording of "Just a Closer Walk With Thee" sold more than a half million copies in 1959. It stuck as an unofficial theme song, and he even called his autobiography "A Closer Walk." His version was so popular that he half-complained that audiences wouldn't let him off the stage without his playing it again.
Funeral arrangements were pending. Harrell said a funeral Mass was being planned for St. Louis Cathedral in the French Quarter.
"We'll have a big jazz funeral after his Mass," Harrell said.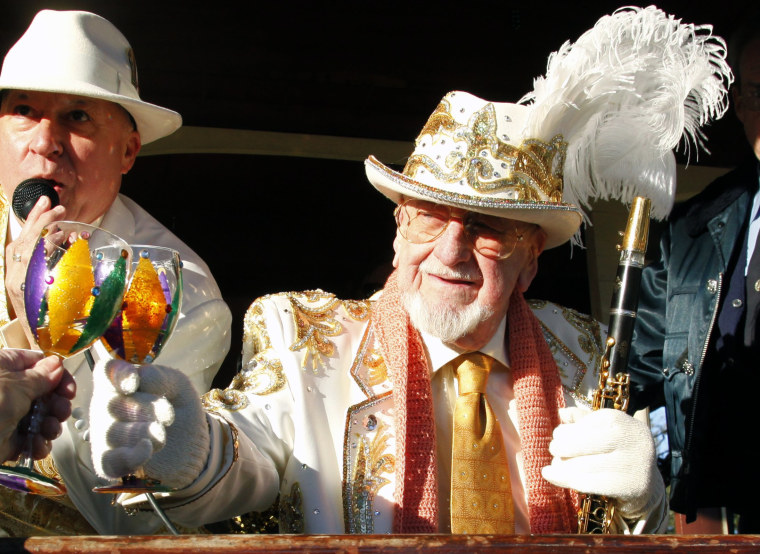 Fountain and his wife, Beverly, were to celebrate their 65th wedding anniversary in October, Harrell said. In addition to his wife, survivors include three children, six grandchildren and five great grandchildren.
Among Fountain's losses in Katrina were photos of Louis Armstrong, with whom he performed, his collection of vintage guns, a Porsche and his part-time gig at a storm-damaged casino.
"But I have two of my best clarinets so I'm OK. I can still toot," he told The Associated Press at the time. He found one of his gold records, covered with mud, and one of the two clarinets was recovered by a neighbor a few blocks from his house.
Health problems caused him to miss the Half-Fast march during Mardi Gras, 2006. But he showed up at the New Orleans Jazz and Heritage Festival the following May, vowing to do his part to help the stricken city's recovery.
Musically, Fountain traced his style to Benny Goodman, for drive and technique, and Irving Fazola, for the round, full tone. Fountain grew up listening to Goodman's records, but Fazola was playing in the French Quarter where Fountain could listen in person. The result was Fountain's distinctive combination of swing and Dixieland.
After the Welk show, he was in demand for guest appearances and performed for stars like Ed Sullivan, Bing Crosby, and Bob Hope, and played with jazzmen like Louis Armstrong, Harry James and Harry Connick Jr.
He made 58 appearances with Johnny Carson on "The Tonight Show." But he didn't leave his home base for long and kept a band steadily employed at the clubs where he performed.