Prince's remains have been cremated, and a small group of family and friends held a private ceremony to honor the music legend, his publicist said Saturday.
Yvette Noel-Schure said in a statement that Prince's remains had been cremated without specifying when. His body was released to his family Friday afternoon after a Minnesota medical examiner performed an autopsy.
"A few hours ago, Prince was celebrated by a small group of his most beloved: family, friends and his musicians, in a private, beautiful ceremony to say a loving goodbye," Noel-Schure said in the statement.
The "final storage" of Prince's remains would remain private, but an announcement about a "musical celebration" is forthcoming, the statement said.
Prince was found dead at the age of 57 Thursday at his estate in Chanhassen, southwest of Minneapolis. The cause of his death remains unknown. Authorities said Friday that the results of the investigation into Prince's death, including the autopsy results, could take days to weeks to complete, but Noel-Schure said Saturday that autopsy results would take at least a month.
Prince's family and former bandmates were spotted outside the music legend's Paisley Park estate Saturday evening, according to The Associated Press. Hundreds of fans have flocked to the estate to pay tribute to Prince with flowers, balloons and instruments — many of which were purple — since news of the musician's death broke Thursday.
On Saturday afternoon, Paisley Park staff dressed in black emerged from the gates of the sprawling complex and handed mourners shiny purple boxes containing CDs, t-shirts, books and other Prince memorabilia.
It is unclear who Prince left his estate to or if he had a will.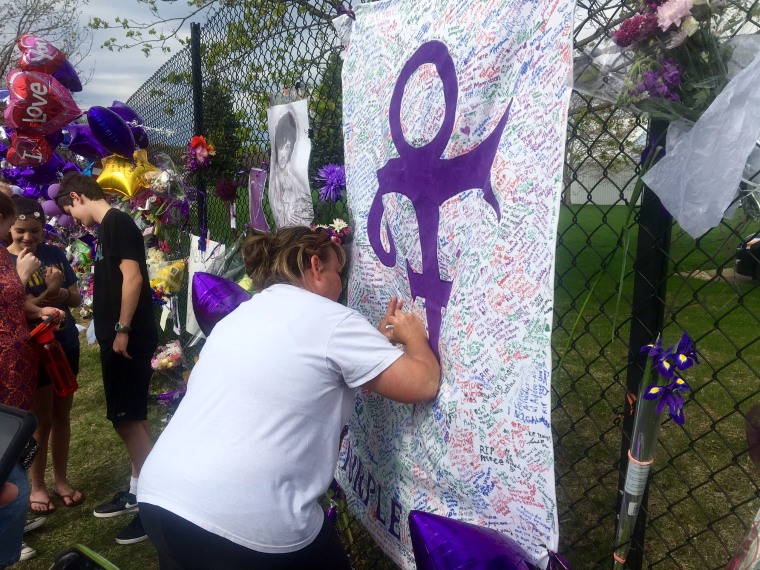 Prince told Rolling Stone in an unpublished 2014 interview that "I don't think about gone."
In excerpts of the interview released online Friday, Prince said he had songs in "vaults" that no one had ever heard, but he wasn't saving them for when he was "gone." The full account will be published in the next issue.
"No, I don't think about gone. I just think about in the future when I don't want to speak in real time," Prince said about the unreleased music.
He said he recorded so much that he didn't "have time to compile everything." While he denied being "addicted" to recording, Prince said he was always composing new music.
"I can hear five albums in my head right now," he said.
When asked if he would ever retire, Prince told Rolling Stone that he didn't understand the concept of retirement. "There's always some way to serve," Prince said. "And I never felt like I had a job."