The sudden death of a pop superstar whose impact was larger than life has left fans reeling and officials searching for answers.
Prince was found dead Thursday morning at age 57 after a string of recently canceled shows and an emergency aboard a flight last week. He was discovered slumped in an elevator at his Paisley Park estate in Minnesota.
Authorities say it could be weeks before a cause of death is released. Here is what we know about the final days of a music icon who lived a reclusive and often enigmatic life:
There were no signs of trauma or indications of a suicide.
Prince was last seen by an acquaintance who dropped him off at his estate in Chanhassen, southwest of Minneapolis, on Wednesday night.
Staff became worried about his welfare after trying to reach him the next morning and found him collapsed in the elevator. Paramedics came just after 10 a.m. local time and unsuccessfully tried to revive him by doing CPR. Officials said some of the responders were carrying Narcan, an antidote that can save lives after a drug overdose, but they didn't use it.
Related: Investigating Prince's Death: What Happens During an Autopsy?
There were no obvious signs of trauma to his body or anything that would imply his death was a suicide, Carver County Sheriff Jim Olson said Friday. An autopsy was conducted Friday morning, but the results could take weeks, officials said.
"This is certainly a big event internationally and nationally, and I can tell you that we are going to leave no stone unturned with this and make sure the public knows what happened," Olson said at a news conference.
The exact time of Prince's death is still pending.
The last flight he took was forced to make an emergency landing.
Prince took a flight last week from Atlanta to Minneapolis that made an emergency landing due to an "unresponsive male" on board, a source told NBC News. A representative said the musician hadn't been feeling well at his Thursday night show in Atlanta, and his health deteriorated after he boarded the flight after midnight.
The private jet diverted about 300 miles to Moline, Illinois, en route to Minneapolis, Prince's publicist said last week.
A Prince spokesperson said he was treated for the flu in Moline and released later that day. The following night, he hosted a dance party at Paisley Park.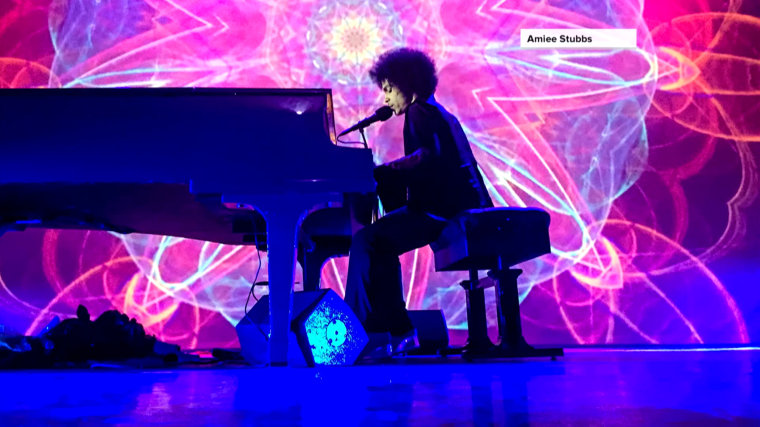 "He seemed great. He looked like Prince," Minneapolis resident Lars Larson told The Associated Press. "The whole point of the show on Saturday was to show he was doing all right."
Prince had canceled other Atlanta shows recently, reportedly for the flu. In an April 14 concert there, he joked about being "under the weather," the AP reported.
His death came as a shock to everyone, even to those who knew him well.
Prince, born Prince Rogers Nelson in Minneapolis on June 7, 1958, had spoken openly about having epilepsy as a child.
Friends said he had hip trouble; his former drummer, Sheila E., told the AP his legs were shot from years of high-energy performances.
But many believed he was in good health now.
"I can tell you this: What I know is that he was perfectly healthy," Prince's cousin, Chazz Smith, told the AP.
Prince quit drugs and alcohol when he was younger, Smith added.
Olson, the sheriff, said no medical calls came from Paisley Park regarding Prince within the past year.
"There are so many rumors," Olson said. "I don't know if I can dispel all the rumors out there."
He was devout — and seemed to live clean
Prince was baptized as a Jehovah's Witness in 2003, the culmination of a long conversion process motivated by his relationship with musician and mentor Larry Graham. Like his fellow congregants, he practiced door-to-door ministry and seemed to try to downplay his fame when engaging people at their homes, according to the recollections of people who encountered him.
Prince said he didn't vote, and his faith was why. But Jehovah's Witnesses also frown on receiving blood transfusions, so his death has fueled speculation that an aversion to surgery on his ailing hips may have been related to his death. (His former percussionist Sheila E. told The Associated Press that he suffered lasting damage from years of jumping off risers and speakers while wearing high heels.) But some fellow parishioners at the St. Louis Park Kingdom Hall, where he worshipped, said that wasn't true. "Nobody said he couldn't get surgery. Absolutely not," David Osburn told CNN.
At the same time, Prince's death has set off rumors that he suffered an overdose of painkillers. His cousin, Chazz Smith, told the AP that he had sworn off drugs and alcohol when he was a kid. And Prince told the Los Angeles Times in 2009 that he didn't do drugs.
His remains have been cremated
Soon after the medical examiner's office released Prince's body to his family on Friday, the remains were cremated, his publicist, Yvette Noel-Schure, said in a statement.
"A few hours ago, Prince was celebrated by a small group of his most beloved: family, friends and his musicians, in a private, beautiful ceremony to say a loving goodbye," Noel-Schure said in the Saturday evening statement.
She said that the remains' storage will be kept private. "We ask for your blessings and prayers of comfort for his family and close friends at this time. The cause of death remains unknown and it will be at least four weeks before we receive the results of the autopsy. An announcement will be made at a future date for a musical celebration."
It's unclear who will inherit his massive estate
Prince's fortune has been estimated at about $300 million — not only from the money earned from selling tens of millions of albums, but also because he held complete control over his recordings, and obsessively protected the use of his material. That makes the future ownership of his work — including hundreds of songs left unreleased in the artist's personal vaults — hugely lucrative.
But who will get it? At this point, few know. Prince died relatively young and wholly unexpectedly, without a spouse or children, and it isn't clear whether he had a will. If he didn't, then the first in line, according to Minnesota law, appears to be his siblings, which includes his sister, Tyka Nelson, and several half-siblings. Prince was also a devout Jehovah's Witness, so if he did leave a will it is possible that the church could be a beneficiary. He also had two ex-wives.