Rapper Rick Ross and his bodyguard were arrested Wednesday morning following an assault earlier this month at the hip-hop mogul's suburban Atlanta estate, authorities said.
Ross, 39, whose real name is William Roberts, has been charged with kidnapping, aggravated battery and aggravated assault, the Fayette County Sheriff's Office said in a news release. Bodyguard Nadrian James, 42, faces kidnapping and aggravated battery charges.
Officials did not release details of the alleged June 7 assault at Ross' mansion, a 235-acre compound in Fayetteville once owned by former heavyweight boxing champ Evander Holyfield.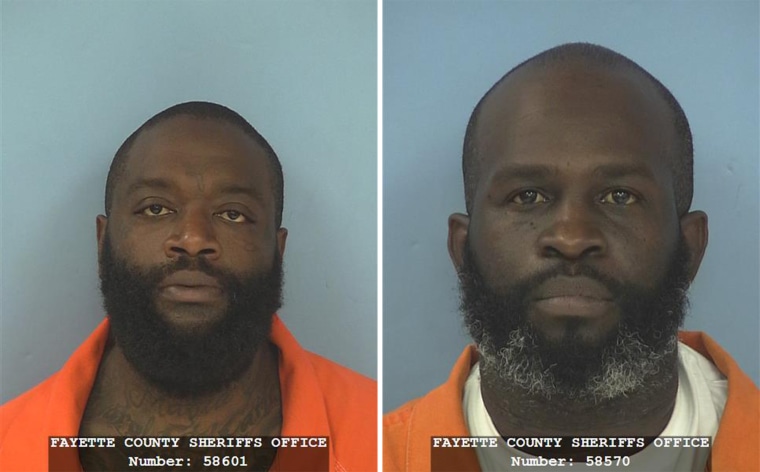 But in an arrest warrant obtained by The Associated Press, both men are accused of forcing the victim into the guesthouse, down a hallway and into a bedroom, resulting in the kidnapping charges.
Ross then allegedly used a Glock handgun to strike the man in the head and body, and also pointed the weapon at him.
"The victim was then questioned under duress and forced to answer questions at gunpoint," one of the arrest warrants states.
It's unclear the relationship between Ross and the man, who suffered two chipped teeth and a neck injury.
"The victim lost use of his jaw and is restricted to soft foods and liquid diet only as a result of not being able to chew food," an arrest warrant states.
Both Ross and James were in court Wednesday and denied bail, the AP reported.
RELATED: Rick Ross gets Miami Heat logo tattooed on his face
This wasn't the first arrest for Ross, the Grammy-nominated founder of the Maybach Music Group and known for his 2006 hit, "Hustlin'." He was taken into custody earlier this month on a misdemeanor marijuana charge in Fayette County — at least his fourth marijuana-related arrest, according to reports.
Ross' record label didn't immediately respond to a request for comment.