You can add The Rolling Stones to the list of artists who want Donald Trump to pull the plug on their music during his campaign events.
The legendary British rockers have "never given permission to the Trump campaign to use their songs and have requested that they cease all use immediately," a spokesperson said in a statement obtained by NBC News.
Related: Neil Young Blasts Donald Trump for Using Classic Song Without Clearance
The presumptive Republican presidential nominee has been soundtracking his events with at least two Stones songs — "You Can't Always Get What You Want" and "Start Me Up" — since launching his White House bid almost a year ago.
"Start Me Up" was most recently played on Tuesday night, when Trump celebrated his Indiana primary win at Trump Tower in New York City.
Trump suggested Thursday morning that he has no hard feelings about The Rolling Stones' snub.
"I have no problem with that. I like Mick Jagger," he said on CNBC.
Meanwhile, Neil Young, Aerosmith's Steven Tyler, Everlast (the former House of Pain frontman) and British songstress Adele have also scolded the real estate tycoon for using their tunes.
R.E.M. frontman Michael Stipe was particularly angry at Trump, whose campaign rallies have provoked protests across the country, and other politicians during this election cycle. The band's hit, "It's the End of the World as We Know It (And I Feel Fine)," was played at a tea part rally last September as Trump took the stage.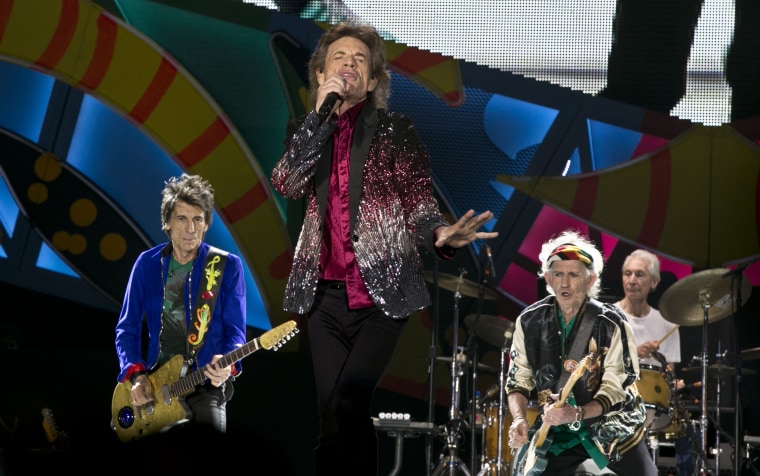 "Do not use our music or my voice for your ... moronic charade of a campaign," Stipe said on social media at the time.
Politicians don't have to get permission to use an artist's music if they buy "blanket licenses" from public-performance organizations ASCAP or BMI, which pay royalties to members, according to The New York Times. But artists under BMI who object to how their tracks are being used can have those songs pulled from that particular blanket license.
In addition, an artist or songwriter can send a cease and desist letter and even sue for false advertising if they believe their music appears to be supporting a particular candidate. In that case, politicians have generally agreed not to use their music.
Trump isn't the first politician to rile a music megastar.
Bruce Springsteen told Ronald Reagan he couldn't use "Born in the U.S.A." in his 1984 re-election campaign. Tom Petty told Michele Bachmann not to play "American Girl" while she ran for president in 2011.
Trump does have the blessing of Twisted Sister frontman Dee Snider, who also appeared on the former reality TV host's "Celebrity Apprentice." He said Trump is free to use the group's 1984 anthem, "We're Not Gonna Take It."
"Trump and Bernie Sanders are the two extremes. They're raising holy hell and shaking everything up," Snider told Entertainment Weekly. "That's what 'We're Not Gonna Take It' is about."
Correction: An earlier version of this article said Bruce Springsteen denied George H.W. Bush from using his song; it was Ronald Reagan.