American country music star Toby Keith, known for songs such as "Made in America" and "Whiskey Girl," is scheduled to perform at a men-only concert in Saudi Arabia — on the same weekend that President Donald Trump will be visiting the nation.
Keith, who played at Trump's pre-inaugural celebration, will be performing in the Saudi capital of Riyadh on Saturday, his publicist confirmed to NBC News.
Saudi entertainment website Lammt, which is marketing the event, said Saturday's concert would be free but open to men only. It will also feature an Arabian lute player.
Keith spokeswoman Elaine Schock said this would be the singer's first time in the Arab kingdom — but offered "no comment" on the male-only aspect of the show.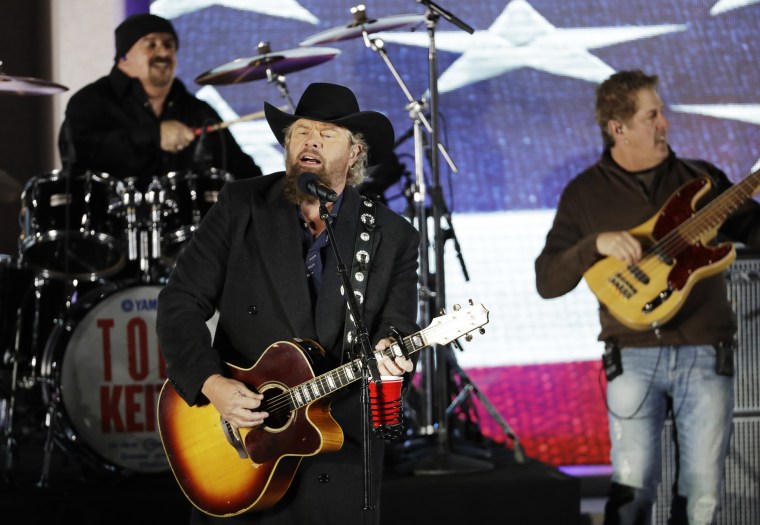 Lammt described the event as a musical night featuring the American singer and popular Saudi artist Rabeh Sager.
Saudi Arabia adheres to an conservative interpretation of Islamic law: Alcohol is banned and unrelated men and women are segregated in public, and women are not even allowed to drive cars.
But the kingdom has recently loosened the reins on entertainment, including allowing musical concerts that had been banned for the past two decades.
It was unclear if Keith would be performing some of his alcohol-inspired greatest hits, such as "Whiskey Girl," "Beer For My Horses" and "I Love This Bar."
Saudi Arabia's Middle East Broadcasting Center (MBC) arranged the trip, Schock said.
Saudi Arabia hopes to dazzle Trump with a line-up of summits and events this weekend.
The AP reported that in addition to the performance, Saudi Arabia had arranged for a packed schedule of events for Trump's two-day trip, which included inviting figures as varied as Sudanese President Omar al-Bashir, who has been indicted for war crimes by the International Criminal Court, and Fox News host Bret Baier.
Trump is scheduled to travel to Saudi Arabia, Israel and the Vatican before attending attending the G7 and NATO summit in Taormina, Italy, and Brussels, respectively.
Keith was among the musicians who played at a Jan. 19 inaugural event for Trump a day before the president took the oath of office. Keith's participation came amid reports that Trump was having trouble attracting celebrities to the event.
The country singer defended his decision to play during the event amid some criticism, saying he had performed for previous presidents as well. He has not said who he voted for in the 2016 presidential election.
"I don't apologize for performing for our country or military," Keith said in a statement to Entertainment Weekly on Jan. 14. "I performed at events for previous presidents [George W.] Bush and [Barack] Obama and over 200 shows in Iraq and Afghanistan for the USO."