LOS ANGELES — Rock 'n' Roll Hall of Famer Tom Petty, who with his band the Heartbreakers married '60s-era folk rock with the Southern accents of his native Florida into the harder-edged 21st-century musical landscape, died Monday night, his manager and publicist said. Petty was 66.
Petty went into cardiac arrest at his home in Malibu early Monday and was taken to UCLA Medical Center but couldn't be revived, publicist Carla Sacks said in a statement attributed to Tony Dimitriades, the band's longtime manager. Petty was declared dead Monday night, it said.
Petty, who was born in Gainesville, Florida, performed in a series of bands before he and other members of the band Mudcrutch formed the Heartbreakers. The band released the single "Breakdown," followed shortly by their first album, "Tom Petty and the Heartbreakers," in 1976. The album enjoyed wide success, and in 1977 "Breakdown" was re-released and reached the singles charts.
More albums followed quickly — "You're Gonna Get It"; "Damn the Torpedoes" which went double platinum and had monster hits with "Don't Do Me Like That" and "Refugee"; and "Hard Promises," which featured "The Waiting."
Petty had a second artistically fertile side gig in the late 1980s with the Traveling Wilburys, a supergroup with Bob Dylan, George Harrison, Roy Orbison and Jeff Lynne of Electric Light Orchestra. At the same time, he was branching out into a solo career, charting with hits like "I Won't Back Down" and "Free Fallin'," which quickly became highlights of concerts by the Heartbreakers, which re-formed in 1991.
Photos: Rocker Tom Petty Dead at 66
Petty and his bands broke a narrow furrow of new ground by joining the irresistibly jangly guitar sound of 1960s bands like the Byrds, Buffalo Springfield and The Band with the harder-driving rock rhythms of earlier Rolling Stones blues numbers, colored with a muted but recognizable tinge of Southern rock rebellion reminiscent of the Allman Brothers Band.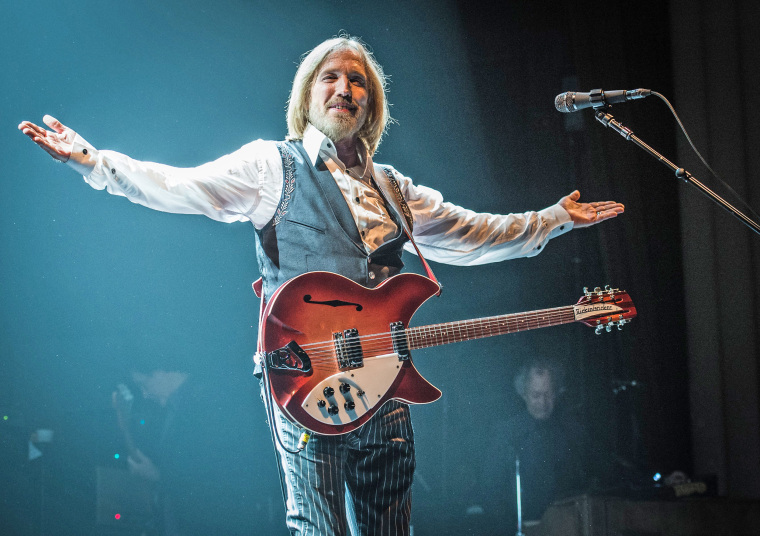 He often said that Elvis Presley was his biggest influence, and that influence was clear on the Heartbreakers' sixth album, 1985's "Southern Accents." The hit single "Rebels" included these lines:
I was born a rebel ...
Yeah with one foot in the grave
And one foot on the pedal.
"Petty is often described as workmanlike and dependable," the music writer Kenneth Partridge noted last year in Billboard magazine. But that does him an injustice, Partridge wrote, arguing that, in reality, "he's a profound storyteller with remarkable word economy."
Always a fierce advocate for artistic independence and putting his fans first, Petty fought many battles with his record labels. In 1981, Petty took on MCA Records over the list price for the album "Hard Promises" — MCA wanted to issue it for $9.98, while Petty insisted that it sell for $8.98. Petty won.
It wasn't the first time he'd gone to war with MCA. In 1979, when the band's label, Shelter, was bought by MCA, Petty soon got into a dispute with the new owner over songwriting rights. Litigation ensued, putting Petty's career on hold — and forcing him to file for bankruptcy protection.
Petty settled with MCA in a deal that saw him and the band move to another MCA subsidiary, and the records soon resumed. Petty, both solo and with the Heartbreakers, remained a fixture on the lists of the highest-grossing concert acts in the world for the next quarter-century.
In 2002, he and his band were inducted into the Rock 'n' Roll Hall of Fame, and in 2008, they got the ultimate rock 'n' roll seal of approval — they performed four of their hits at halftime of Super Bowl XLII.
"The deceptive simplicity of what Petty and band do, the guileless brand of timeless rock they seem to effortlessly create, may have been disguised how great the Heartbreakers truly are," the rock critic Joe Selvin wrote in Mojo magazine in 1997. "Without doubt, when his enormous catalog and consistent excellence are weighed, Petty ranks with the best in American rock history."
CORRECTION (Oct. 3, 2017, 1:55 p.m.): An earlier version of this article incorrectly described the album "Southern Accents." It was a release by Tom Petty and the Heartbreakers, not a solo album by Petty.