At a recent rap performance, all eyes were on the sign language interpreter.
Twista, who was once Guinness World Records' "fastest rapper of all time," was performing on Saturday in Charlotte, N.C., and was joined by American Sign Language interpreter Amber Galloway Gallego on stage.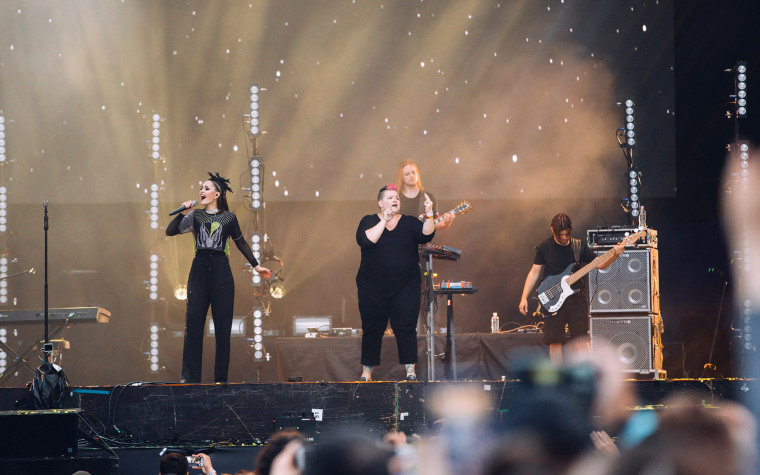 At one point in the performance, Twista turned toward Galloway Gallego and the audience went wild for her interpretation. On social media, Twista commended Galloway Gallego, saying "She's the real MVP for keeping up wit me."
Galloway Gallego is no stranger to praise. She is famous for her interpretation of music, performing for other artists like Lady Gaga, the Black Keys and Cher.
In 2013, Galloway Gallego went viral for her performance with Kendrick Lamar at Lollapalooza, and in 2014, Vibe magazine called her the "Jay-Z of Hip-Hop Sign Language."
Her Saturday performance drew similar praise, and Galloway Gallego has used her viral fame to advocate for the deaf and hard-of-hearing community, calling for more inclusion especially within the arts.
Galloway Gallego also said in the video she is hard of hearing and believes she will eventually be deaf.
"I should be able to go to any concert and have just as much fun as you have," she said in a YouTube video about why she thinks it's so important to have interpreters at events like music performances.
Galloway Gallego told NBC News Thursday that music is about connection and she believes what she does is about breaking down barriers to allow for equal access to that experience.
"[Deaf people] are fighting for their human basic right to communication every single day of their life," she said Thursday. "So how can we bring about equality if this is a fight that they have every single day?"
She also told NBC News that she'll only feel that her mission is complete when she stops getting daily messages from people begging for help to get venues to provide interpreters.
"I want my legacy to be that in the entertainment field that deaf people don't have to fight for access, that we will pave the road to having people access to all things entertainment," Galloway Gallego said.