It's a music genre that has made its way from the user-generated "airwaves" of Soundcloud to having its best year yet on streaming services like Spotify: emo rap.
The music category, which features artists like Lil Xan and Juice WRLD, topped a list released by Spotify Tuesday of genres that saw the most growth in 2018. The music streaming service tells NBC News that the category didn't just rise in popularity this year — it exploded.
"Emo rap grew 292 percent in 2018 over last year," wrote Spotify's trends expert Shanon Cook in an email. "According to our data, emo rap's share of listening started increasing in the fall of 2017, but really took off in 2018."
According to Spotify's data system used to define music genres, emo rap typically features "blown-out bass," "wallowy trap beats" and "purposeful rawness."
Spotify's "breakout artist of the year," 20-year-old Jarad "Juice WRLD" Higgins, hails from the emerging scene.
Simply put, the genre's real distinctive feature boils down to the same factor that launched the angst-filled lyrics of My Chemical Romance and Fall Out Boy in the early 2000s.
"All you have to do is listen to the artists themselves and you'll know that emo rap and emo rock are linked to one another," said Adam Bradley, co-editor of "The Anthology of Rap." "Whether it's XXX[Tentacion] loving Paramore or [Lil] Peep reimagining songs by Good Charlotte and Blink-182 and Bright Eyes, you can draw a straight line between the sonic styles and lyric subjects between emo rap and emo rock."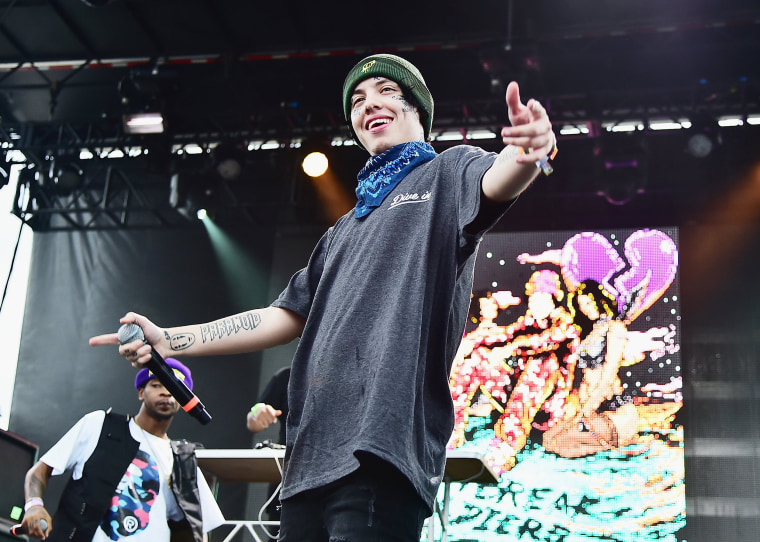 Bradley, who is an English professor at the University of Colorado, Boulder, added that both emo styles share a rejection of racial boundaries, calling the latter "defiantly multiracial."
But the feelings expressed in emo rock are nothing new, experts say.
"In some ways, this is timeless, the feelings of angst, frustration, powerlessness," said Erik Nielson, associate professor of liberal arts at the University of Richmond. "This seems kind of like an eternal dynamic."
Nielson specializes in rap music and wrote an amicus brief for the U.S. Supreme Court case, Elonis v. U.S., explaining how the genre can be misunderstood. Both scholars told NBC News that artists like Tupac, Kid Cudi and the hip hop group Geto Boys can all be considered predecessors to emo rap because they too scrapped lyrics of confident self-praise for vulnerability and self-doubt.
"I don't think rap has ever lacked for emotional rawness and self-exposure," Bradley said. "I just think we're in a moment now where the popularity of these kinds of songs is cresting. Where the everyday realities of most young Americans is such that we're seeking out a soundtrack that suits our moods."
Still, the predominantly young fanbase of the genre appears to be positively responding to the "rawness" behind acts like the late Jahseh "XXXTentacion" Onfroy, who saw his career skyrocket on Soundcloud.
In his first studio album, 17, the artist's first track provides an unapologetic defense of the themes addressed in his music.
"While listening to this album, you are literally, and I cannot stress this enough, literally entering my mind," the artist said, calling his album a "collection of nightmares, thoughts and real-life situations."
"And if you are not willing to accept my emotion and hear my words fully, do not listen," he continued.
"Soundcloud rap," as emo rap is also called, origins can be traced to the music sharing service, experts at Spotify and Soundcloud said.
Erika Montes, head of artist and label relations at Soundcloud, said that early artists created the genre using influences from Atlanta's Trap scene, emo, punk and beats reminiscent of the 90s.
Bradley said he can see how emo rap's Soundcloud origins have helped shape its content.
"Emo rap's origins in Soundcloud shape the music to this day by supporting a kind of DIY approach to making music," he said. "The very things that some hip hop purists criticize about XXX [Tentacion] or [Lil] Xan or others — the lack of witty punchlines or intricate rhyme patterns — is the very thing that defines its aesthetic. Emo rap is as much or more about sound and feeling as it is about subject matter."
The genre's dominance has also prompted discussions on mental health and substance abuse. This was seen in the death of one of the genre's top artists, Lil Peep, who died of a drug overdose in November 2017.
The artist, whose real name was Gustav Ahr, told lifestyle site Highsnobiety last October that at one point he was "taking more than 20 Xanax a day to deal with anxiety."
"Music makes me cry," he told Vice News in a December interview. "It helps me let s--- out and express myself — both listening to it and making it."
The U.S. Drug Enforcement Administration has blamed the genre for glorifying opioid use as they investigated the death of Diana Haikova, 29, who died of an overdose in December 2017. The heroin and fentanyl she had died from was allegedly distributed by someone linked to the music scene.
"This investigation led us into the underbelly of emo rap and its glorification of opioid use," DEA Special Agent-in-Charge James J. Hunt said in a press release.
Nielson, however, said he has seen emo rap help his students make sense of their issues, citing how it can be helpful to see celebrities dealing with "real suffering."
But he also said listeners should remain wary of the "confessions" artists are making.
"We always have to remember that this is still a form of entertainment," he said. "Artists are often taking on a type of a confessional tone as part of their branding."