In less than two weeks, President Obama will be out of a job. But fear not: Spotify has him covered.
The music streaming company has posted a position on its careers page for a "President of Playlists."
And while the listing doesn't mention the outgoing president by name, it's clear from the job description who the ideal candidate is.
"As an organization, we are full of hope, and always open to change," the posting states. The president of playlists will "[p]rovide world-class leadership to our playlist editors and supporting staff," as well as "[i]dentify and substantiate new playlist ideas, e.g. from a playlist for shooting hoops with your friends, to the perfect warm up playlist for addressing the nation about health care legislation that bears your name."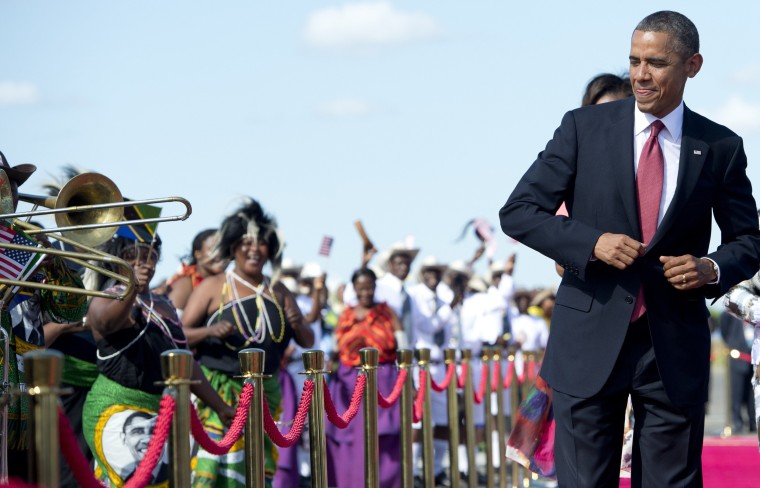 Requirements include "at least eight years experience running a highly-regarded nation," the posting states, and "experience in programming playlists at a federal level" — such as a "celebratory, 'I just found my birth certificate' playlist."
"Ever had Kendrick Lamar play your birthday bash?" it adds. "We'd love love to hear about it!"
Additional qualifications include "good team spirit, excellent work ethic, a friendly and warm attitude, and a Nobel Peace Prize."
Anyone can apply. The posting states that Spotify is "proud to foster a workplace free from discrimination." But good luck going up against Obama.
In previous years, former presidents have taken on a range of activities and responsibilities after leaving the White House. Some set up organizations; some write memoirs; some paint.
All of those options could be on the horizon for the 44th president. But according to podcast host and writer Natalia Brzezinski, Obama recently told her husband, the former Swedish ambassador Mark Brzezinski: "I'm still waiting for my job at Spotify ... Cuz' I know y'all loved my playlist."
Last year, Obama curated a summer playlist for Spotify complete with tracks from Janelle Monae, Edward Sharpe and Nina Simone.
In October, he created another playlist for the gym with the Black Eyed Peas and Icona Pop.
Should he decide to go for the president of playlists job, consider it a safe bet that future playlists will include some philosophical numbers such as the Rolling Stones' "You Can't Always Get What You Want," as well as satisfying breakup songs like CeeLo Green's "F*** You."