The details surrounding a 2013 murder that led to the swift arrest of NFL superstar Aaron Hernandez have been well chronicled, but what ultimately led him to pull the trigger has often been based only on speculation.
A new Netflix docuseries, "Killer Inside: The Mind of Aaron Hernandez," endeavors to go beyond the conjecture and show how Hernandez's sexuality, chronic traumatic encephalopathy (CTE) and the culture of football led to his demise.
The three-episode series, an addendum to director Geno McDermott's 2018 documentary "My Perfect World: The Aaron Hernandez Story," premiered on Netflix on Wednesday, and begins with the familiar details of the case.
On June 17, 2013, Hernandez and two associates, Ernest Wallace and Carlos Ortiz, drove Odin Lloyd, the boyfriend of Hernandez's fiancée's sister, to an industrial park near Hernandez's home and fatally shot him.
Hernandez was convicted of first-degree murder and sentenced to life in prison without the possibility of parole.
Police said Hernandez orchestrated Lloyd's execution with the help of accomplices because he was upset Lloyd had spoken to people whom he didn't like at a Boston bar. Lloyd's body was found dumped in the industrial park about a half-mile from Hernandez's home in North Attleborough, Massachusetts.
The case stunned football fans nationwide. Hernandez was a promising young athlete who was drafted by the New England Patriots at 20. Two years later, he started in the Super Bowl and signed a $40 million contract with the team.
How did a star who seemed to "have it all" go on to lose everything? The docuseries offers a few different reasons.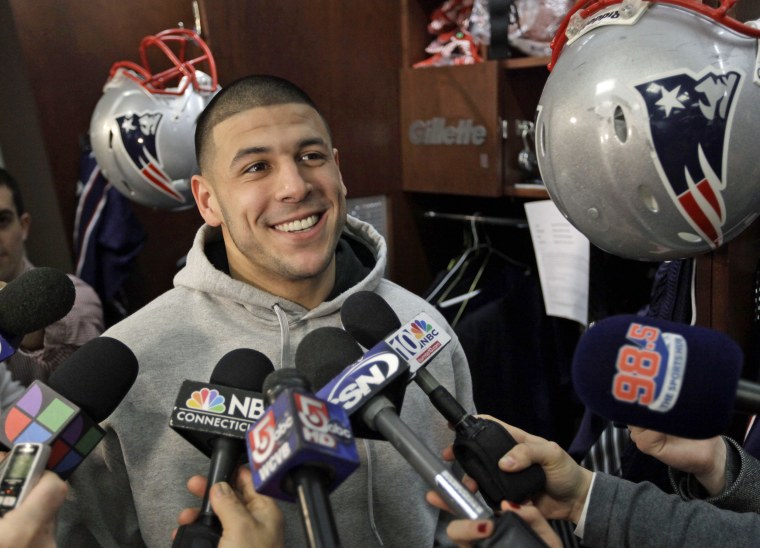 Hernandez's rumored sexuality
Though there had been long-standing speculation about Hernandez's sexuality, "Killer Inside" contends that he was gay and struggled with his sexuality for the majority of his life. Dennis SanSoucie, first introduced as Hernandez's "lifelong friend," reveals that he and Hernandez had a sexual relationship spanning from the seventh grade to their junior year of high school.
"Me and Aaron experimented," SanSoucie said. "If I look at it now, yes, we were in a relationship back then."
SanSoucie described Hernandez's late father as a physically abusive "man's man." He said that Hernandez was "terrified" that his father would find out that he was gay.
He said he and Hernandez were constantly worried that someone would "catch" them and that they were in "denial" about their sexuality because they were athletes.
Ryan O'Callahan, a former National Football League player for the Patriots and the Kansas City Chiefs who came out as gay after leaving the NFL, suggests that living as a closeted gay professional athlete caused Hernandez inner turmoil.
O'Callahan said that he frequently felt pressured "to do whatever you can to mask the other side of you," and suspected Hernandez felt the same. In college, O'Callahan said he gained weight and drank beer in order to appear as masculine as possible.
Chronic Traumatic Encephalopathy
The docuseries also elaborated on Hernandez's CTE — the degenerative brain disease that can lead to memory loss, depression and dementia.
The docuseries links Hernandez to Junior Seau, a former NFL player with the condition. Both players died by suicide; Seau in 2012 and Hernandez in 2017. Researchers in the series suggested that the CTE, which can result in poor judgment, lack of inhibition of impulses, rage, paranoia and emotional volatility, may have resulted in Hernandez's behavior.
The NFL and football culture
According to the docuseries, Hernandez believed football rendered him with a celebrity status that made him invincible. As a student at the University of Florida, Hernandez was involved in an incident in which he punched a bar manager and burst the manager's eardrum after he was confronted about not paying his bar tab. The manager declined to press charges.
Hernandez was also garnering a reputation for drug use, which made NFL teams wary of recruiting him. So upon entering the NFL draft in 2010, he wrote letters to the Patriots and other teams stating that he would submit himself to frequent drug tests.
Dan Wetzel, a Yahoo Sports columnist, suggests that the NFL was partly complicit as they drafted Hernandez despite the fact that his score for maturity in its behavioral analyses was "the lowest possible" and that he routinely failed drug tests.
"Aaron was absolutely operating on the edge," Wetzel said.
A cautionary tale
Though the docuseries acknowledges that the circumstances contributing to Hernandez's death are complicated — perhaps too convoluted to be fully understood — it still attempts to make sense of them.
"I think we all want to be apologetic. Anyone that was close to Aaron wants to say, 'This is why, this is why," but at the end of the day he made these decisions," Stephen Ziogas, another childhood friend of Hernandez, said. "We can't sit here and say that this is why he made these decisions."
Years later, NFL fans are not done processing and speculating what happened to Hernandez.
"As a professional football player with the Patriots, Hernandez was a celebrity," Frankie Bailey, a professor of pop culture and criminal justice at the State University of New York at Albany, told NBC News. "What was later revealed about Hernandez, the abuse in his childhood, his growing paranoia, the bodyguards, his drug use, and the brain damage all became clues to what led him to kill. Now, audiences may be tuning in to learn not only 'the how,' but 'the why' of his story."