Just two days after Mother's Day, Angelina Jolie made a shocking announcement. The actress revealed in the New York Times that she underwent a preventive double mastectomy. The timing seems apt: Losing her own mother, Marcia Lynne "Marcheline" Bertrand, to ovarian cancer in 2007 spurred Jolie's decision to have the operation.
"My mother fought cancer for almost a decade and died at 56," Jolie wrote in her New York Times op-ed column on Tuesday. "We often speak of 'Mommy's mommy,' and I find myself trying to explain the illness that took her away from us."
While Jolie's mother acted in numerous films, including a role in former husband Jon Voight's 1982 comedy "Lookin' to Get Out," she left acting after her two children were born and never returned.
"I will never be as good a mother as she was," Jolie said of Bertrand on 60 Minutes in 2011. "I will try my best, but I don't think I could ever be. She was grace incarnate, the most generous, loving -- she's better than me."
Jolie was estranged from her father for most of her life, but clearly carried her mother's influence with her wherever she went: During the filming of 2008's "Changeling," Jolie told the Times that she kept photos of her late mother in the purses her character carried.
After leaving acting, Bertrand ran her own production house, Woods Road Productions. She executive-produced the 2005 documentary "Trudell," about her partner, Native American poet and activist John Trudell. She claimed Native American ancestry herself, and she and Trudell founded the All Tribes Foundation to benefit Native Americans. Her humanitarian leanings clearly transferred to her daughter, who was appointed as a Special Envoyfor the United Nations High Commissioner for Refugees in 2012.
After Bertrand was diagnosed with ovarian cancer in the late 1990s, she and Trudell founded the Give Love Give Life organization to raise awareness of ovarian and other gynecological cancers through music. After a long battle with her own cancer, she died on Jan 27, 2007.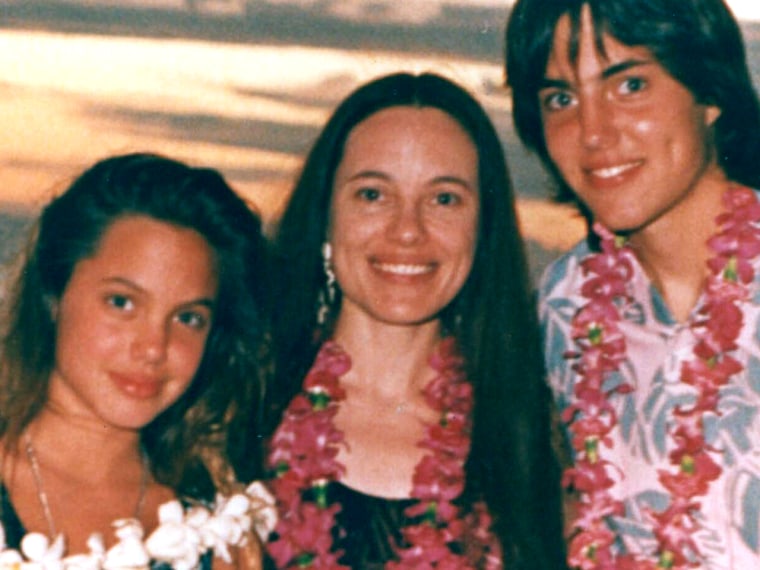 "She held out long enough to meet the first of her grandchildren and to hold them in her arms," Jolie wrote in the Times piece about her own mastectomies. "But my other children will never have the chance to know her and experience how loving and gracious she was.
Three of Jolie's six children were born before Bertrand passed away, and since then, she and partner Brad Pitt have had three more children. A year and a half after she died, Jolie had twins Knox and Vivienne, and gave Vivienne the middle name of Marcheline in her mother's honor.
"There are no words to express what an amazing woman and mother she was," Jolie and Haven told People Magazine upon the death of their mother. "She was our best friend."
A best friend who sadly fell victim to a family curse: "There is no longevity on my mother's side of the family," Jolie told Esquire in 2010. "My grandmother also died young, so my mother always thought it could happen to her. But she lived to see her grandchildren, lived to see both me and my brother in a nice place. She was a real mother that way. She waited till everyone was okay. Then she closed her eyes."