Aretha Franklin — the first woman to be inducted into the Rock & Roll Hall of Fame and known as the "Queen of Soul" for powerful anthems like "Respect" and "Chain of Fools" — died Thursday morning at her home in Detroit. She was 76.
Franklin died of pancreatic cancer, the singer's publicist said in a statement issued by the family.
"In one of the darkest moments of our lives, we are not able to find the appropriate words to express the pain in our heart," the family said. "We have lost the matriarch and rock of our family."
She was mourned by music luminaries as one of the all-time great talents of American popular music. "What a life. What a legacy! So much love, respect and gratitude," singer-songwriter Carole King tweeted. Elton John echoed that praise, tweeting: "The whole world will miss her but will always rejoice in her remarkable legacy."
Earlier this week, members of her family had told NBC affiliate WDIV-TV in Detroit that she was "gravely ill." The station reported that Franklin had asked for prayers.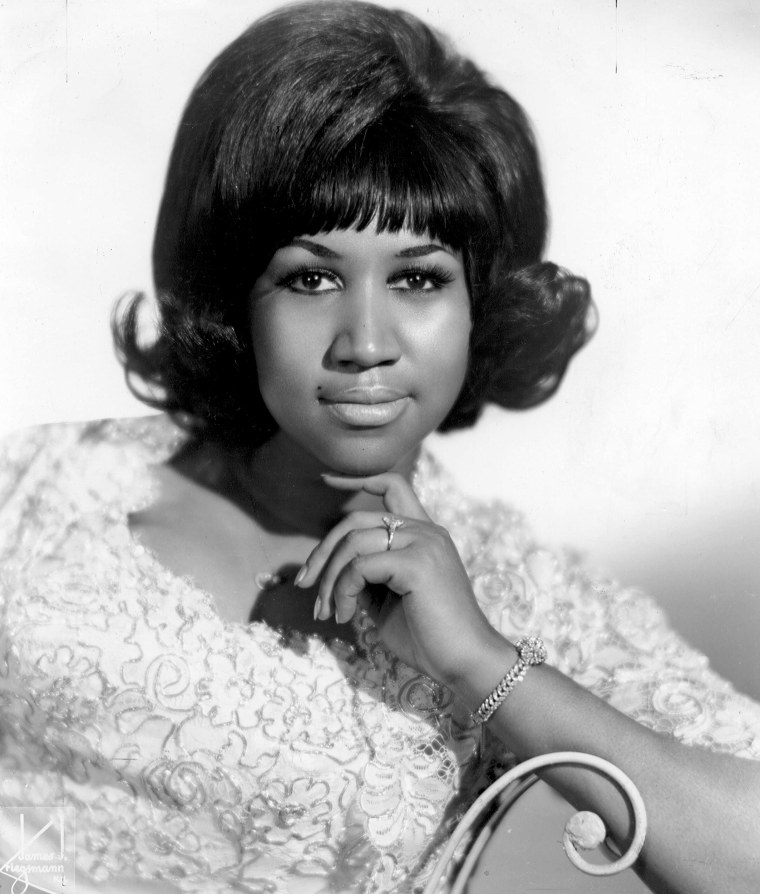 Born March 25, 1942, in Memphis, Tennessee, to C.L. Franklin, the most prominent black Baptist preacher in America during the mid-20th century, and a gospel singer, Aretha Louise Franklin began performing in front of her father's congregation at New Bethel Baptist Church in Detroit, which she considered her hometown. She became a star on gospel caravan tours with her father, known as "The Million Dollar Voice," who became her manager when she was 14.
Franklin released her first album, "Songs of Faith," in 1956, scoring regional hits with two gospel songs and occasionally touring with The Soul Stirrers, whose star was Sam Cooke.
In 1960, Franklin followed Cooke into secular music, recording a handful of Top 10 hits on the R&B charts. It took seven years and a switch of labels, to Atlantic Records, however, for her career to fully blossom in 1967, beginning with "I Never Loved a Man (The Way I Love You)," which hit No. 1 on the R&B charts and was her first Top 10 pop single.
That April saw the release of "Respect," a cover of an Otis Redding song with a feminist bent and an irresistible hook — the simple chorus of "R-E-S-P-E-C-T," which Franklin added. It quickly rocketed to No. 1 on the pop charts. Rolling Stone magazine later declared it the fifth-greatest song of all time.
The song became an anthem for both the civil rights and female-empowerment movements, and no one was more surprised by its success than Franklin.
"I was stunned when it went to No. 1," she told Elle magazine in April 2016. "And it stayed No. 1 for a couple weeks. It was the right song at the right time."
"Respect" earned Franklin the first two of her 18 Grammy Awards, culminating in a Grammy for Lifetime Achievement in 1994. But the song was only the beginning of her success.
The following year, Franklin came out with two towering albums, "Lady Soul" and "Aretha Now," introducing the timeless hits "Chain of Fools" and "I Say a Little Prayer." More popular — and culturally significant — albums followed through the 1970s, highlighted by "Young, Gifted & Black," winner of the 1972 Grammy for female R&B performance, and a return to her gospel roots, the double-platinum "Amazing Grace."
Other Top 10 singles included "Spanish Harlem," "Think" and "(You Make Me Feel Like) A Natural Woman," written by Carole King. Franklin performed it at the 2015 Kennedy Center Honors in Washington before an audience that included King, President Barack Obama and first lady Michelle Obama — drawing a tear from the president and sheer elation from King.
"One of the three or four greatest nights of my life," Franklin told The New Yorker of that performance, which went viral on YouTube.
Franklin's live performances often had that effect. She was a supremely talented technical musician — a child prodigy on the piano, able to shift seamlessly from thunderous gospel chord progressions to propulsive R&B beats to bouncy jazz riffs.
Her voice was equally prodigious, a mezzo-soprano powerhouse that could gracefully handle gospel effusions and operatic bomb bursts — something all of America learned in 1998.
At the Grammy Awards that year, Luciano Pavarotti had been booked to perform his showstopper aria, "Nessun Dorma" from the final act of Puccini's "Turandot," but he canceled at the last minute. With the live show approaching, Franklin agreed to stand in for the man many consider the greatest operatic tenor of the 20th century.
Instead of performing one of her own classics, Franklin went ahead with "Nessun Dorma," nailing the arduous high B "Vincero!" that closes the aria in a swell of orchestral bravado.
"Fortunately, the 'Queen of Soul' showed a new side of her extraordinary talent to a watching world, and helped save this Grammy performance," the Recording Academy wrote in its official history.
"Nessun Dorma" became part of Franklin's repertoire, and in 2015, she performed it for Pope Francis during his tour of the United States.
Besides her 18 Grammies, Franklin received three American Music Awards, three NAACP Image Awards, the Kennedy Center Honors in 1994 and the Presidential Medal of Freedom from President George W. Bush in 2005. She performed at Obama's inauguration in January 2009, and her four-and-a-half-minute rendition of "The Star-Spangled Banner" during an NFL Thanksgiving Day game in 2016 just about destroyed the internet.
In 1987, she became the first woman inducted into the Rock & Roll Hall of Fame, followed by the Gospel Music Hall of Fame and the U.K. Music Hall of Fame.
But her path to the top wasn't without its struggles.
Franklin was a high school dropout who gave birth to four sons by four different men — one at 12 and one at 14. Her first marriage, to a man who beat her, ended in 1969, at the height of her popularity. Her second marriage, in 1978, lasted less than six years.
In 2010, Franklin was diagnosed with a tumor, the nature of which has never been made public, and there were rumors then that she had only weeks to live.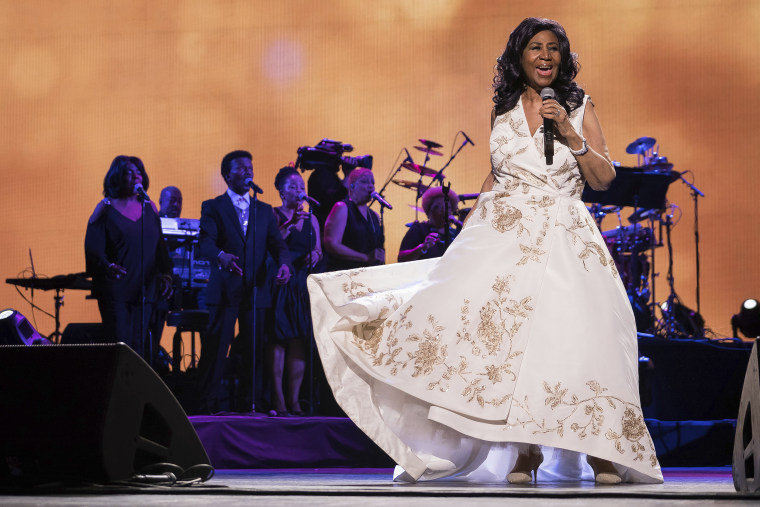 She generally kept questions about her private life at bay, but the next year, she appeared on Wendy Williams' show and revealed she had lost 85 pounds. She said she had been sick and needed surgery several months before, but she wouldn't say why.
Her official story was only that "I went through a number of procedures before I knew what was wrong."
In February 2017, a month before she turned 75, she told fans she would be retiring in the coming year. A few months later, she had to cancel a number of concerts as rumors about her health recirculated; she told an audience in Detroit: "Keep me in your prayers."
"I don't think there's anybody I have known who possesses an instrument like hers and who has such a thorough background in gospel, the blues and the essential black-music idiom," Ahmet Ertegun, the famed co-founder of Atlantic Records, said for the Rock & Roll Hall of Fame exhibit honoring Franklin.
"She is blessed with an extraordinary combination of remarkable urban sophistication and deep blues feeling," Ertegun said.
"The result is maybe the greatest singer of our time."