Ariana Grande has "No Tears Left to Cry" for Pete Davidson.
After "Saturday Night Live" posted a promo for this week's show in which Grande's ex-fiance Pete Davidson seemingly referenced their short-lived engagement, Grande tweeted: "for somebody who claims to hate relevancy u sure love clinging to it huh."
The tweet has since been deleted by the singer but Twitter and her nearly 59 million "Arianators" took notice, taking screenshots of her response and the subsequent tweet where she wrote, "thank u, next," which would turn out to be the title of her latest single.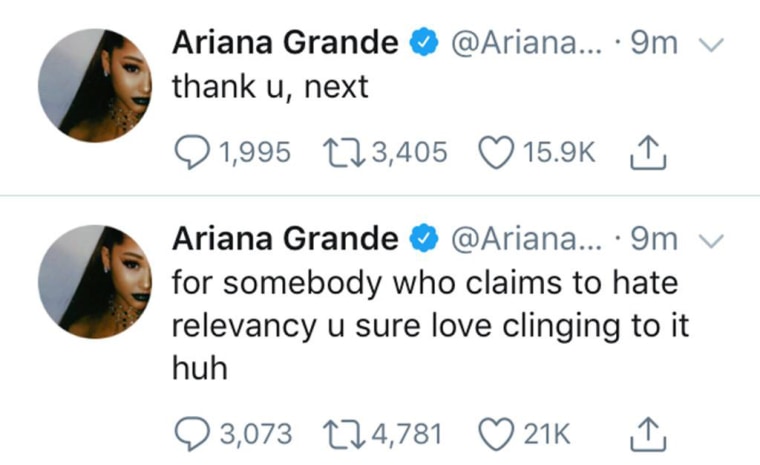 "SNL" this Saturday is being hosted by Jonah Hill, who directed the film "Mid-90s," with musical guest Maggie Rogers. Davidson decided to break the ice with Rogers in the promo, saying, "Hey Maggie, I'm Pete" before adding "Want to get married?"
Rogers declined his proposal, prompting Davidson to declare "0 for 3" — an apparent reference to his two other engagements that have ended, the first with Larry David's daughter, Cazzie David.
Grande appeared to capitalize on the feud by releasing "thank u, next," in which she sings, "Even almost got married/And for Pete, I'm so thankful," about 45 minutes before 'SNL' aired Saturday.
The move, foreshadowing a forthcoming album, had Twitter alight with talk of Grande and her late-night ex.
On Saturday's "SNL," Davidson seemed to call the new single "a great song," and he addressed the breakup.
"The truth is it's nobody's business, and sometimes things just don't work out — and that's OK," he said. "She's a wonderful, strong person and I genuinely wish her all the happiness in the world."
Davidson and Grande first made news when they announced their engagement in June after only weeks of dating. The couple called off their engagement four months later.
This isn't the first time Davidson has spoken about their split.
In an Oct. 20 event in Los Angeles, Davidson said, "Well, as you could tell, I don't want to be here," he said, according to E! News, adding "There's a lot going on."