Oh, look what Taylor Swift made the ACLU do.
On Monday, the American Civil Liberties Union of Northern California sent pop star Taylor Swift and her lawyers a letter saying the singer had raised "meritless legal defamation threats" against a blogger who called on Swift to denounce white supremacy.
The post in question, titled "Swiftly to the alt-right: Taylor subtly gets the lower case kkk in formation," was published on Sept. 5 by PopFront, a self-described "online magazine about politics, culture and activism," which launched in 2013.
In the blog post, Meghan Herning mulls the idea that Swift is an "icon of white supremacist, nationalists, and other fringe groups," dissects the lyrics to Swift's song "Look What You Made Me Do," compares images from one of Swift's music videos to imagery of Hitler, criticizes the singer for staying silent during the 2016 election and demands the singer clarify her stance on white supremacy.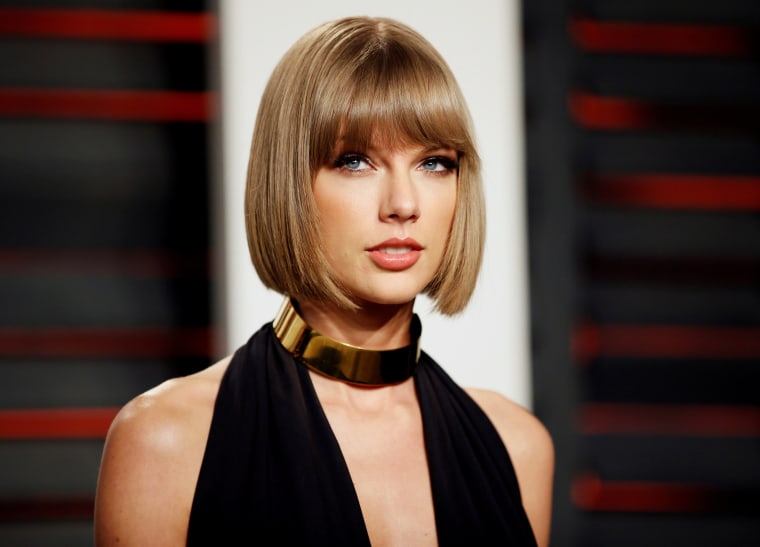 After receiving the letter from Swift's legal team, Herning contacted the ACLU, and lawyers with the civil-rights organization determined Herning's writing was opinion-based and protected by the First Amendment, according to a press release.
On Oct. 25, attorney William J. Briggs II, of Venable LLP, sent Herning and another person, whose name is redacted on the ACLU's copy of the document, a letter demanding they issue a retraction of the article.
"The notion that Ms. Swift supports white supremacy is utterly fabricated and a reprehensible falsehood, and it attempts to portray Ms. Swift in a false light," the letter states. "Let this letter stand as a yet another unequivocal denouncement by Ms. Swift of white supremacy and the alt-right."
It goes on to say Swift has denied being affiliated with or having support for white supremacy and cites two past news articles. In a Huffington Post article referenced by Briggs, for example, an attorney for Swift lambasted a Pintrest user who put quotes by Adolf Hitler over images of Swift.
"The association of Ms. Swift with Adolf Hitler undisputedly is 'harmful,' 'abusive,' 'ethnically offensive,' 'humiliating to other people,' 'libelous,' and no doubt 'otherwise objectionable.' It is of no import that Ms. Swift may be a public figure or that Pinterest conveniently now argues that the Offending Material is mere satire or parody. Public figures have rights," Swift's lawyer, J. Douglas Baldridge said in the statement.
Related: Why Did Taylor Swift Sue Over Sexual Assault Case? Experts Say It May Be For Other Women
Despite being sent on Oct. 25, 2017, the letter demands Herning's retraction be printed by Oct. 24, 2017. It also demanded that PopFront "remove the story from all media sources" and "cease and desist" from disseminating the post, adding that the letter itself was confidential and that publishing the letter in part or full would be a violation of the Copyright Act.
Representatives for Taylor Swift declined to comment to NBC News on Tuesday.
"Intimidation tactics like these are unacceptable," ACLU attorney Matt Cagle said in a statement. "Not in her wildest dreams can Ms. Swift use copyright law to suppress this exposure of a threat to constitutionally protected speech."
Related: Jury Sides With Taylor Swift in Sexual Assault Trial
In its response to the letter, the ACLU states that the story published by PopFront is constitutionally protected free speech containing a mixture of political speech and critical commentary.
"Criticism is never pleasant, but a celebrity has to shake it off, even if the critique may damage her reputation," the ACLU's letter reads, referencing one of the singer's most popular songs.
The ACLU has requested Swift and her attorney respond by Nov. 13 to confirm they will not pursue legal action.
"The press should not be bullied by high-paid lawyers or frightened into submission by legal jargon," Herning said in the ACLU's press release. "These scare tactics may have worked for Taylor in the past, but I am not backing down."