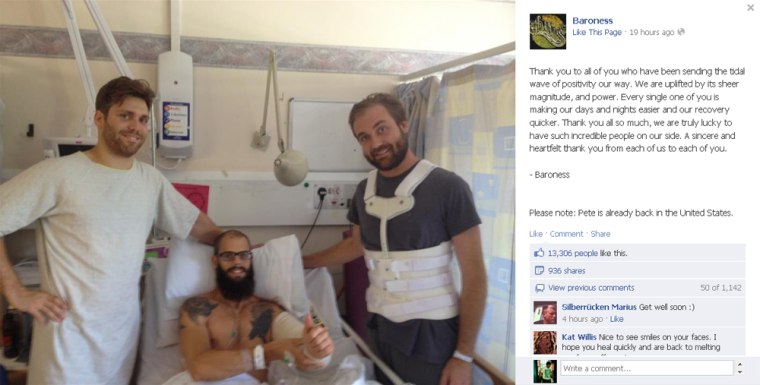 In a message posted on their Facebook page, Baroness thanked fans and put up a photo of themselves recovering in the hospital following their frightening bus accident in England last week.
"Thank you to all of you who have been sending the tidal wave of positivity our way. We are uplifted by its sheer magnitude, and power. Every single one of you is making our days and nights easier and our recovery quicker," the band wrote. "Thank you all so much, we are truly lucky to have such incredible people on our side. A sincere and heartfelt thank you from each of us to each of you."
The picture shows guitarist-vocalist John Baizley, drummer Allen Blickle and bassist Matt Maggioni recovering in good spirits. Guitarist-vocalist Pete Adams has already returned to the U.S.
Last week, Baroness' tour bus drove off a viaduct during heavy rain, falling 30 feet. All nine passengers were sent to the hospital, and the driver of the bus remains in critical condition. The band has canceled all European tour dates, but has not crossed out any U.S. dates yet. Visit the band's website for more updates and details.
More from music: