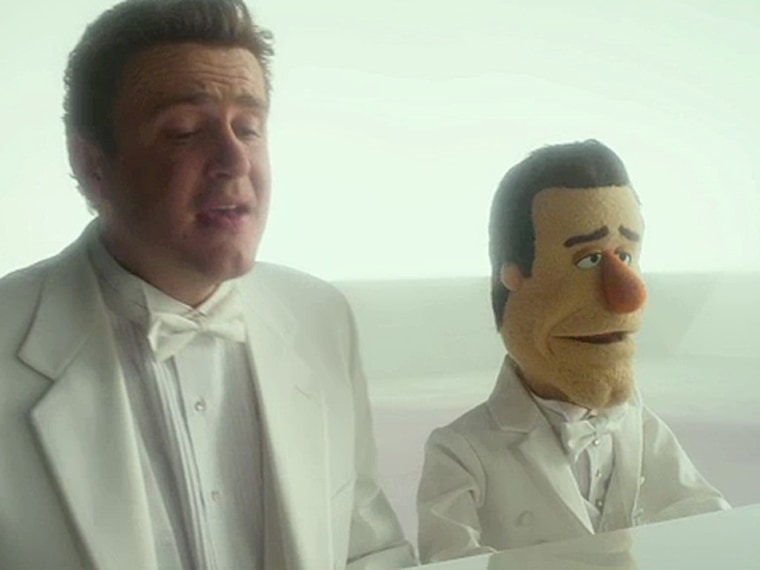 Ringo Starr supposedly was asked if he was the best drummer in the world, to which he replied "I'm not even the best drummer in the Beatles."
Dig out that old line for the Oscars best song category, which features a whopping two nominees. Hard to argue with "Man or Muppet," a hilarious tune that sneaks its way into your head and stays there. We picked this to win it all last month. If you've seen the movie, you get to picture "The Big Bang Theory" star Jim Parsons as the human version of Muppet Walter, which makes it even better.
But its competition is "Real in Rio?" Seriously? In true Ringo Starr fashion, that's not even the best song in "Rio."
"Real in Rio" is the jaunty song from the Carnival scene of that fun animated film. But a much better choice would have been will.i.am's catchy "Hot Wings" or Ester Dean's delightfully dancy, "Let Me Take You To Rio."  Actually, my favorite songs from that film are will.i.am's 'Drop It Low" and Jamie Foxx's "Fly Love."
And why only two nominees, the minimum possible? Thirty-nine songs made the short list, including two of the "Rio" songs, Zooey Deschanel's sweet "So Long" from "Winnie the Pooh," a couple more songs from "Muppets" and more.
No love for Elton John's "Hello Hello" or "Love Builds a Garden" from "Gnomeo and Juliet"? That flamingo separation scene was heart-wrenching! (Why does the Academy hate gnomes?)
"Cars 2" wasn't nominated for best animated film, which fits in with its largely negative reviews from critics (kids still enjoyed it), but its big song "Collision of Worlds," which pits British and American slang against each other, is a rollicking culture clash.
And don't even mention songs from non-kid movies ... seems like they weren't even considered. Madonna's "Masterpiece," from "W.E.," won the Golden Globe (much to David Furnish's chagrin), but it wasn't eligible for an Oscar nod, apparently because it's the second, not first, song in the film's closing credits. Does that sound like a dumb rule to anyone else?
Mary J. Blige's "The Living Proof" from "The Help" went Madonna one better and actually made the short list, but didn't get picked. Ditto Chris Cornell's "The Keeper" from "Machine Gun Preacher," and Sinead O'Connor's "Lay Your Head Down" from "Albert Nobbs."
Nominating only two songs seems silly to us, but in the end, "Man or Muppet" is going to win, and that's deserved indeed. Now the only question is whether Walter the Muppet will come up on stage to collect the award. He's a very manly Muppet.
What's your pick for best Oscar song? Did any good tunes get snubbed? Tell us on Facebook.
Related content: