Beyoncé gave rare insight into the choices she's made to protect her own mental health and self-care in a new interview ahead of her 40th birthday, a foundation she hopes to build on in the next chapter of her life.
The notoriously private singer and entrepreneur has spent the past few years focusing on herself, her family and healing, she told Harper's Bazaar.
She said she's transitioned from focusing on building her legacy, which she prioritized in her 20s, to focusing on working on herself in the last decade.
"My 30s were about starting my family and my life becoming more than my career," she told the publication. "I worked to heal generational trauma and turned my broken heart into art that would help move culture forward and hopefully live far beyond me. My 30s were about digging deeper."
In her 40s, Beyoncé said she wants to focus on her own joy and freedom.
"I want this next decade to be about celebration, joy, and giving and receiving love," Beyoncé, whose birthday is Sept. 4. said. "I want to give all the love I have to the people who love me back."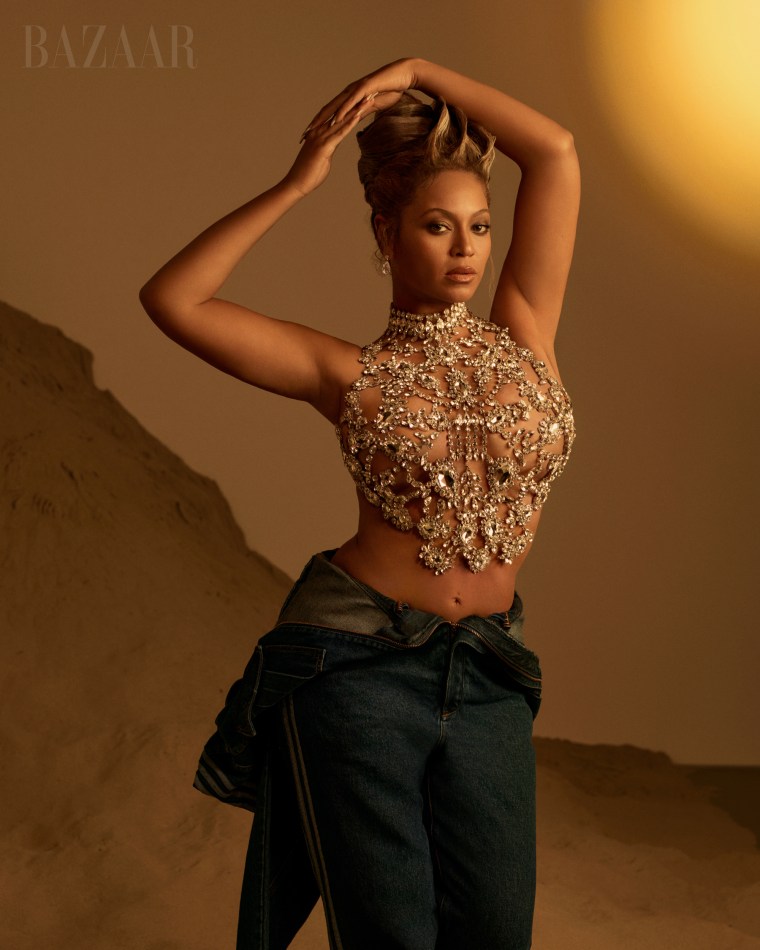 A mother of three, Beyoncé explained that she's excited to teach her own daughters how to care for themselves and indulge in the "rituals" of self-care.
She described herself as an introvert: She said though she didn't speak much as a child, her shyness allowed her to develop empathy to connect with people.
As the internet has created more and more access to celebrities, Beyoncé said she has set boundaries, adding that it "can be easy to lose yourself very quickly in this industry."
At some point in her life, she explained, she made the choice to draw a dividing line between her work and personal life.
"I've fought to protect my sanity and my privacy because the quality of my life depended on it," she said. "A lot of who I am is reserved for the people I love and trust. Those who don't know me and have never met me might interpret that as being closed off."
Part of how she protects herself is by surrounding herself with honest people from whom she can learn and grow, drawing from what she learned in her mother's salon as a child. Beyoncé, who grew up in Houston, saw the power of community through her mother as she helped "nurture and heal" those who came through the doors.
"I want to build a community where women of all races can communicate and share some of those secrets, so we can continue to support and take care of each other," Beyoncé said. "I want to give women a space to feel their own strength and tell their stories."
Beyoncé joins a growing rank of famous Black women who have been open about their own mental health journeys and setting boundaries for themselves.
Meghan, the Duchess of Sussex, revealed in March that she struggled with suicidal ideation during her pregnancy with her first child. Last year, former first lady Michelle Obama explained on her podcast that how she dealt with "low-grade depression" during the pandemic.
More recently, top athletes Naomi Osaka and Simone Biles opened up about prioritizing their mental health and emotional well-being over competitions.
Biles pulled out of several events in the Tokyo Olympics after explaining how important it was to have her mind and body at top performance in her routines.
"I don't think you realize how dangerous this is on hard/competition surface," Biles wrote in an Instagram post in July. "Nor do I have to explain why I put health first. Physical health is mental health."