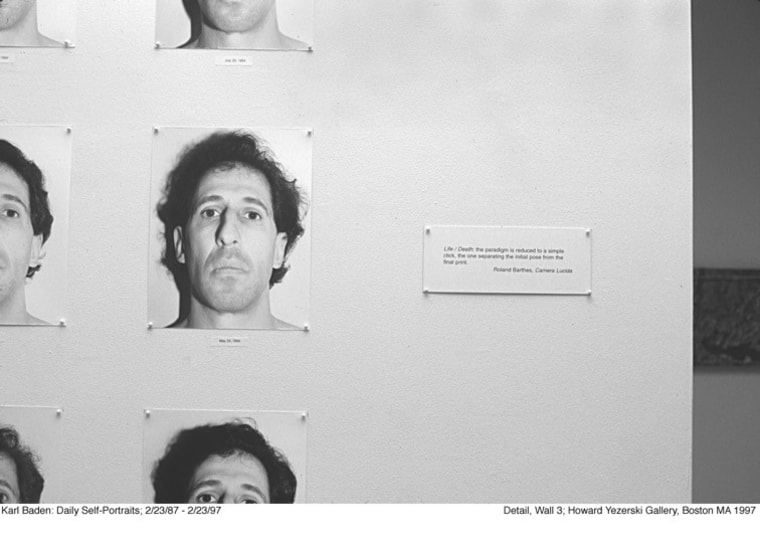 Decades before "selfies" were popularized in social media — and before online social media was a phenomenon — a Boston College professor took a picture of himself. And he kept it up for 30 years, only missing one day in all that time.
Karl Baden's "Every Day" project officially turned 30 on Thursday and he says he has no intention of stopping. The stark contemplation on mortality and aging has prompted some to dub the Film Arts professor the unwitting "father of the selfie."
"If it wasn't for the selfie craze, I'd probably be slogging along in anonymity as usual," Baden joked in an interview with The Associated Press this week. "Which is sort of what I had expected."
What makes the project work is that it reflects a number of universal themes, from death to man's obsession with immortalizing himself in some way, said Howard Yezerski, a Boston gallery owner who has exhibited the project on two occasions.
"I think it's an interesting idea because it kind of deals with the whole morality issue with chronologizing his life in this way which is something we are all going to be dealing with," he told NBC News.
As much as I try to make every picture the same, I fail every day. There's always something that's a little different, aside from the aging process.
Using the same 33mm camera, tripod, backdrop and lighting, the 64-year old Cambridge resident has photographed himself in the same exact position to the best of his abilities since February 23, 1987.
Besides morality, Baden says the project touches on the notions of obsession, incremental change and perfection.
A former Light Work artist, Baden has had his work showcased on two instances in their gallery.
"He' s a creative and passionate image maker and probably one of the most committed photographer practitioners in that sense," said Shane Lavalette, the director at Light Work in Syracuse, New York.
During Baden's tenth year of doing the project it was featured in the Robert Mann Gallery in New York City for their 10th year anniversary.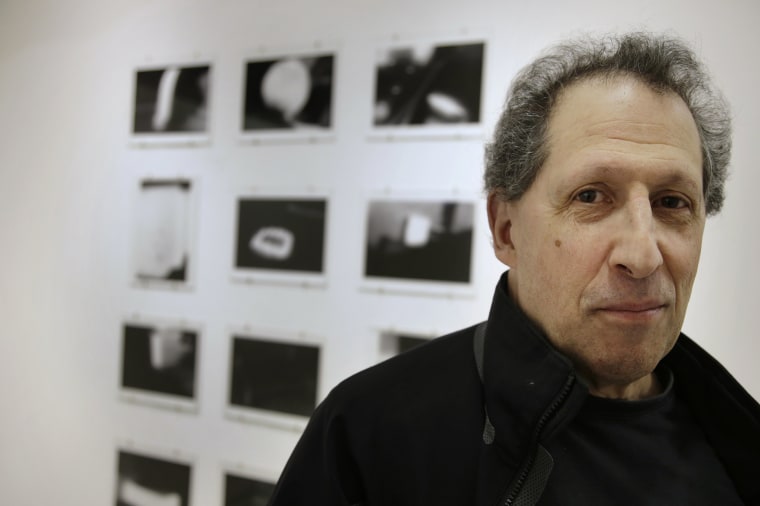 Robert Mann, the owner of the gallery, said he was very impressed by Baden's work when he submitted 10 "selfies" from a ten-month interval for the gallery's 10x10x10 exhibit. The art of capturing the aging process struck him the most, he said.
"It is a brave thing to do to expose the world of this close-up view of how he's maturing and growing throughout the years," said Mann. "No other artist has done anything remotely close to that. I don't know of any artist that has actually stuck with something for this long like this before."
Baden tries to remain faithful to the first picture he took in 1987, the day after Andy Warhol died and nearly two decades before Facebook was launched.
"As much as I try to make every picture the same, I fail every day," he said. "There's always something that's a little different, aside from the aging process."
Related: There are 3 kinds of selfie takers: Which one are you?
Approaching 11,000 photos, the changes in Baden's appearance over time don't appear dramatic. But in 2001, Baden underwent chemotherapy to treat prostate cancer and became noticeably thinner.
The cancer is now in remission and, as later pictures show, Baden quickly bounced back. The only lasting change from that time, he says, has been his eyebrows; they never quite grew back.
And there's been just one day over the past 30 years where Baden admits he neglected to take a photo: Oct. 15, 1991. "It was a dumb moment of forgetfulness," he said.
Besides the "selfie" project, Yezerski said Baden is a varied photographer and that this project is just one of many. Today his gallery features an exhibit of photos of landscapes that Baden took in 1976.
"I think he is a very interesting artist who continues to push the envelope in photography experimentally," he said. "His work is varied, but this particular project gets a lot of attention because of its duration. And I can understand that, but it's just one part of what he does."