LOS ANGELES — Longtime partners Britney Spears and Sam Asghari married Thursday in a ceremony in Southern California.
"I am very ecstatic this day has come, and they are married. I know he wanted this for so long. He is so caring and supportive every step of the way," Asghari's manager, Brandon Cohen, told NBC News in a statement.
However, the wedding day wasn't without drama due to an unexpected appearance from the singer's first husband.
Jason Alexander, who was married to Spears for 55 hours after a 2004 Las Vegas wedding before the marriage was annulled, was chased and detained by security after he showed up at Spears' residence, a Ventura County sheriff's spokesman said.
The sheriff's department was called to Spears' residence in Thousand Oaks around 2 p.m. about a trespasser, the spokesman said.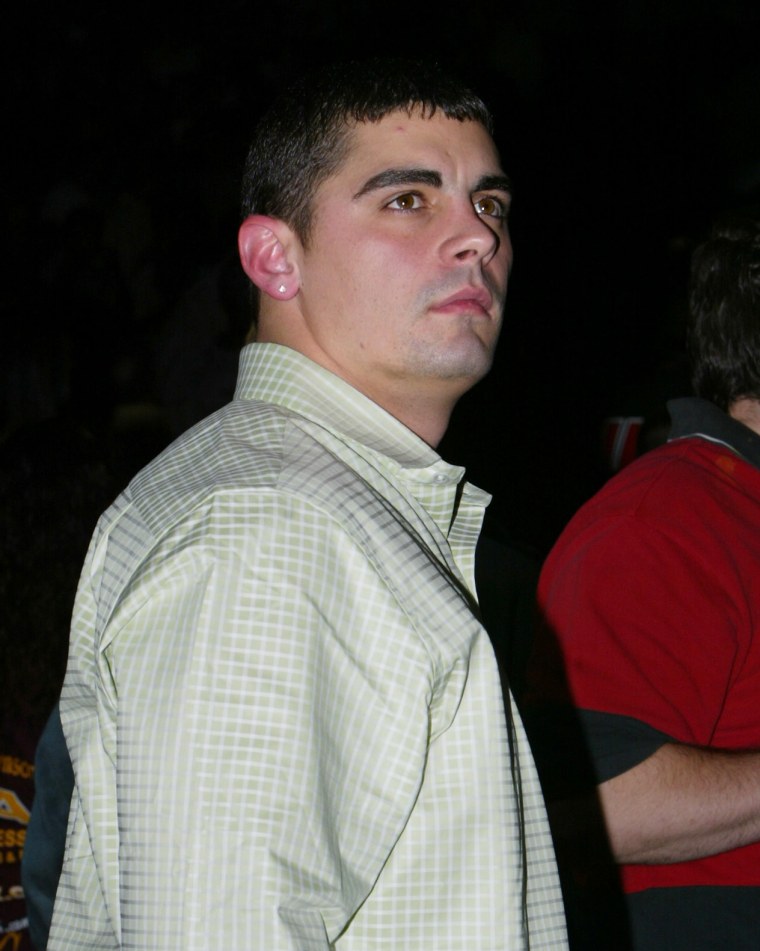 Alexander, 40, was initially arrested on suspicion of an outstanding felony warrant out of Napa County from 2016, the official said. He was subsequently arrested on suspicion of misdemeanor battery, vandalism and trespassing in Ventura County, he said.
A video allegedly broadcast by Alexander on Instagram live showed him making his way onto Spears' property, into a house and eventually into a wedding tent, set up with flowers and seating. Alexander himself is not seen on the video as it is shot from his perspective.
Police said the video has become part of their investigation.
Alexander first encounters a man sitting in a camping chair under an umbrella while walking up a trail toward the property.
"I've been coming for 3 weeks up here, I've been scoping this s--- out," he says to the man.
He then encounters another man in a golf cart who appears to be security. The man repeatedly asks Alexander to leave. Alexander keeps asking, "Where's Britney at?" The man says he's going to call 911 and the video freezes.
When the video resumes he's walking into a house. Where what appears to be a security man holding a gun repeatedly asks him to leave, Alexander continues to ask, "Where's Britney at?"
He makes his way back outside and introduces himself to someone, "I'm Jason Alexander, first husband, I'm here to crash the wedding brother." He then walks into the wedding tent where workers are still setting things up.
He says, "Britney Spears invited me here" and "I'm here to crash the wedding."
He's confronted outside where a scuffle with security ensues and the video goes to freezes and ends a short time later.
An emergency protective order was issued late Thursday requiring him to stay away from Spears, the spokesman said.
The Napa warrant was for grand theft and buying or receiving stolen property, Napa County sheriff's spokesman Henry Wofford said.
Alexander was being held in Ventura County. Bail was set at $20,000 because of the outstanding warrant, Wofford said.
TMZ first reported the news. A lawyer for Spears, Mathew Rosengart, said he was "livid" about the "intrusion," and he thanked law enforcement officers for their quick work.
"Britney is safe," he said.
A lawyer for Alexander did not immediately respond to a request for comment.
Spears and Asghari announced their engagement in September.
Spears shared on Instagram in May that she lost her baby. Asghari commented on the post, "We will have a miracle soon."
Spears, 40, was freed from her conservatorship in November after a judge ruled in favor of termination, ending the 13-year arrangement, which had legally stripped her from making her own personal and financial decisions. 
In 2020, Alexander showed up at a #FreeBritney protest in Los Angeles during her conservatorship battle. "I'm here to show support for the #FreeBritney movement and Britney," he told Us Magazine at the time. "This is an unfortunate situation that's been in her life for a long time. It's affected me and her, and that makes me part of it."